1. Purely a fashion find: Three Floor, offers up some unique and interesting garments with unusual structural elements. 
2. The Bristol Central Library just celebrated its 400th anniversary and as a tribute to its history installed a massive living sculpture cleverly referred to as Book Hive. Robotics collective, Rusty Squid, designed this interactive installation to respond to the movements of the library's visitors. Each book, 400 in total, open and close in a range of breathtaking patterns, creating a satisfying creak that one expects to hear when opening an old book. Check out the video here.
3. Temari balls originated as Chinese folk art and were introduced to Japan in the 7th century. These balls were hand embroidered with the thread from old kimonos, then given as a gift from an elder to children on New Year's day.  
4. When I clicked on the Fruit & Vegetable series from Heidi Voet I was quite surprised and immature giggling quickly ensued. But in all seriousness, Heidi used images from Chinese magazines and completed the naked female bodies with various perishables to highlight both our consumption and their perservability.
5. Exhibition a is one of two sites I discovered recently that offers original art and prints at reasonably affordable prices.  The image featured is a print titled Persian Princess Mourning Her Peacock from artist Tony Cox.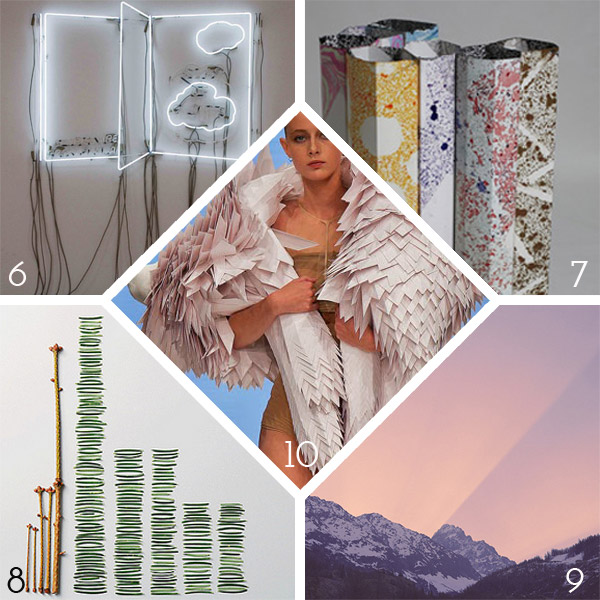 6. Philippe Parreno recently premiered his work Atlas of Clouds, an animated neon book. This piece is visually stunning and I think Parreno artistically captures the movement of a book in a stationary object. View the other pages at 1301PE Gallery.
7. Gorgeous paper sculptures from artist Richard Deacon. Each piece is crafted from sheets of hand marbled paper. The patterns and colors are quite unusual from a bookbinder's point of view, but absolutely striking. 
8. The Art of Clean Up: Made Neat and Tidy is a playful book from Swiss artist and comedian Ursus Wehrli. His crusade to organize the chaos of the world seems quite daunting even when the objects seem so simple from a bowl of alphabet soup to a pine branch.
9. 72 Editions is the other affordable website I discovered recently to offer original art and prints; from the web to the wall (as their slogan goes). The image featured is Glacier d'Argentiere I from artist David Denny.
10. Haute Papier SS 2014 is the latest collection from designer Bea Szenfeld. Showcased at Stockholm Fashion Week, the models walked the catwalk with beautifully crafted 'garments' created from 3-dimensional paper sculptures.