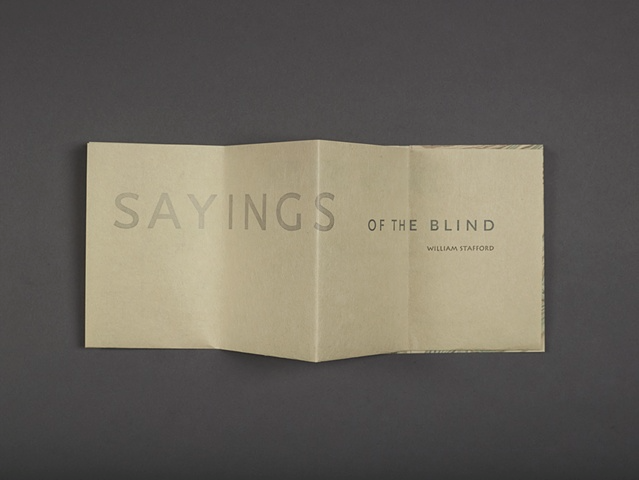 Sayings of the Blind is an artist book by Roni Gross that includes the poem of the same name (see below) from the prolific William Stafford. The book unfolds to reveal a hand-drawn and letterpress printed topographical map, which interprets the world of the blind.
Bound in 2010 in an edition of 50, Sayings of the Blind is part of the Stafford Collection, a curated collection organized by the 23 Sandy Gallery. The Stafford Collection includes any work that incorporate the poetry of William Stafford and/or Kim Stafford. 
SAYINGS OF THE BLIND — William Stafford
Feeling is believing.
Mountains don't exist. But their slopes do.
Little people have low voices.
All things, even the rocks, make a little noise.
The silence back of all sound is called "the sky."
There's a big stranger in town called the sun.
He doesn't speak to us but puts out a hand.
Night opens a door into a cellar–
you can smell it coming.
On Sundays everyone stands farther apart.
Velvet feels black.
Meeting cement is never easy.
What do they mean when they say night is gloomy?
Edison didn't invent much.
Names have a flavor.
The poem by William Stafford is plotted across the topographical map in such an ingenious way. What is the correlation between the map graphic and the text from the poem?
After many mockups, most more complicated than the final book, I realized that the topographical map is referring to the landscape of the blind. It is a different landscape than seeing people are aware of, and by placing the text within it, we are taking you into that world.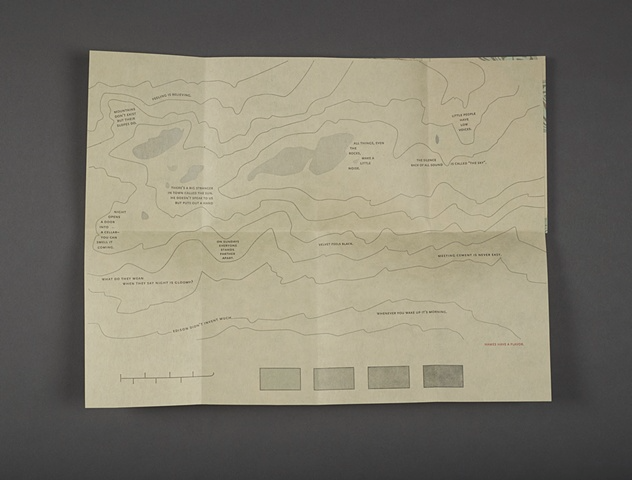 The texture of Suminagashi wonderfully reflects the shapes of a topographic map, was this your intention?
I did realize that the Suminagashi was a nice parallel to the lines of the map without revealing too much from the beginning. I commissioned the paper from Yukari Hayashida, who teaches a class in Suminagashi at CBA (The Center for Book Arts).