1. Back in December at the Northampton Book Fair, I got a chance to visit with Laurie Alpert and discuss her sculptural work with Joomchi paper. There is so much texture and color packed into each piece, absolutely gorgeous.
2. This guy is so wonderful, he creates a sweater of a scene and then takes a picture of himself wearing that sweater at that location.
3. I love the design work of artist Michelle Leigh.
4. Ever wonder how the peace symbol was designed?
5. In his book, Gowanus Waters, photographer Steven Hirsch captures the vibrant and galactic qualities of the toxic waters of the Gowanus Canal in New York.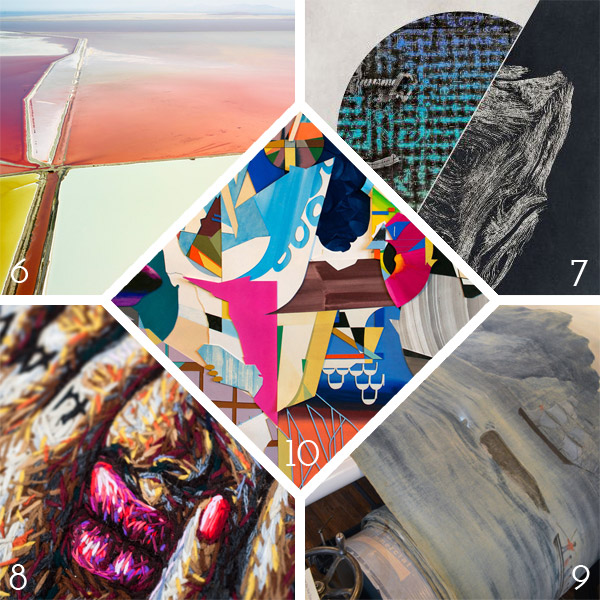 6. Photographer David Burdeny traveled to western Australia, Utah's Great Salt Lake and the Mojave Desert to capture salt pans and dry lake beds. The otherworldly colors resulting from both human and organic forces.
7. Check out this New Yorker article on a box at the Institut de France labeled Objet Un. The contents of this box are the charred remains of papyrus from Herculaneum. Along with Pompeii, Herculaneum was destroyed during the eruption of Mr. Vesuvius in A.D. 79. After a bit a history lesson the article goes into how technology may finally reveal what the scroll inside this box actually says.
8. The embroidery work of Danielle Clough is mind-blowing. Danielle creates her pieces with a heavy stroke of bold and layered stitches. Many of her pieces are beautiful portraits, but she has even created some embroidered pieces on tennis rackets.
9. A restoration project recently began on the Purrington-Russell Grand Panorama of a Whaling Voyage Round the World, an 1848 panorama owned by the New Bedford Whaling Museum in Massachusetts. This particular panorama stretches 1,275 feet in length and stands eight and a half feet tall, that's about the same length as 14 blue whales. You can read more about it here.
10. Jim Gaylord is an artist based in Brooklyn making large scale painted paper collages. I'm amazed by his ability to create depth and movement with layered paper.