Callen Evans Williams is a super cool gal living in San Francisco. We met through a mutual friend at the School of the Art Institute in Chicago, but after graduation we fell out of touch. However, some years later we both ended up in Boston at the same time working at the same Paper Source. How serendipitous! I knew Callen would be a perfect fit for Swell Things. She approaches art and design with so much appreciation and consideration to both the artist and their process. I second her nod to Travel Man, as Callen was the one who introduced me to the show, it's quite hilarious and you'll especially enjoy it if you love The IT Crowd.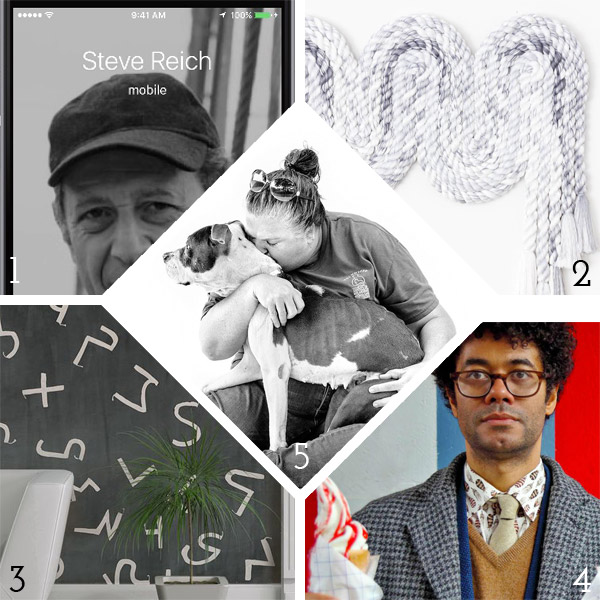 1. Steve Reich is Calling: This witty project by Seth Kranzler (found via Kottke) made me laugh and wonder what else in my daily life could be a Steve Reich composition.
2. Multidisciplinary sculpture artist Cindy Zell manages to arrange rope into so many unique and appealing forms (and watching her process could be a meditative practice!)
3. Porter Teleo's wallpaper and fabrics are completely hand-painted. As you might imagine, this is the kind of luxury that shows up in celebrity homes and interiors by design-giant Kelly Wearstler…but what I really love is how they hire art graduates in the midwest and employ them to make one-of-a-kind work.
4. In Travel Man, Richard Ayoade invites other funny people on 48-hour vacations to foreign lands. Short, sweet, hilarious, awkward–it might be the best 25 minutes of your day.
5. In his new book Finding Shelter, photographer Jesse Friedin shares touching portraits of shelter animals and the volunteers who care for them.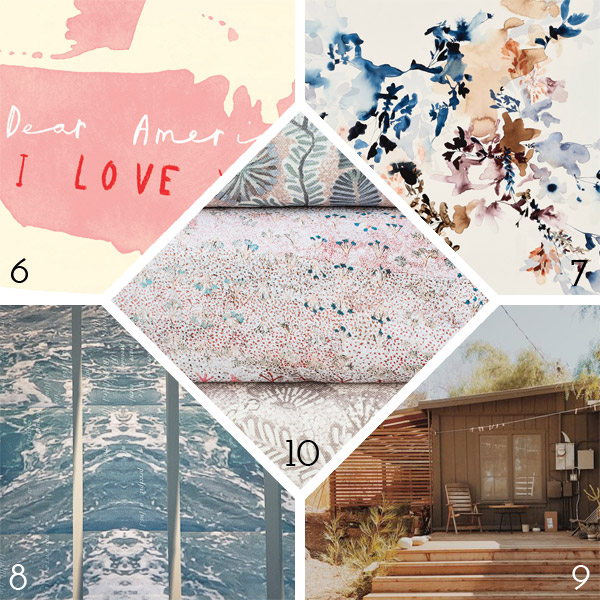 6. In this frustrating, fearful and uncertain time, I am buoyed by the outpouring of activism and artful response to our national politics. It often seems that these issues are out of our hands when in fact many individual actions and voices do make a difference. Love Letter America shares postcard art (like this one by Oliver Jeffers) that you can freely download to send your legislators some snail mail. (If you want something even easier that doesn't require printing or postage, check out resistbot –you write a text message and they make it a fax to your senators!)
7. San Francisco artist Jen Garrido reminds you that even if you're a grown-ass professional woman, you'll never be over florals, especially when they're this lush, delicate and evocative. (If you are also a fan, you may like to know she has a current collaboration with Anthropologie.)
8. Erin invited me to tag along to Codex this year, and it was an eye opening experience! I was amazed at the amount of skill, creativity and craftsmanship under one roof–and by how very well-read you bookbinders are! One piece that caught my attention was Precipitous by Nicole Pietrantoni. These accordion books display striking photographs of rising sea levels with overlaid poems by Devin Wootten. They are at once beautiful and foreboding.
9. It's been almost 2 years since we moved from the east coast to Northern California, and it's grown on me fast. I am starting to see how the style and culture of California, and the bay area in particular, influence aesthetics nationwide. Mason St. Peter is an architect whose work seems to embody that laid-back California spirit.
10. One of my favorite aspects of my work as a design assistant is product research and discovering amazing artists, designers and makers of all kinds. Willie Weston is a company in Australia that collaborates with Indigenous artists to create textiles and wallpapers. I'm especially fond of the colors in all the variations of Singing Bush Medicine by Colleen Ngwarraye Morton.