All six of my leather embroidered samplers are now complete and I'm so thrilled to share them with you. If you missed part one, you can check it out here. 
The sampler above is on buffalo skin and showcases a variety of chain stitches. This sampler is by far the most successful of the bunch and is already coming in handy as I am in the early stages of designing a fine binding. Below is the couching sampler on goatskin. I wasn't quite sure if the couching stitches would translate well through leather, but some of the variations are quite interesting and remind me a lot of classical tooling patterns.
During the covering process I nip the sampler in a press using foam sandwiched between two press boards to make sure the leather is fully adhered to the board. This part of the process really flattened the couching stitches. 
The running stitch sampler is on goat and was my first and least successful attempt. (At least in my eyes, I can see a lot of errors.) Since this was my first sampler of the bunch, I began with piercing the holes with my needle as I was sewing. Working like this in the air made it really difficult to keep straight, even stitches. To resolve this issue, I began pre-piercing the holes with my pin vise with the leather flat on my work surface.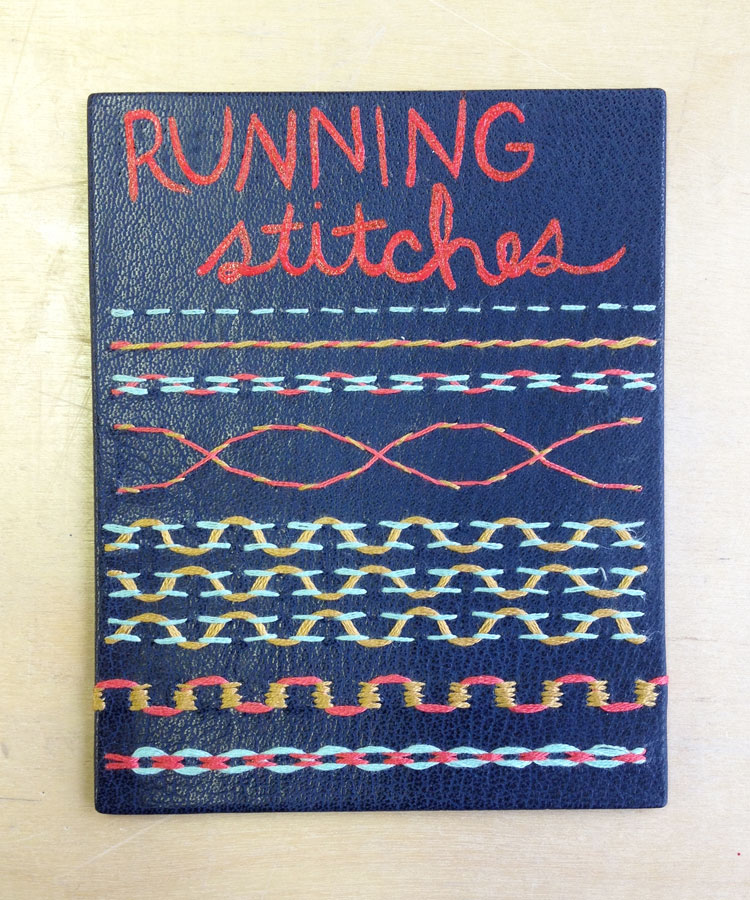 The scarlet goatskin sampler is adorned with a mixture of stitches, including a line of sequins at the bottom. I have mixed feelings about the stitches on this sampler because the majority of the stitches were difficult to execute through leather. Such as the coral stitch (line 3) and rope stitch (line 4).
The following sampler is showcasing another mixture of stitches such as the herringbone stitch (with variations) and the back stitch (with variations). This sampler is also on buffalo and is probably my second favorite of the bunch with a lot of successful and useful stitches to be used on future fine bindings. 
Finally, I played around with woven stitches to create a larger plane of embroidery on the leather. I'm really pleased with a few of these stitches. My main hurdle is figuring out a way to hide the threads on the back, which became very visible through the blue goatskin.