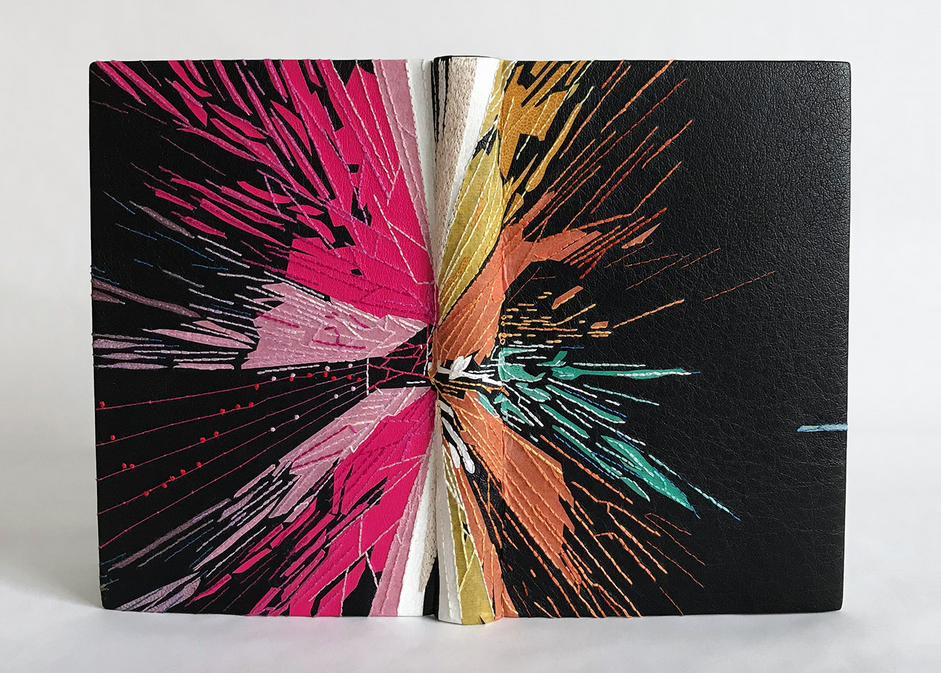 In my previous post, I went through the various enclosures crafted to hold my binding of 2001: A Space Odyssey and how they represented different parts of the Clarke's text and Kubrick's film. This post will focus on the binding itself, the inspiration and the process.
Sitting inside the clamshell box is a binding decorated with a burst of color that plays homage to one of the most iconic scenes from Kubrick's film. It is at this point, that the protagonist Dave flees the now inhospitable spaceship that was intended to carry him and his crew safely to Saturn. To recreate these star streaks, I bound the book in black buffalo skin with a range of back-pared onlays in goatskin, suede and handmade kozo paper. Additional embellishment is created through hand embroidery. Many times I create a template for my embroidery work. For this design I worked more spontaneously.
Each stitched line was first marked out by scoring with a thin bone folder against a ruler in the desired spot. Then I pre-punch holes along this line in preparation for the embroidery. You can see my progression below as I was building up the design with both the onlays and the embroidery.
This slideshow requires JavaScript.
Tucked in between the section of pink onlays is a segment from Verdi's Requiem Mass (Dies Irae) which is achieved with couching the embroidery floss and French knots for the notes. After narrowly escaping Hal's attempt to kill him, Dave dismantled the computer and spent time in the ship contemplating his next move. He played a range of music to combat the silence. Verdi was blasted across the ship at the height of his loneliness and despair.
Dave finally flees the empty ship and enters the final stages of his evolution. This is communicated by the interior side of the boards, flyleaves, edge decoration and endpapers. In his escape pod, Dave enters a space with gaping black shafts filled with squares, triangles and polygons before emerging into a white space peppered with a myriad of tiny black specks overhead.
Dave ends this portion of his journey in a room where the objects seem familiar but at closer inspection deemed poor replicas. Dave calls out how two paintings hung on the walls are quite blurry yet recognizable. These two paintings are Van Gogh's Bridge of Arles and Wyeth's Christina's World. I altered and cropped these paintings for the endpapers to be the final visual representation of the book before getting to the actual text.
And that's my rendition of this iconic science fiction story. You can see more images of the binding and boxes at my website.