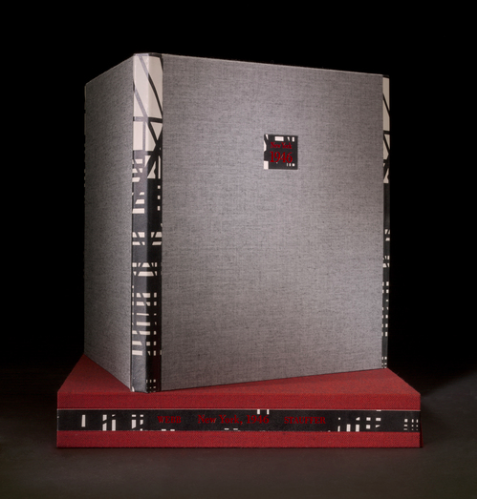 So far this month, the focus has been on Amy Borezo's artist books. Beyond that work, Amy is also a talented edition binder working with several fine presses and the level of craftsmanship she brings to this facet of her work is not to go unnoticed. She has worked with 21st Editions on variety of projects including the binding shown above. Todd Webb: New York 1946 was published by 21st Editions in an edition of 37. The spine and fore edge are covered with alum-tawed goatskin with a letterpress printed graphic that reflects the photography of Todd Webb.
What is the creative process like when working with an artist or printer on an edition project? Do you often work collaboratively when developing the binding?
It is usually a collaborative process to varying degrees. My goal is always to elevate and further the content of the work through the binding. To that end, I first take in as much information about the project as I can including looking at imagery and reading the text of the work if there is one. With some clients I will then come up with two or three options, usually as a digital sketch that I create in Indesign. We'll have a meeting, look at material samples, and they will choose which direction to go in. Then we will make refinements or edits of the design together. With other clients, they pretty much have the design/vision and just need someone to execute it.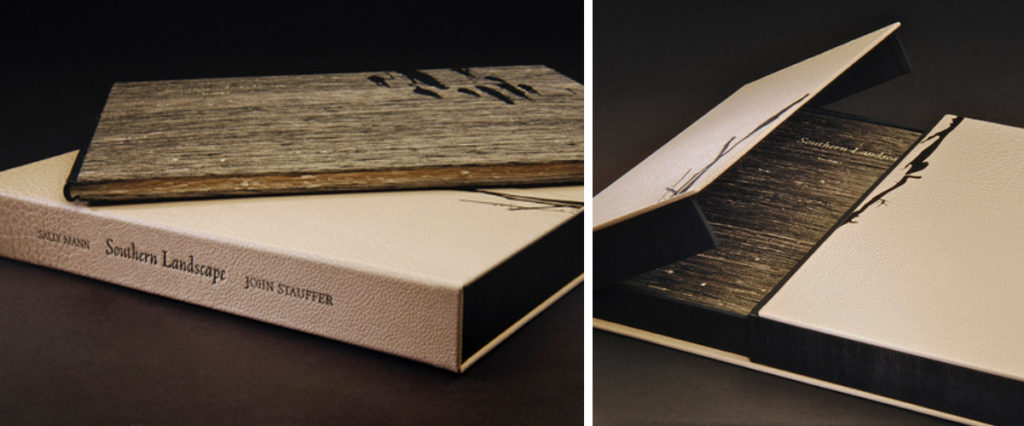 Southern Landscape showcases the photography of Sally Mann with text by John Stauffer, another publication from 21st Editions. This edition of 58 is bound in the modified Bradel structure. The spine is goatskin and the boards are covered in a beautifully textured silk. The book is housed in a full buffalo skin presentation box that opens with a gatefold. The two halves meet together in the center and overlap slightly to make a seamless and secure closure.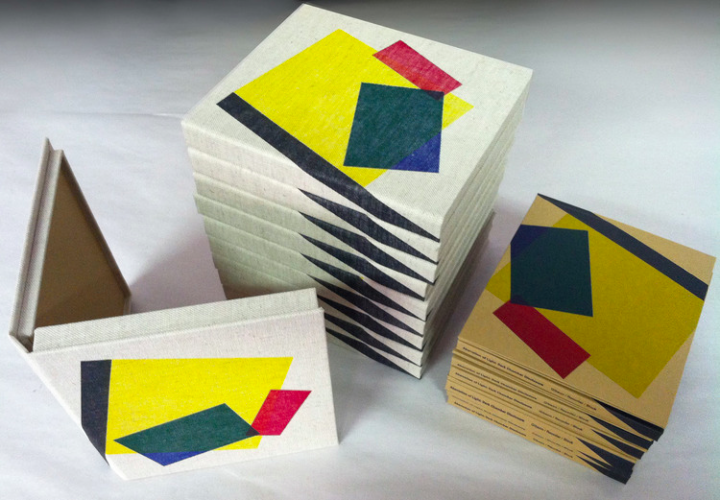 Sedimental Records approached Amy to create housing for a DVD of Aberration of Light: Dark Chamber Disclosure, a site-specific live projection performance at the 36th Toronto International Film Festival. The project was performed by Brooklyn-based artist Sandra Gibson and Luis Recoder with audio composed by Olivia Block. Amy created two styles of packaging, an edition of 30 clamshell boxes covered in linen with a four-color relief print and an edition of 30 cases covered in paper with the same four-color print.
Do you tend to work within a limited number of structures for edition work?
Yes and no. Budget constraints, client desires, and intended audience limit the structures to a large extent. I am open to making anything from highly experimental to very traditional (and labor intensive) structures, according to what is right for the project. For fine press clients, it is mostly a modified Bradel structure with an Oxford hollow, sewn on tapes or cords. For artists, the needs are more variable. I've done editions of drum leaf books, sewn board bindings, accordion books, and others.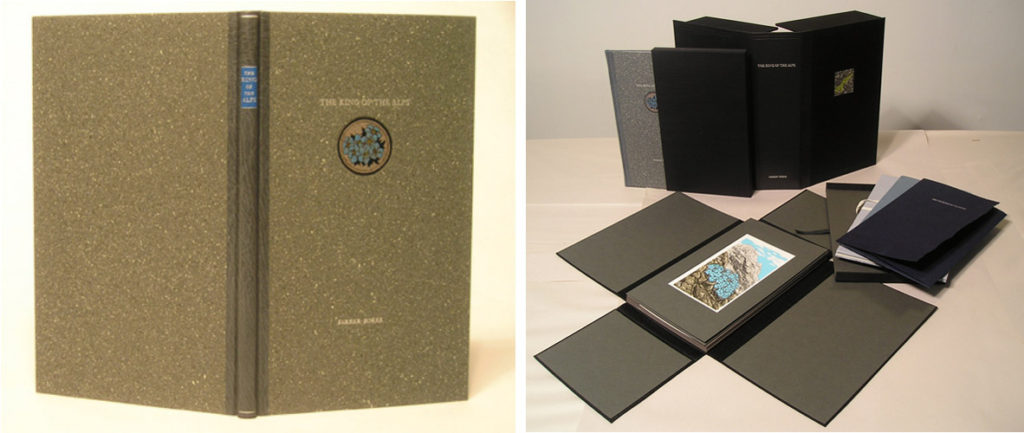 Amy has also worked with Abigail Rorer of The Lone Oak Press on several projects. Shown above is On the Hunt for the King of the Alps, which Amy bound in both a regular and deluxe edition. The regular edition is shown in the image on the left-hand side and is bound as a quarter leather binding with a faux stone paper covering the boards. The deluxe edition includes the book with an extra suite of prints housed in a 4-flap, an original watercolor of the plant, a herbarium specimens sheet and a short essay about attempting to grow the plant. Everything is housed in a black clamshell box.

Extinction memorializes five animals that have unfortunately ceased to exist or are nearly extinct. Another work from Abigail Rorer, Amy bound this edition of 100 as a Sewn-Board binding. Vellum is used to cover the spine, which is stamped with the title and airbrushed with a bright, blood-like red towards the tail. A subtle addition that makes Amy's work truly unique. The boards are covered in a handmade Spanish Arpa paper and stamped with the project's logo (and X within a circle). You can view the inside of the book here at Abigail's website.