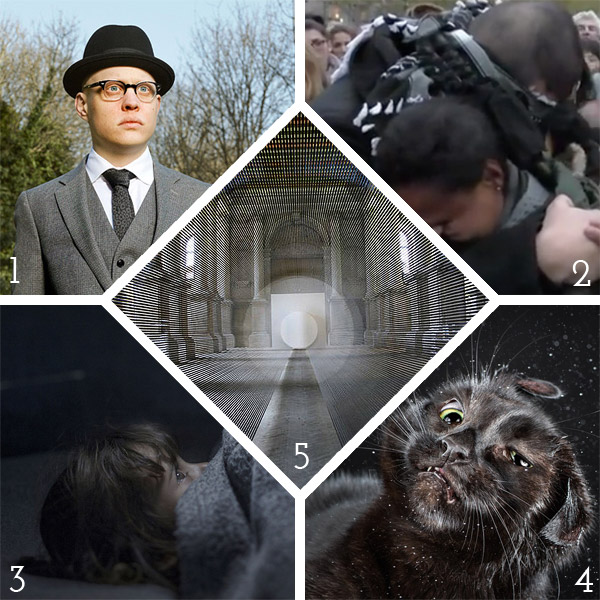 1. Covered is an exhibit by photographer Alan Powdrill who gives real insight to tattoo culture with this series of double portraits. The first photograph shows the subject fully clothed and the second completely nude (well except for the tattoos from head to toe and from front to back). You can't judge a book by its cover.
2. After the tragedies that struck Paris, it was heartwarming to see the rise of love and kindness that emerged. Inspired by the Blind Trust Project after the Charlie Hebdo attacks, Muslim men took to the streets in Paris with blindfolds asking people to show their trust in them by hugging them. It was emotionally overwhelming to watch the responses. When people unite in kindness they overcome evil.
3. More than two million of the Syria refugees are children in desperate need of a home and stability. Photographer Magnus Wennman has met countless people in refugee camps over the year and his main concern has been to capture the vulnerability of children displaced by war as a way to garner support.
4. Cats in slow-motion.
5. Have any old VHS tapes lying around? New York-based artist Zilvinas Kempinas created an 80 foot cylindrical walkway from stretched strips of VHS tape in his installation Tube.
6. I've been enjoying the watercolor drawings of Dan Gluibizzi, whose most recent show titled You Don't Have to be Alone Tonight is currently on display at CULT in San Francisco.
7. The Newstead Oddities is a collection of marble 'characters'. Artist Anna Collette Hunt has sculpted these amusing statues and wall plates as an homage to the characters she finds while touring various National Trust Houses and museum like the Victoria and Albert Museum in London.
8. Animation designer Henning M. Lederer has brought life a collection of vintage book covers from the 1950s, 60s and 70s. These covers were beautifully designed with abstract, minimalist and geometrics forms, which Lederer so elegantly animates.
9. Alison Moritsugu has painted an entire series of traditional landscapes that are lovely and highly detailed. The difference being that her canvas are the cut-off ends of logs. The vibrant and crisp paintings pair so nicely with the rustic edge of raw wood.
10. This is an older article from Smithsonian Magazine, but still interesting. Biologists have recently come to the conclusion that the paintings found in eight caves in France and Spain may have been created by women. They've deduced this from the length of the fingers of the handprints left on the walls. Quite fascinating and rock on cave dwelling ladies of the past (pun intended).