For the final installment in my month-long interview with Amy Borezo, I am featuring an artist book she made in 2013/14. Some Lines was printed and bound in an edition of 40 copies. The first twenty copies were printed and bound by graduate students at the University of Dallas while Amy was a visiting artist; the remaining twenty copies were printed and bound by Amy with the last 5 copies bound in a deluxe edition.
Some Lines is bound as an accordion binding and housed in a cloth presentation box.
Something that I enjoy about your work is the complexity behind the clean and simple imagery you employ. Can you talk about the concept behind Some Lines and the swift timeframe in which this book was first printed?
I was doing research for another artist's book on Artificial Intelligence. I am interested in distilling complex ideas down into their most basic form. AI is incredibly complex, but most teaching around it starts with Aristotle's Categories in which he attempts to classify everything into a few simplified categories (substance, bodies, living bodies, animals, man). AI is doing something similar–teaching a computer how to classify everything that can be classified. From Aristotle's classification system, the first branching tree information diagrams emerged. The Porphyrian Tree is a diagram of Aristotle's Categories.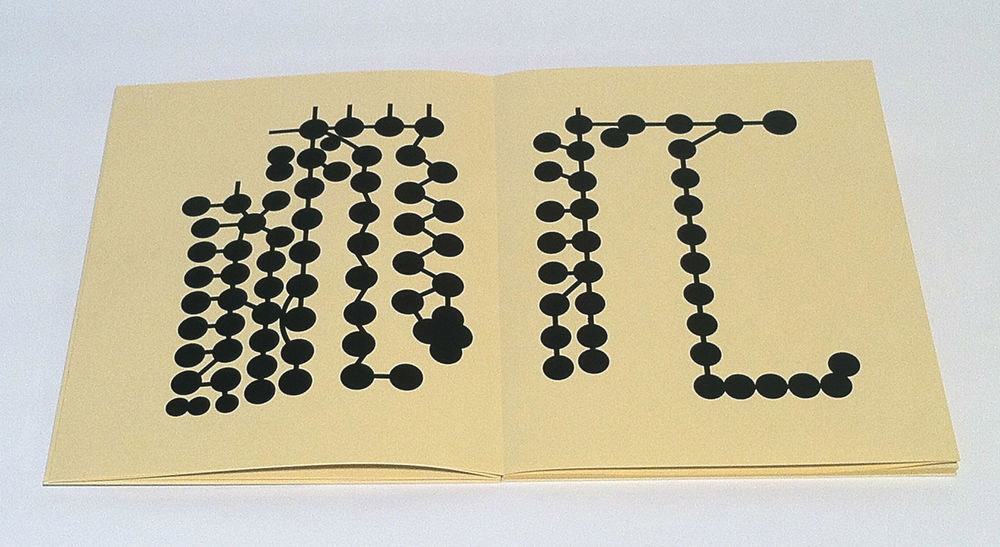 I worked with the Porphyrian Tree diagram for a while and it wasn't quite coalescing into a book. In my research I also came across another early branching diagram that showed the geneology of Christ. I was fascinated by this diagram because it contained a narrative within it, a story. I was also interested in how diagrams are often used to represent a viewpoint, not necessarily a fact. Data can be manipulated in its presentation. Those are some of the ideas behind Some Lines. I am also interested in the idea of drawing through time, a concept I explored in Labor/Movement. The roundels in the diagram each represent a person and most are linked by a line to another roundel through either birth or marriage. In this way, the geneology diagram represents a drawing made through generations.
I designed the book to be printed and bound in an edition of 40 in 4 days during a residency at the University of Dallas. I had graduate students in printmaking helping with the printing and binding. We only ended up completing half of the edition there and I bound the second half in my studio. I didn't know when designing the book that the University of Dallas is a Catholic university. It was a great experience to create that work there and have discussions with students about the concept.
Within the description of Some Lines on your website, you mention an interest in AI (artificial intelligence). With the growing focus and development with AI and virtual reality, I am wondering if you plan to incorporate this topic into a future artist's book?
I might go back to AI in another work. I do have a partially finished artist's book *in my mind* around this concept. But then again, it might be time to move on. I am not sure yet. I am quite interested in science fiction as a genre, as I've mentioned before, as I think it's an extremely useful lens through which to examine the present. I love allegory. But of course, AI is no longer science fiction–it's already here. Maybe that's why I am not as interested in it as much right now! There usually needs to be a sense for me that a subject is fresh for examination.