What began as a simple workshop idea between myself and papermaker Katie MacGregor, turned into a weekend long mini-conference event. Over the past year, part of the NEGBW team (myself, Todd Pattison and Lauren Telepak) along with Katie MacGregor, Nancy Leavitt and Alan Furth put together the plans for a mini-conference at the Cobscook Community Learning Center in the small northeastern town of Trescott, Maine.
To our wonderment, we had an almost full attendance and participants traveled as far as Florida and California. The conference was held from September 12th – 14th. I'm going to write about this event in two separate posts; beginning with the events on day one.
FRIDAY, SEPTEMBER 12
1:00 – 2:30
Tour at University of Maine, Machias
My day began in Boston, driving northbound toward Machias, Maine. The town of Machias is small and charming. The town had a wonderful shop called The French Cellar selling local cheeses, wines and other delicious items. I also made a stop at the local art supplies shop/framers/gallery. It was there that I picked up a beautiful piece of pottery crafted by a local artist. But the real reason to stop in Machias was for the first event of the conference.
Also located in Machias, is the University of Maine, which enrolls about 1,000 students coming from all around New England for their undergraduate studies. An average of fifty students participate in the Book Arts Program per year. Bernie Vinzani, Director of the Book Arts Studio, lead a tour of their facility. The tour began with a trip to the gallery, displaying works by both students, local artists and historical documents.
We then moved into the other various rooms of the Book Arts Studio, which included the bindery, print shop and a multi-purpose room. Bernie explained that the students are involved in a single project each year in which they must work together. Each student receives a particular job and they learn the process of creating a book, printing a book, assembling a book and then selling a book. The components of their most recent project was laid out for us, along with a wall display of past projects.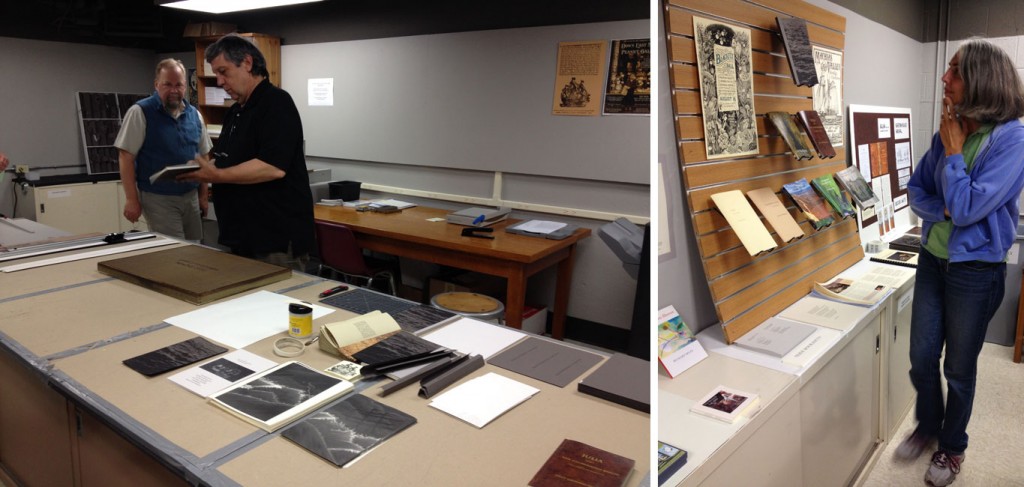 As a treat, a solo exhibition of Katie MacGregor's pulp paintings and other artworks were installed early. This part of the tour was quite thrilling for me. I've only known the papermaking side of Katie and was intrigued by her creative side.
5:00 – 8:30
Presentations and Evening Reception
The conference participants reconvened at the Cobscook Community Learning Center for the evening festivities. The CCLC hosted most of the activities for the weekend and even had a lodge onsite where many of the participants slept. The lodge was newly built and our group are one of the first to occupy it. I chose a quad for economic reasons and was delighted by the four bunk beds I ended up having to myself. Each room has its own private bathroom complete with shower. 
Starting off the evening, was a presentation from CCLC Executive Director, Alan Furth, who introduce us all to the Center by giving a brief overview of its history and mission. The Center formed in 1999 as a group of community members from the Passamquoddy Tribe, the Euro-American community, and a community of Canadians from New Brunswick wanted to improve life in this rural region. Paying particular attention to the education models of many Danish folk schools, they developed a center aimed at empowering high school students and to strengthen their community.
The following presentation was giving by local printer and book artist, Walter Tisdale. Walter filled three tables with wonderful examples of his own work, the work of his friends and some collaborative projects. Walter began his training at the University of Wisconsin in Madison studying book arts with Walter Hamady. Although typography is his real passion, as is collaborating with writers and artists for enriching content; Walter also plays around with book forms. Walter's aversion for glue forces him to develop innovative non-adhesive structures. Making dummies is his forte. And so he shared some of these models with us.
Last, but certainly not least was a presentation by the imitable bookbinder Gray Parrot (also a local to Maine). With an early interest in 18th century bindings, Gray began to build his collection until the habit became to expensive therefore pushing his interests onto pulp and science fiction novels. Gray was an Enlgish Literature major at Harvard before he embarked on studying bookbinding with Arno Werner in Pittsfield, Massachusetts in 1971. Gray studied with Arno for less than a year before going to Ascona to learn finishing techniques.
In 1973, he opened his own bindery and worked on his first edition project just a year later. To date he's worked with some very talented printers and respectable presses such as Leonard Baskin, Barry Moser, Pennyroyal Press and Gehanna Press. In addition to his presentation, Gray brought an abundant collection of his own bindings. All of which, he let us handle and gawk at. His hand skills are superb and his tooling immaculate. Gray pays attention to every little detail and leaves no space bare without purpose. I discovered a tooled line on the top lip of a leather covered tray on a clamshell box!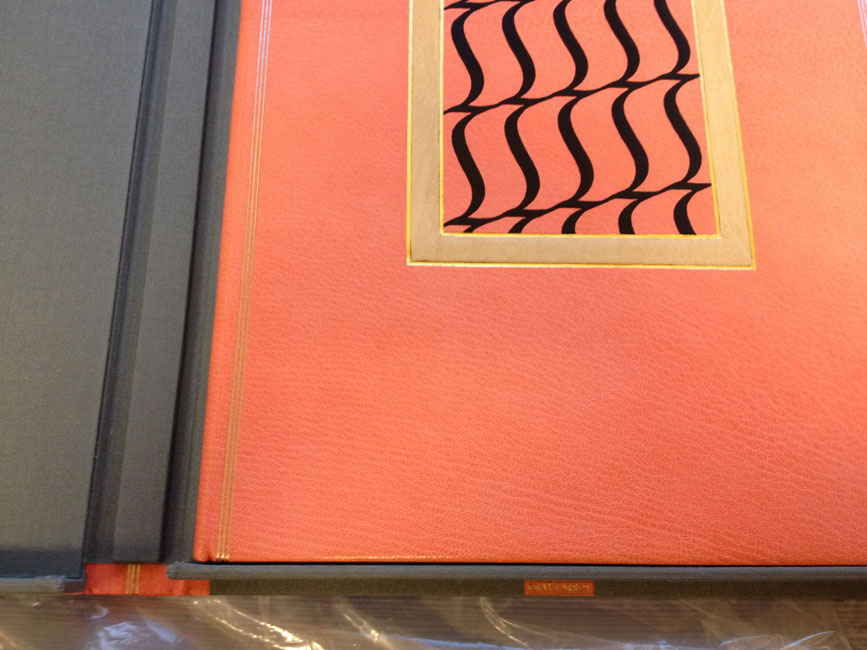 After those three exciting presentations we were eager for dinner, which was served up by a local catering business run by two sisters. Once we took our last bites of decadent chocolate cake, chatter soon arose about the possibility of seeing the Northern lights. We took a short walk out to an open field and patiently waited until a blanket of stars. Sadly, we never saw any sign of the Northern lights and headed back to the lodge to rest after our first day of the conference. (Although some of us were lucky to see a few good shooting stars!)