1. This is just a wonderful animation from Lucrece Andreae. It puts a bit of humor into flash dating.
2. #5DaysOfPreservation is a project by Kevin Driedger, who invited any institution or individual to post images over a 5 day period depicting preservation. Thus creating a catalog of images for a deeper understanding of the variety of processes and skills involved.
3. Rachel Niffeneger is an extremely talented artist and one that I'm proud to have met during our undergraduate studies at the School of the Art Institute in Chicago. Some of her most recent work can be seen here. Although her figures are gruesomely painted, Rachel's use of pastel and bright colors creates a wonderful juxtaposition.
4. Massive yet delicate paper sculptures by Peter Gentenaar.
5. Amalgamated is a collection of vases designed and constructed by Studio Markunpoika. Each vase is comprised of several pencils glued together at each facet and then shaped using a lathe revealing the inner structure of each pencil and different points creating unique patterns.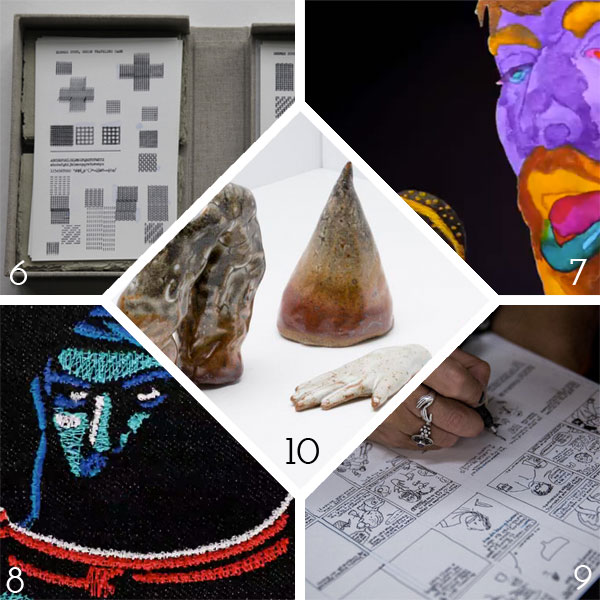 6. Book artist Jen Bervin found inspiration in the imitable Anni Albers. In Draft Notation, Jen recreates weaving patterns through the use of a typewriter, which is commonly done by weavers and documented in Anni Albers' On Weaving.
7. Breakbot's music video for Baby I'm Yours featuring Irfane, is a watercolor animation. Each frame is hand-painted one by one. I'm continuously amazed at the lengths people will go to create a unique music video.
8. So I've mentioned this video before, but it's just too cool. Metal band Throne created an animated music video for their song Tharsis Sleeps. Each frame was machine-embroidered and are up for sale through their website. This video was made possible through a successful Kickstarter campaign.
9. The MTA Zine Residency organized a group of participants to ride the F train for hours, creating content for a zine that would be printed and published and later put up for sale. The organizers of the residency are a librarian and an archivist working at Barnard College library, which holds the largest collection of zines in an academic library.
10. Until a few months ago, Lilli Carré, existed in my mind as a talented graphic novelist. I've recently discovered that her talents expand into a variety of other mediums such as ceramics, film and illustration (outside the book format). You can check out her work here.