Emily Patchin will be graduating from the North Bennet Street School within the next few days. And you may recognize her name from my post on the set book from the Student and Alumni Show. In the latest installment of Swell Things, Emily offers up an interesting collection of posts. Many of them will direct you to talented illustrators and other artists. My favorite is on Kameelah Janan Rasheed, whose artwork shown below, hangs in our bindery. Enjoy!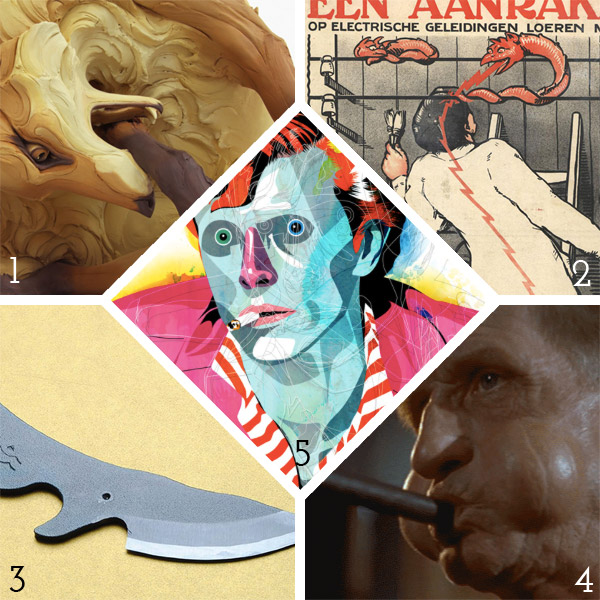 1. Beth Cavener's work has floored me since 2010. To see the raw edges of her work evolve into a style even more painterly than it began, while she maintains the searing emotion within each sculpture, is simply incredible.
2. I love these highly stylized safety posters [from the Netherlands]. It's interesting to be able to note the passage of time, from the 1940-1960s, through the art style alone.
3. Whales! KNIVES! Does this really need an explanation for why they're AWESOME!
4. Glas is a fun, short Dutch film, documenting the nature of hand craftsmanship versus machine produced glass. I think it's interesting to note the musical and color changes, from man to machine, that may influence the viewer's feelings on the subject. I also can't decide who I like more: the man blowing glass while smoking a cigarette, or the man blowing glass in a three-piece suit.
5. Everything about Alvaro Tapia Hidalgo's illustrations are unsettling: from his vivid color palettes, to his lidless, geometric portraits of cultural figures. I adore it.
6. These landscape photos [from Reuben Wu] are so beautiful and otherworldly. I love the ones that are reminiscent of deep sea exploration in particular.
7. Kelly Rose Dancer is one of the most talented and prolific artists I've ever had the pleasure to meet! She's not only immeasurably talented, but her cheeky sense of humor carries through so much of her work. In her series, Crappy Cats, she draws the cat's clothing with her dominant hand and the faces with her non-dominant hand. It's a perfect example of how her superb draftsmanship and sense of humor mash-up to hilarious results.
8. Kevin Wada first caught my eye with his collaborative "X-Fashions" series, which depicts characters from Marvel's X-Men as haute couture fashionistas. I find his stylistic reinvention of popular comic characters refreshing. With the decade long onslaught of comic-book movie adaptations, I feel all of the female characters I grew up loving, like Storm, have been left in the dust. Wada puts them center-stage: kicking ass in Balenciaga.
9. Tyler Thraser had me at, "I crystalize dead shit."
10. Kameelah Janan Rasheed's public print series How to Suffer Politely (And Other Etiquette) is top to bottom brilliant. She satirizes etiquette guides while pointing a hot light on the erasure of Black suffering, oppression, and death through White respectability politics.