Jeanne is a close friend and colleague. We overlapped at the North Bennet Street School before Jeanne made her way back to Texas to help renovate the conservation lab at Texas A&M. She has appeared on the blog before writing posts for Conservation Conversations. But this time around she's sharing some of her favorite internet finds.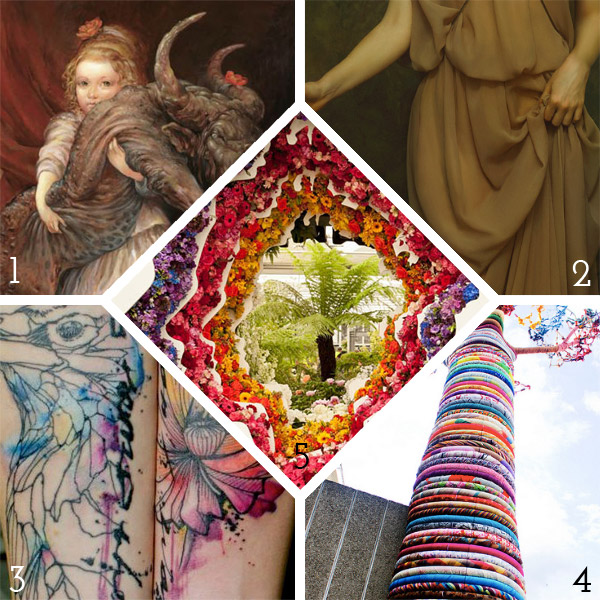 1. This first caught my eye because it is hilarious and a fun irreverent use of this turn-of-the-centry style of painting, but Omar Rayyan's work is wonderful because it reminds me of the book illustration and old school animation I grew up as a kid.
2. Motherland Chronicles is an ongoing series of photographs by Jingna Zhang, a fashion, beauty, and fine arts photographer. I love this series because when you first look at them, you think you are looking at a renaissance painting. She is also completely badass; she joined a Japanese rock cover band in her early teens and represented Team Singapore in air rifle shooting.
3. Klaim Niko Inko tattoos – follow on instgram
4. Under the Baobab, Southbank Centre in London
5. Chelsea Flower Show 
6. This artist (William T. Carson) works with coal on wood. I saw his work for the first time few months ago in Dallas at Camiba Art Gallery and I immediately wanted one. Its just one of those artworks for me.
7. 3D printing, laser and electroplating…dresses? I LOVE this. its just so weird. (Iris Van Herpen)
8. Sitting on my window in the lab is a paper sculpture by Charles Young of Paperholm in Edinburgh. Although he has many great creations, I was drawn to this one because it looks like Baba Yaga's house, the witch who could decide to have no visters by asking her house to stand up so they couldn't reach the door. I always thought that was so smart.
9. Jan Vermann is a German artist who travels around fixing crumbling walls and monuments with legos. (Note from Erin: There is a small patch of legos near by studio in South Boston!)
10.  I find myself looking at images and artwork and thinking about how they would translate into leather and tooling and inlays for bindings. Michelle Blade's work here makes me think of mother-of-pearl inlays, veneer inlays, deep black grainy goat skin leather, and palladium tooling.
SaveSaveSaveSave
SaveSave