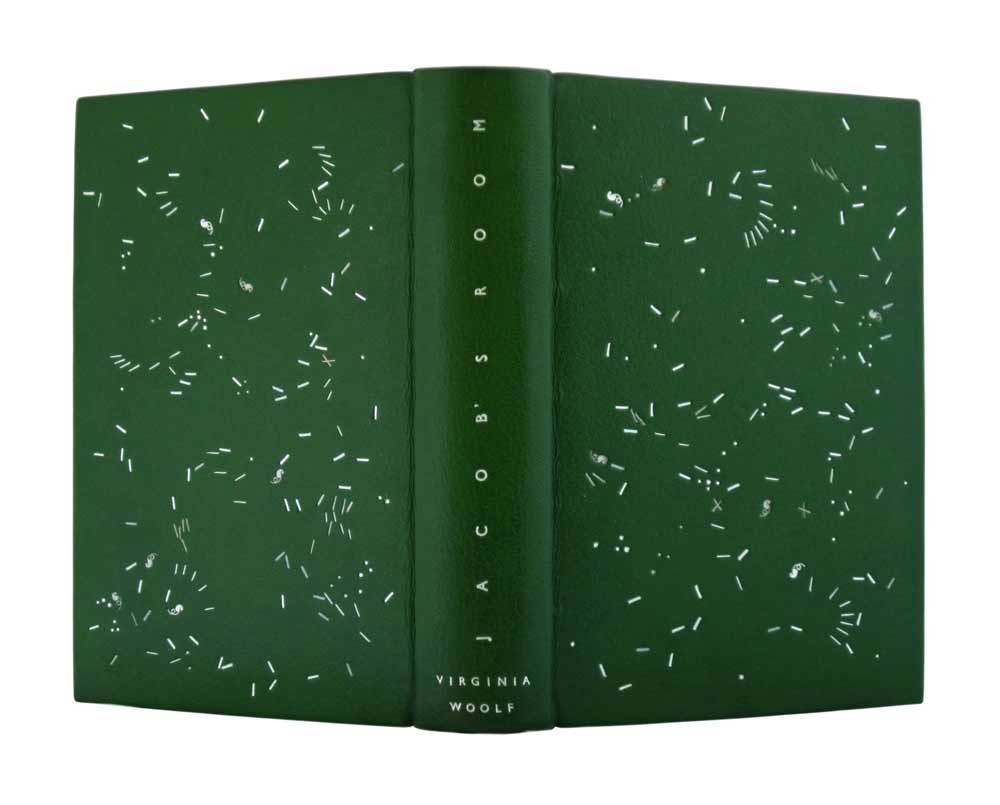 As Annette Friedrich continues with her ongoing Virginia Woolf series, in 2012 she bound Woolf's third novel Jacob's Room. This 1920's Hogarth Press edition of Jacob's Room was bound in full leather green goatskin. The decorative tooling on the front and back covers are done in three shades of silver, white and grey, which offer wonderful subtleties to the design. The title is tooled in matte silver along the length of the spine with the author's name tooled in silver at the tail.
The interior of the covers is lined with paper bord-a-bord doublures in silver rose and the fly leaves are in silver. All papers used are hand dyed. The binding is housed in a silver and green chemise with linear tooling across the sides in three shades of silver. The interior of the chemise is lined with a shockingly, vibrant pink. The spine of the chemise is tooled to mimic the spine of the binding.
Annette has recently added Mrs. Dalloway to her website, the fourth book in the 'on a stroll with Mrs. Woolf' series. It was quite a wonderful surprise to see as I've been frequenting her site this month. The design is similar to Jacob's Room, with the random tooling appearing more dense and chaotic. I look forward to seeing the last five of the series! Keep up the inspiring work, Annette!