STORY ABOUT THE TEXT: An article titled The Roxbury Defenders Committee: Reflections on the Early Years by the Chief Justice Roderick L. Ireland was recently published in Volume 95, No. 1 of the Massachusetts Law Review. The article speaks about the establishment of the Roxbury Defenders, a committee founded in 1971 to provide legal referrals to those who suffered financially in Roxbury, Massachusetts. The committee was founded by Ireland and his colleague and friend, Professor Wallace W. Sherwood. 
ABOUT THE BINDING: For my client, I bound two copies of the Massachusetts Law Review journal, one for the Chief Justice and one for Professor Sherwood. The journals came to me straight from the press and bound together with staples. The staples were removed and bound as a single section bradel binding. This structure has been described in a previous Client Work post you can check out here and here.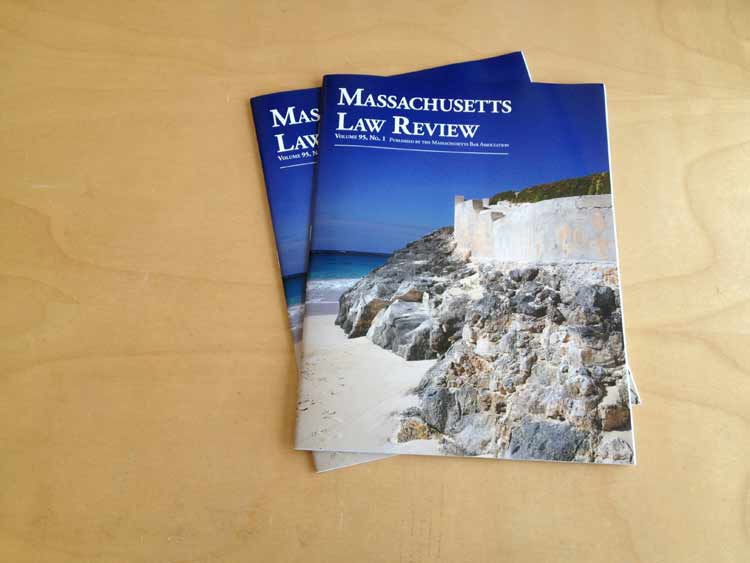 Since the journal is printed in black ink only, I chose materials that reflected the gorgeous and vibrant image on the cover. The journals are bound a half leather binding, where the same covering material for the spine is used to cover the corners. I chose to bind the journals in a blue-gray buffalo skin against a taupe Iris bookcloth. For the endpapers I chose a beautiful handmade Cockerell marbled paper from Cambridge, England, in addition to a folio of marbled grey Bugra and off-white Hahnmühle Ingres.
To finish off the bindings, the title and volume of the journal were hand tooled along the spine with Centaur handle letters. The title was gilt with gold leaf.