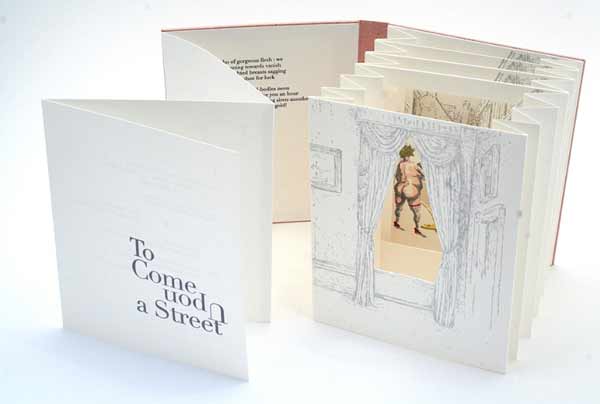 During the Standards of Excellence Seminar in 2012, presenter Steve Miller, professor at the University of Alabama brought a fine collection of student work to share with the audience. One of these pieces was To Come Upon a Street, a collaborative artist book between Michelle Ray and poet, AB Gorham. Michelle met AB in her front yard while living in Tuscaloosa. AB is the new Small Craft Advisory Press resident artist as well as Michelle's neighbor. 
Bound in a hardcover case is a modified tunnel book on the right and an accordion on the left in an edition of 40. The text is written and designed by AB, while the visual design, printing and binding was completed by Michelle. The images and text are printed using photopolymer plates on machine made and handmade papers. 
The visual content of To Come Upon a Street captures the intimacy of the tunnel book structure through an act of voyeurism. The view is of a lewd street scene, where letterpress "ladies of the evening" echo the four complex stanza written by AB. The visual content is quite appealing despite its crude imagery. It strikes a balance between delicate tenderness and indecency.
Michelle describes this work as creating a piece that is kitschy yet tender; a celebration of delicate visual smut and witty double entendre.
To Come Upon a Street is housed in several collections including the Maryland Institute College of Art, The University of Utah and Chapman University in California. You can add this wonderful and humorous artist book to your private collection through Michelle's Etsy shop: MichelleRayArt.