Only 3 weeks remain to view or purchase my bindings on Buy Some Damn Art.
I had never read The Enormous Crocodile when I was a child, therefore, I experienced this devilish tale as a young adult. The Enormous Crocodile lives in the jungle and is a rather sinister character. When meeting other jungle creatures, he boasts about his clever plans to snatch up children in order to eat them. All of the creatures are horrified by this idea and foil his plans along the way. The Elephant has quite enough of this crocodile's antics and decides to put an end to it. Grabbing the Enormous Crocodile by the tail, the Elephant swings him around with such speed, he is projected far into the atmosphere until he hits the sun and is 'sizzled up like a sausage'.
Quite an ending, one that surprised me as a reader. Very few Roald Dahl books contain color, but The Enormous Crocodile is filled with vibrant greens and yellows. When considering the cover design I didn't want to compete with such a colorful palette plus I couldn't get the image of a sizzled crocodile out of my mind. This led to the decision of doing a monochromatic binding in black. 
The book is bound as a millimeter binding with black Pergamena goatskin running along the headcaps and joint. The rest is covered in black Hahnemuhle Ingres. A recess was built into the front board before covering as a well for the crocodile skin. Due to the bumpy texture of the crocodile skin, paring was impossible, but also unnecessary.  Once the skin was glued up and placed in the well, layers of foam were sandwiched between the cover and press boards, this kept the skin flat while drying. The title was stamped in a sans serif typeface with silver foil before gluing down the crocodile skin.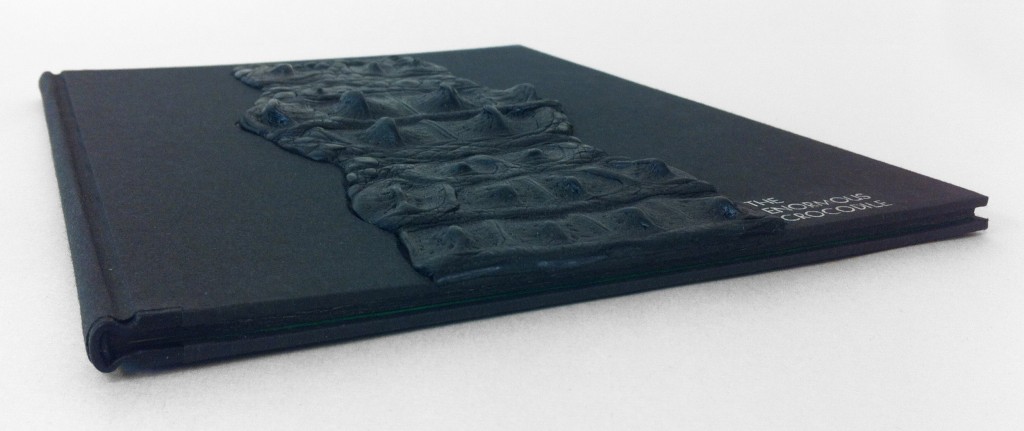 Continuing with a monochromatic look, the edges were painted black. Using a combination of fluid acrylic, airbrush medium and wheat starch paste I was able to apply a thin yet opaque layer of pigment. When you open the front cover, a rush of brilliant green floods your vision. The endpapers were constructed with emerald green Lokta paper.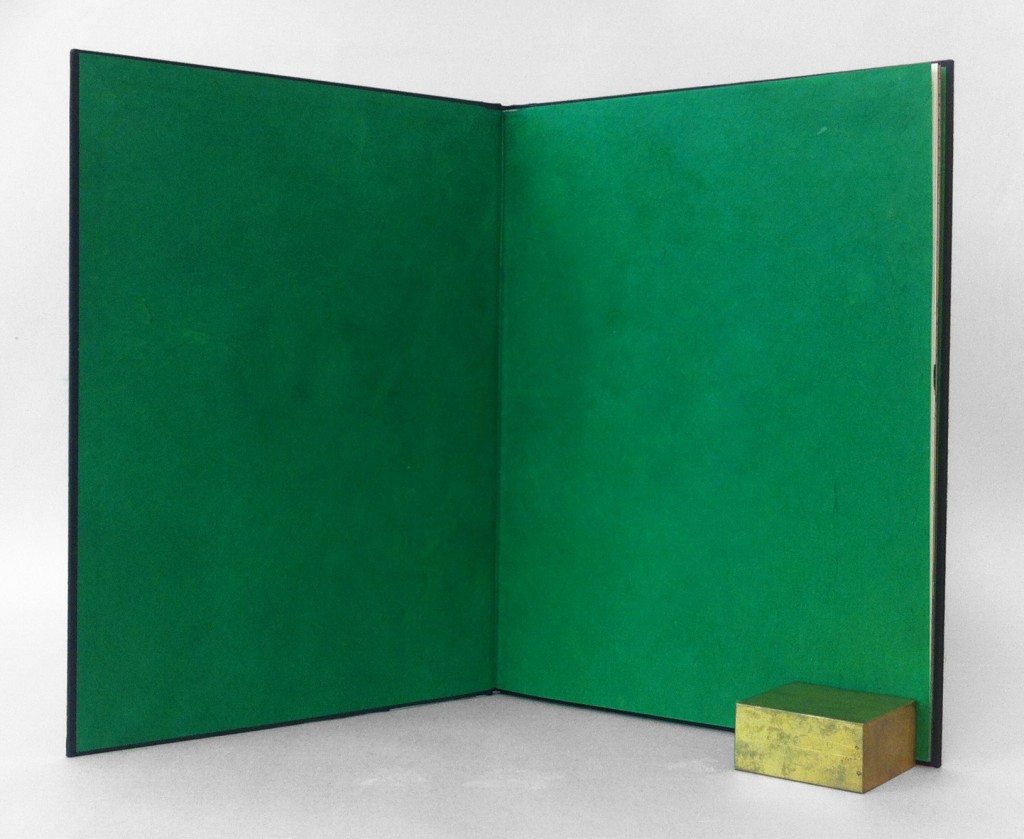 The book is housed in a black clamshell box. The trays are covered and lined with black Hahnemuhle Ingres with Volara foam cushioning the front cover. The case is covered in black Iris bookcloth and kept closed with black satin ribbon.