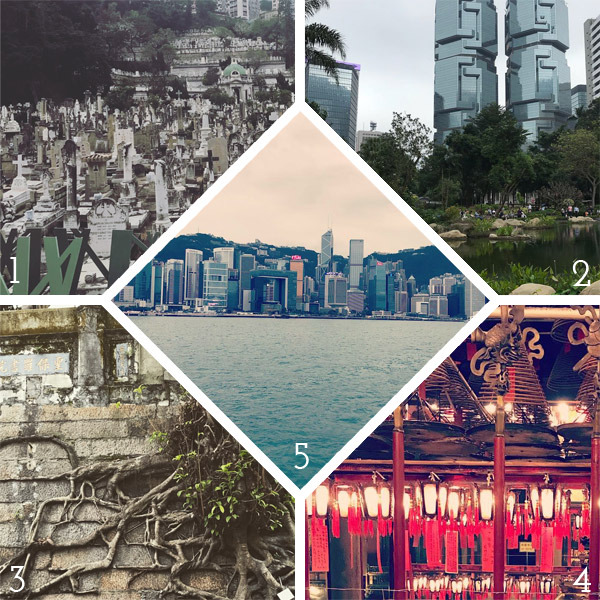 1. In the center of the city is the historic Hong Kong Cemetery, which we got a glimpse of while sitting in a double-decker bus.
2. A view of my two favorite buildings in the Hong Kong skyline from Hong Kong Park.
3. Just one of many stone wall trees throughout the city, where trees are effectively growing out of the stone walls and defying gravity.
4. A visit to the Man Mo Temple in the Central neighborhood where dozens of incense cones are hung from the ceiling.
5. The view of Hong Kong Island from the Star Ferry on Victoria Harbour.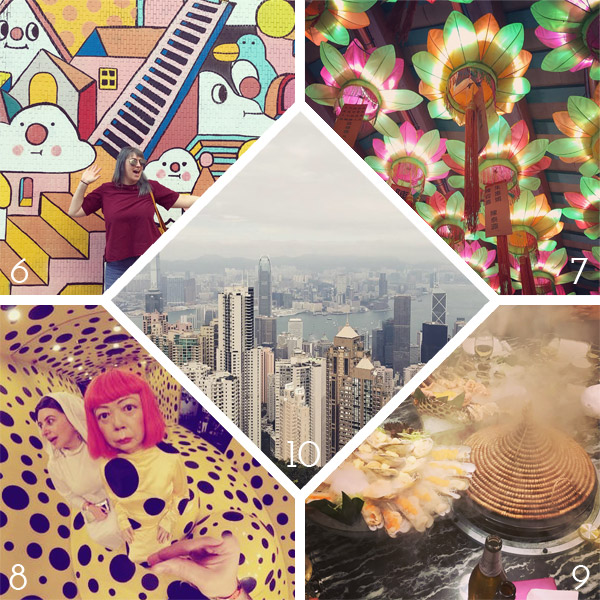 6. We passed by this mural everyday on our way to Wong Chuk Hang train station, so on our final day I made sure to get a photo with it.

7. A visit to Pak Tai Temple had me gasping at the array of paper flowers hanging across the entire ceiling. 

8. Posing with Yayoi Kusama dressed as Princess Leia at the Madame Tussaud's Wax Museum. You know, just a typical Saturday night in Hong Kong.

9. Eating our only hot pot dinner while in Hong Kong. Amongst friends and their family, we dined on steamed seafood, congee and steamed honey cakes!

10. The view of Hong Kong from Victoria Peak. Such a gorgeous and dense city filled with the most skyscrapers in the world.