Paperrad was an artist collective based in Boston and comprised of Jacob Ciocci, Jessica Ciocci, and Ben Jones (all fantastic friends of Sonya Sheats). Their multimedia projects use "lo-fi" visual aesthetics, bold fluorescent colors, and images from popular culture.
In 2006, Jacob visited Sonya in France. Paperrad's first book, BJ and Da Dogs, had just been published and he brought her a couple copies. Sonya had just finished her first apprenticeship with Edgard Claes and was about to return to Belgium to continue her studies. Jacob and Sonya thought it would be a good idea to bind Paperrad's book, so he designed the cover while in France, and Sonya brought it with her to Belgium.
This edition had been previously bound after publication, so Sonya dismantled the text block. To hide some wear left on the outer folds of the signatures, Sonya glued strips of fluorescent papers onto the folds. The structure for the binding is referred to as "À Creneaux" with an open spine in polycarbonate assembled in sections and PVC. The signatures were sewn with monofilament and exposed along the spine.
A comment from Sonya:
It will forever be a running joke between Edgard and me because he was quite shocked and unsettled by the colors in the Paperrad design. I hung up prints, templates, and color samples around my workspace, and Edgard joked that he had a hard time looking in my direction during that time. It took me about 22 hours to make 7 templates for the color blocks and to airbrush the design [with automotive paint]. 
The interior of the boards were also airbrushed, one in lime and the other in a soft blue.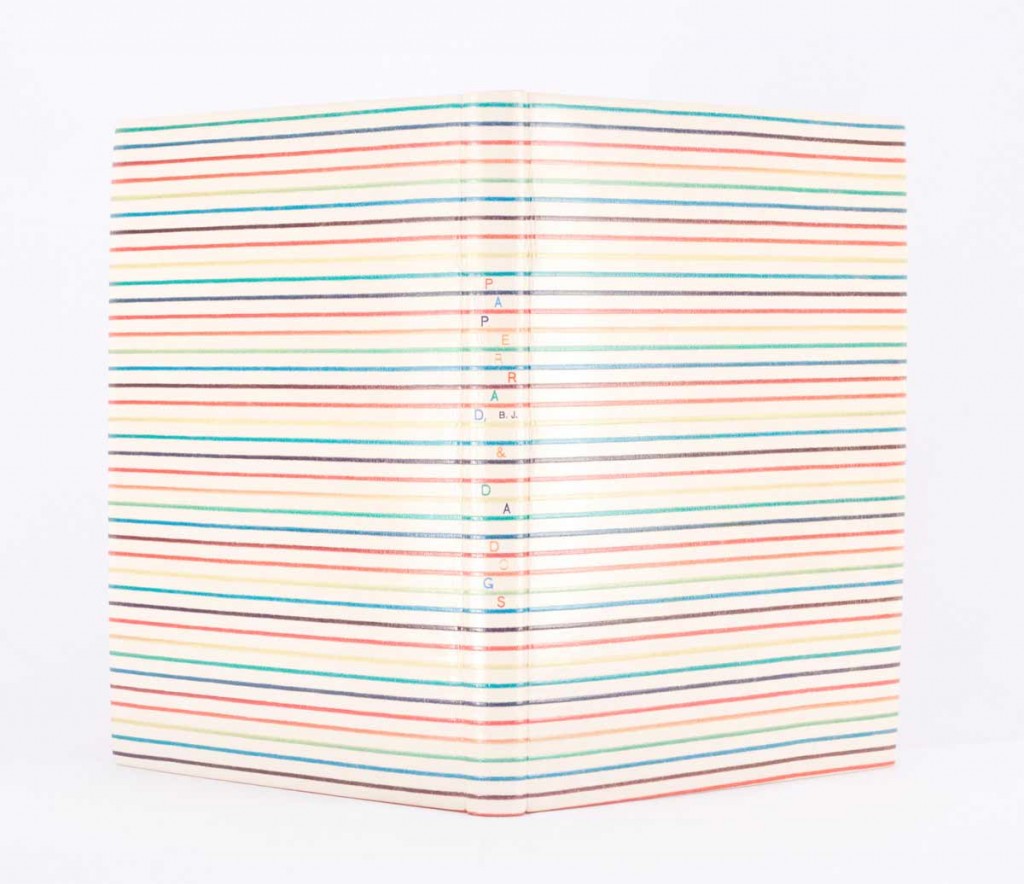 Bound in 2005 for Paperrad, BJ and Da Dogs is this full embossed leather binding with colored foil tooling for the title. Below is another edition bound as an open joint binding with buffalo skin.