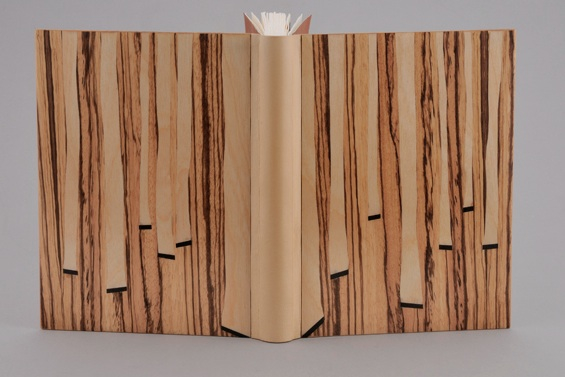 When Harold Pinter was award the Nobel Prize for Literature in 2005, the Nobel Museum (located in Stockholm) began a collaboration with the Swedish Bookbinders Guild to offer an annual Nobel Museum Bookbinding Exhibition. Their goal has been and continues to be to give bookbinders an opportunity to work together with contemporary writers. An archive of past exhibitions are also available on their site. 
In 2012, Sonya Sheats bound Madrigal by poet Tomas Tranströmer, who was awarded the Nobel Prize in Literature. Published in 2010, the text includes linoleum prints by Birgit Alm-Pons and was printed in a numbered edition of 50 (Sonya bound copy 13). Her binding was awarded honorable mention in the exhibition and was on display at the Nobel Museum alongside a biographical exhibit about Tomas Tranströmer from February to June of 2013. 
Sonya's binding is a true quarter binding structure. I'll let her words describe the rest: 
The spine is quite interesting. It is made of natural goatskin. The width of the leather spine piece is equal to two times the width of the spine. The hollow extends onto each board by approximately 0.5mm (one quarter the thickness of the true spine) and is attached to the boards by 0.5mm turn-ins on each side. Add all that leather up and you will get two times the width of the spine. The boards are a mosaic of zebra wood with inlays in birch wood. End sheets are tan Silsuede, and the book is encased in a shaped birch slipcase lined in Silsuede.