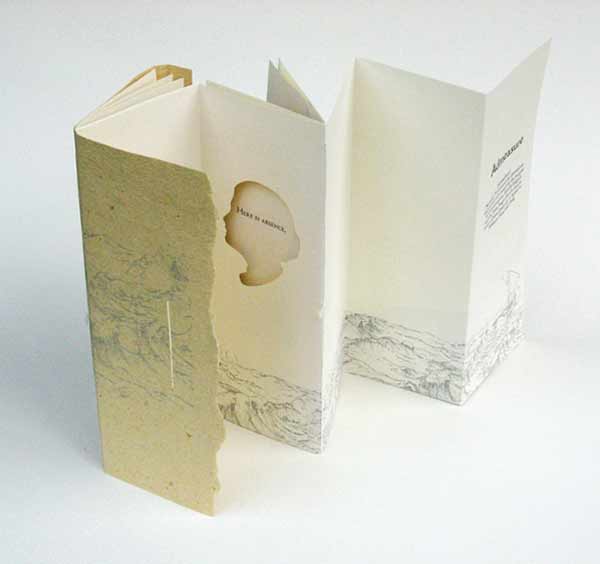 In 2011, Michelle Ray created this softcover accordion with pamphlet inserts in an edition of 35. Text and images are printed from photopolymer plates and linoleum blocks on handmade and Somerset Book papers. Admeasure is another artist book from Michelle inspired by the sea as well as maritime traditions and regulations. The term admeasure refers to the act of measuring the dimensions and capacity of a vessel for official registration. 
A note from Michelle:
The act of naming things creates a sense of relative safety at sea. Like the pilot's verse that guided sailors through dangerous shoals, Admeasure is about gaining a false sense of control through signifiers and ritual that guide one through a world that is largely uncontrollable. This book explores the dialectic tension between the dangerous unknown and measure, rules and tradition. While at sea, measurements, maritime law, navigation aids and other modes of dominance through organization are easily lost to the forces of nature and the psychology of a journey. 
The content of Admeasure not only draws from Michelle's own experiences in small boats, but also from a variety of standard journeys in the sea. These included Samuel Taylor Coleridge's The Rime of the Ancient Mariner, Homer's Odyssey, and Bas Jan Ader's In Search of the Miraculous.
Admeasure is included in a variety of collections ranging from Scripps College in California to the University of Iowa to Atelier Vis-à-Vis in France.  Admeasure is also featured amongst the pages of the recently published 500 Handmade Books Volume 2.