In the first Conservation Conversations, way back in January, Anna brought up the idea of working in a "studio" or "lab". There is another running joke that is very true about conservators always ending up in the basement. It's not because the PTB* don't like us, but when designing conservation spaces, there are a myriad of factors to account for some of which are proper ventilation, water sources, and public access. It all begins with what actual physical space is available. In some cases, a conservation department is added on later in the institution's history, which can limit the spaces available properly suited for a conservation lab. Hence, basement dwellings. Or the attic. Or that closet that used to belong to facilities.
Whatever the case may be, re-purposing a space to our needs (as we sometimes do with tools) is not an unusual situation to be in and if we are really lucky, and been really good and the stars are aligned just right, we could also be in on the planning for a brand new space.
The following are images of studios, labs, and binderies I have had the pleasure to visit along with some solutions and customizations for how spaces can be re-purposed for conservation.
Believe it or not, this lab is actually located in the basement level of the building, which sits on a hill overlooking a cemetery. This side of the building includes windows that are historical to the structure. Due to this fact and that the windows are original, renovation plans to update the conservation lab had to include them in the designs. Most conservators would give their non-dominant arm for a window (don't even ask me what we do for more than one window). However, windows are difficult for us in two ways: 1) they can mess with the stability of your inner environment such as temperature and relative humidity. Drastic changes in temperature and weather on the outside are buffered better by insulated walls rather then floor to ceiling windows. And 2) sunlight coming through must be filtered for UV to protect objects that might be staying in the lab while they are worked on. The Solution: modern windows with UV filtering glass were built on the inside of the historical ones allowing for better insulation. A building inside a building.
This is a bindery studio located on the 6th floor of a Warehouse Building, that also houses other artists and small businesses. The bindery shares the floor with a photography studio. There are four work benches that are rented by the month and renters pay for their own special supplies. Large equipment like board shears and book presses are shared as well as the overhead for utilities and basic book materials such as bookboard, lining material, text block paper and adhesives.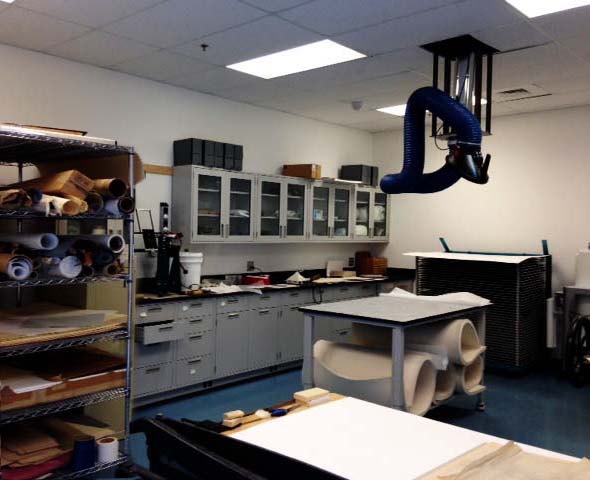 This lab was added to a brand new space built on University grounds, which enabled the head conservator to have input on many specifications for the space as it was being built. The building is on one level and is shared with classroom spaces and offices. Modifications for this lab were better insulation and HVAC systems to control the environment as much as possible. Due to public access of the building, the lab also has a top of the line security system.
This bindery is located in a more traditional building of Artist Studios. Artists rent studio space by the square footage and bring in there own equipment and supplies. This collective also has a shared gallery space on the first floor where artists can have there own shows and work collaboratively with one another.
This lab is located in a Museum and was built in a way that the public could observe conservators as they work. The paper conservation lab is shown here and two of the walls are clear so visitors can walk around the entire lab.
And last, this space is part of a Conservation School. Here, students learn about treatments and work on individual projects. The school also hosts workshops on conservation, which is when this picture was taken. Three pairs of tables are spaced evenly in the center of the room, each with recessed light boxes. Overhead fume hoods on movable, retractable necks from the ceiling are spaced through the center of the room so they can be adjusted over any workstation including over the large washing sink. Two rooms bookend this larger space, one used for photo conservation and the other dedicated exclusively to book projects. The school also hosts workshops on conservation, which is when this picture was taken.
These examples represent only a small number of conservation spaces that are out there, but you start to get the picture. If there is a kind of space not represented or if you know of a particularly interesting solution to a space re-purposing conundrum, I would love to hear about it! Please post in the comments below.
*PTB=Powers That Be. These can be a board of trustees, company president, or someone just known as Your Boss.
**All pictures used here with permissions of the owners of the spaces. If you would like to know where any individual picture was taken, please email with the request.