I am wrapping up this month's interview with Ben Elbel by showcasing his recent binding of Breakfast at Tiffany's. Read on to discover the technique behind the decorative covers and what secrets lay within the binding.
Breakfast at Tiffany's is covered in beautifully decorated leather, which caught me by surprise. Having only seen this binding online, my initial guess is that the boards are covered in paper. Can you describe how you manipulated the leather to achieve such a wonderful range of color and texture?
Indeed it is leather, not paper. The technique consists essentially of glueing thin paper to suede leather and then sanding away the paper. I have never actually tried replacing leather with paper but I imagine that paper would probably tear during the process.
A few years back I was terrified about doing anything to a material. I used materials as they came from the suppliers and found it increasingly frustrating because bookbinding materials only come in a limited range of colours.
I was working at Shepherds Bookbinders at the time and because we had a splitting machine there were bags full of beautiful suede that would go straight to the bin. So one evening after work I started messing around with suede, glue, leather dyes, papers, etc, having absolutely no idea what I was doing.
There were a couple of 'happy accidents' and after some time, I had identified what had lead to those happy accidents and found that I had a process, so simple that I was even able to teach it. I have a nice collection of these pieces and they are a great starting point for a design binding.
In this binding, you've included a hidden component. The front cover opens up to reveal two panels of text, can you elaborate on your concept for this part of the binding? Does it have a magnetic closure?
The latest version of my dos rapporté binding has boards made of two layers, hinged at the fore-edge. The two layers are glued together with a flange from the textblock in between. The aim is to provide a very strong cover to text attachment, but of course it is very tempting to see a design opportunity; why not include something in there, and shut the boards with magnets rather than glue.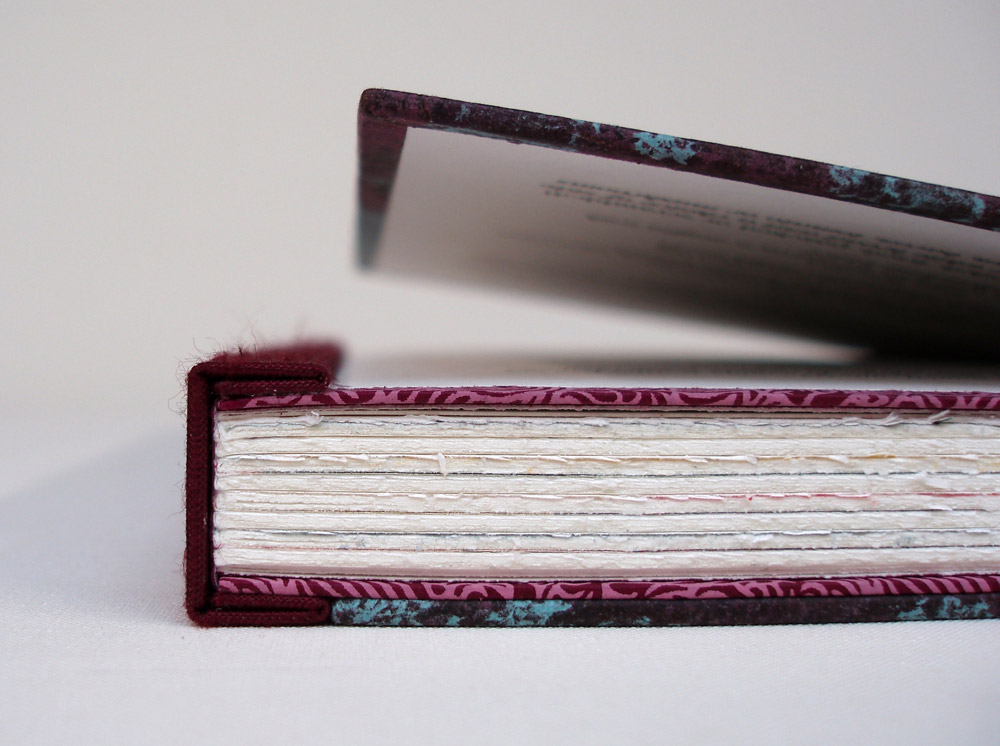 The opportunity came with Breakfast at Tiffany's, the set book from Designer Bookbinders 2014 Competition. At the time we were also producing menus for a hotel in London, and this is how a breakfast menu ended up between the two layers of the front board.