I'd like to share a rather handy bit of hardware that we recently acquired and started using in my institution: The Onset HOBO MX1101 data logger.
This little device measures approximately 1.5″ in height by 3″ in length, and is about an inch thick. It measures temperature and humidity – which is nothing new for a data logger and I have used many other devices over the years that can do that job just as well. The great thing about this model in particular, however, is the included Bluetooth connectivity, which allows you to view or download the collected data on your mobile device.
Duke University's Rubenstein Library recently underwent a major building renovation. The collection storage areas, exhibition spaces, reading rooms, staff offices, and instruction spaces were all redone, including HVAC systems. The library officially reopened in the new space in August, a time of very unpredictable weather in North Carolina. With all these new spaces and infrastructure, it has been helpful to be able to quickly gather data on the environmental conditions in a given space. If the settings of a new air handler are adjusted, for example, we can easily monitor the space it serves for several days and have the data on hand.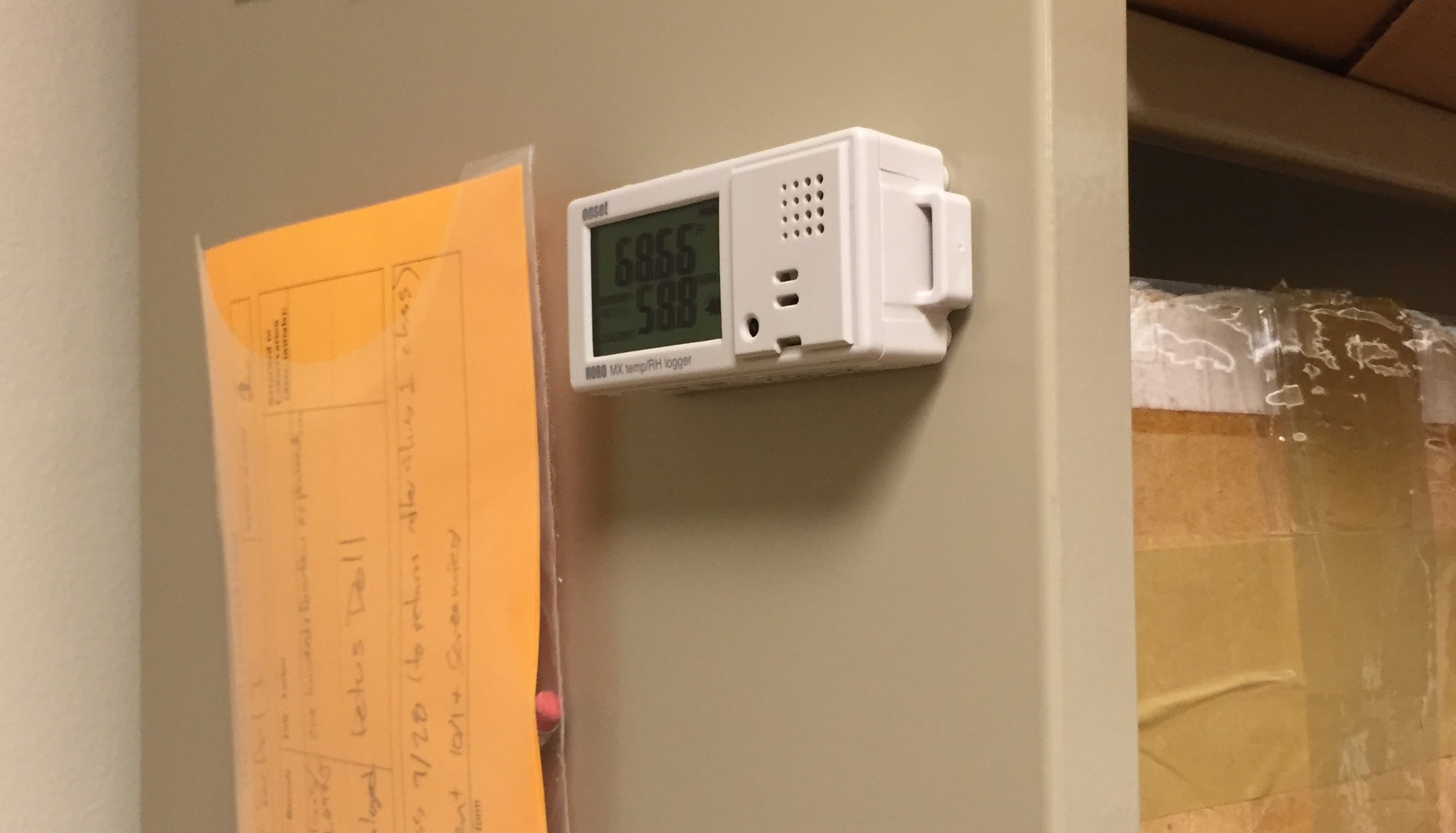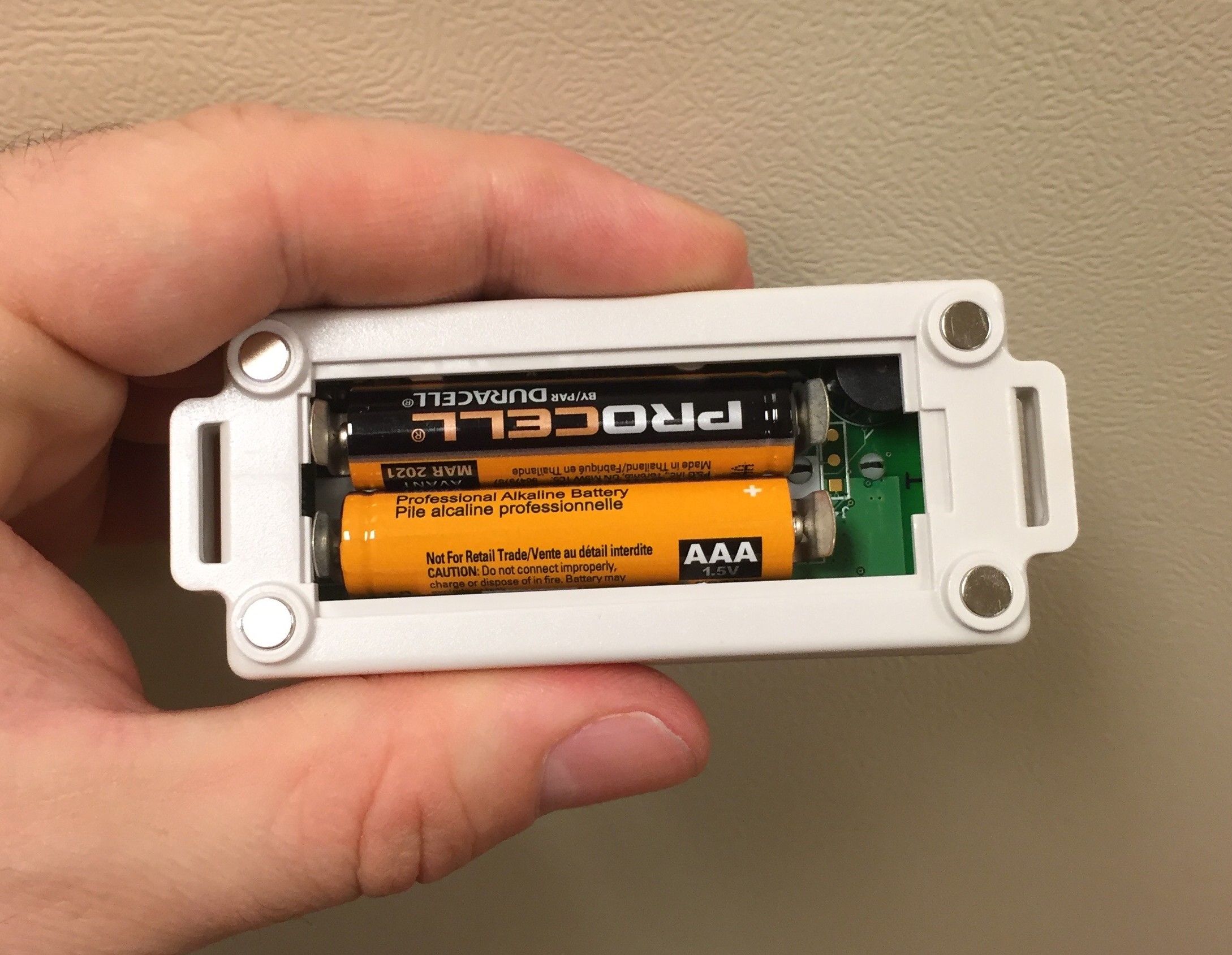 Each unit is powered by two AAA batteries, which the manufacturer says should last for about a year (depending upon some variables). The specified operating range is -4° to 158°F (accurate to ±0.38°F) and 0 to 95% RH (accurate to ±2% at room temperature). You can set the device's logging rate anywhere from 1 second to 18 hours, and the memory can store over 84,000 measurements. The back of the unit contains four small magnets, making this data logger easy to deploy and monitor. The LCD screen on the front allows you to get a quick visual of the current environmental conditions, and status of the logger – but the real magic happens in the free HOBOmobile App.
You can give each unit a unique name and restrict access with a password. The manufacturer says the transmission range of the Bluetooth is up to 100 ft, but this is for clear line-of-sight. I usually have to be within about 10-20 feet of the device to be able to connect and download the data with my iPhone 6, but I have been able to do so through fairly thick concrete and masonry. In fact, I can often connect to a unit on the floor directly above or below me. This means you can gather the data from all the units in a space at once, without disturbing them; No more crawling around with a cable looking for each HOBO. In fact, if you forget where a unit is located, you can page the device from the app for easy identification.
After downloading the data from all the units, you can see small display graphs right on your mobile device. You can zoom-in or drag the graph on your screen to get a better view of the data points. My favorite feature is the very simple interface for selecting and sending data files to either cloud storage or other staff.
There are many different devices for monitoring environmental conditions, and each has different functionality and associated cost. If you just need to collect data on temperature and relative humidity in a normal library or museum environment, though, the HOBO MX1101 is great. It currently retails for around $135, making it a very affordable solution. If you would like to hear more about how these devices can be used, I would suggest watching the webinar titled "Tracking Environmental Conditions in a Museum with Onset Bluetooth Data Loggers". Staff from the Hunter Museum of American Art in Chattanooga, TN discuss their experiences with these HOBOs.