In this next installment covering the 2018 Student and Alumni Exhibit, I will be showcasing some of the work submitted by former bookbinding students at North Bennet Street School. If you missed my previous post where I interviewed the graduating class on their set book, check it out here.
This year I submitted two of my own bindings. I'll begin with my miniature binding of The Island: An Amsterdam Saga by Geert Mak with illustrations by Max Kisman. This binding was apart of Stichting Handboekbinden Miniature Bookbinding Competition and was first exhibited at the Meermanno Museum in The Hague.
Bound in as a three-part Bradel, the boards are split into two designs. The top half is constructed with stone veneer, embroidery and ivory leather panel pieces. The bottom half is a mix of foil tooling, vellum onlays and embroidered feathers. The spine is covered in leather with painted suede onlays. The book is housed in a full leather box with an embroidered rat. You can see more of images of this binding on my website.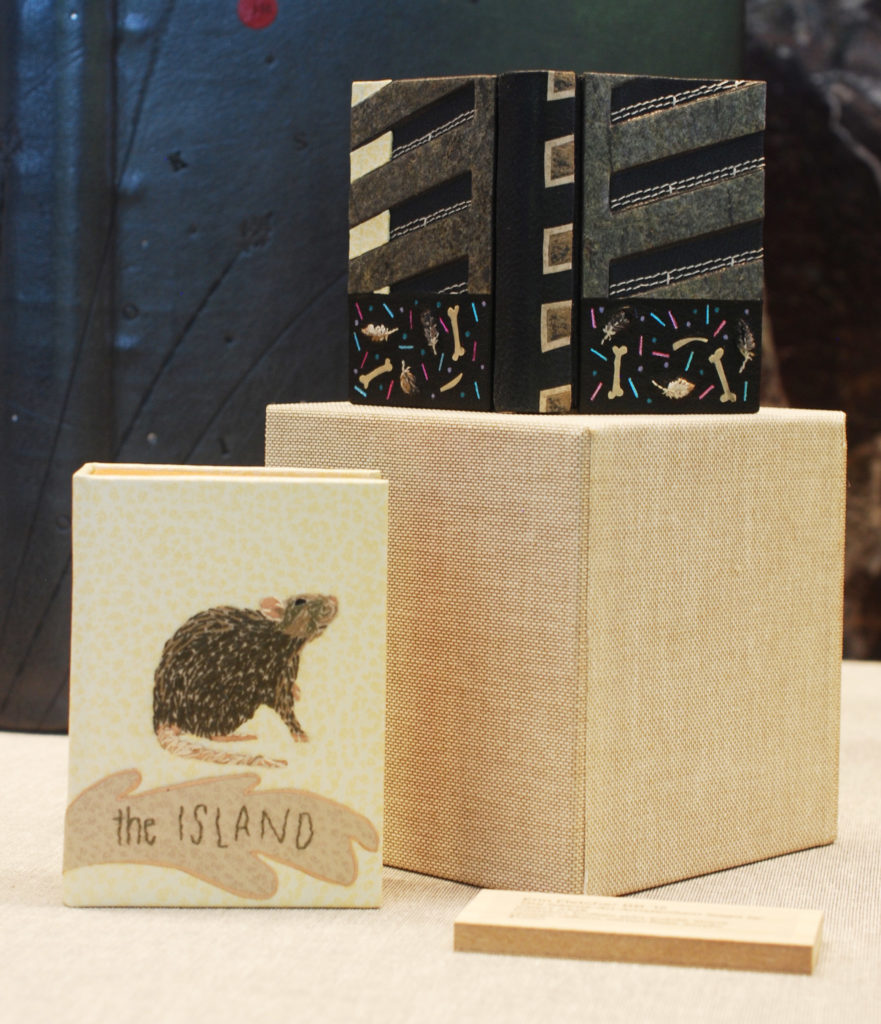 My second binding is 2001: A Space Odyssey by Arthur C. Clarke. The book is bound in black buffalo skin with goatskin onlays in white, yellow, teal, lavender and fuchsia. The teal and lavender are attached suede side up. There are additional kozo paper onlays in yellow, orange and pink. All of the onlays are adorned with embroidered floss to expand on the explosion of color. The back board includes four stanzas from Dies iræ.
The head edge is painted with a white base and misted with black pigment. This sprinkled effect continues along the fore edge. The fly leaves are also decorated in this pattern to give the illusion of one continuous look.
Lauren Calcote, '15
This miniature binding of The Wild Swans by Hans Christian Andersen was bound by Lauren Calcote. Done as a Coptic binding, the boards are covered in vellum and decorated with embroidered stone veneer. I love the seamless continuation of thread that spans from the endbands onto the boards framing the stone veneer. 

Fionnuala Gerrity, '11
Strawberry Thief is wrapped in a cheerful embroidered chemise on deep teal dupioni silk done by Fionnuala Gerrity. The light-hearted design is mirrored on the back board. Fionnuala's use of hefty cotton floss creates so much texture and height to the embroidery.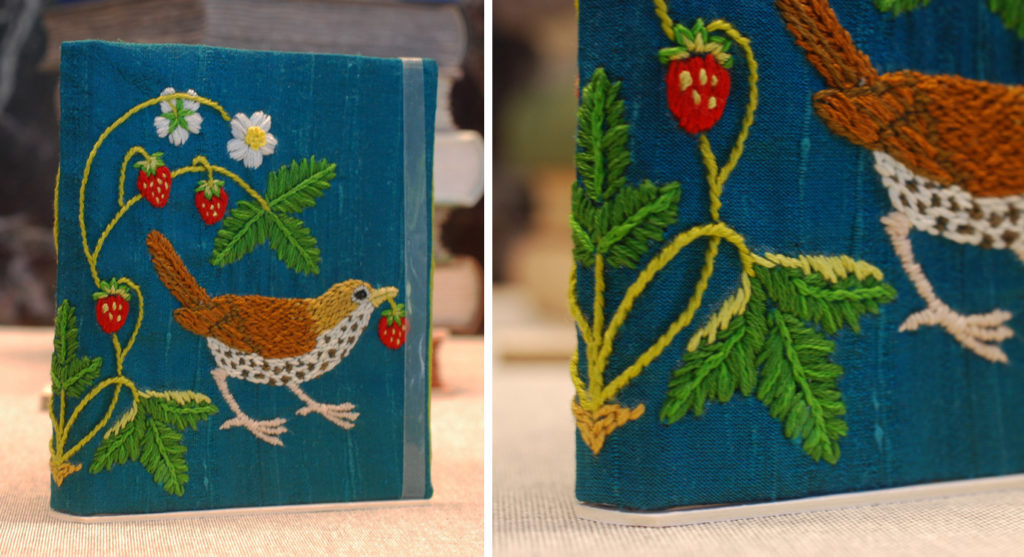 Kate Levy, '17
Bound as a three-part Bradel, the book itself features a range of artists working with textiles and fiber as their medium of choice. By piecing together scraps of colorful handmade paper with embroidery floss, Kate Levy plays homage to one of the artists featured in this binding of Stitchillo. By clicking on the images below, you can see that the title is stamped in clear foil on the lower red paper panel. Working with thread on paper is such a delicate task, but the effect is so lovely. 

Anne McLain, '10
Anne McLain demonstrates the playfulness of traditional decorative tools in her binding of Julia Miller's Books Will Speak Plain. Thoughtfully placed ornamental lines span across the binding in a way that connotes a firework explosion. Small accents, such as silver foil dots and blind letters, are scattered amongst the flares. A small red dot holds the initials JM to signify the author. The endbands are hand sewn in alternating bands of white and dark grey. The head edge is splattered with various shades of grey and splotches of white.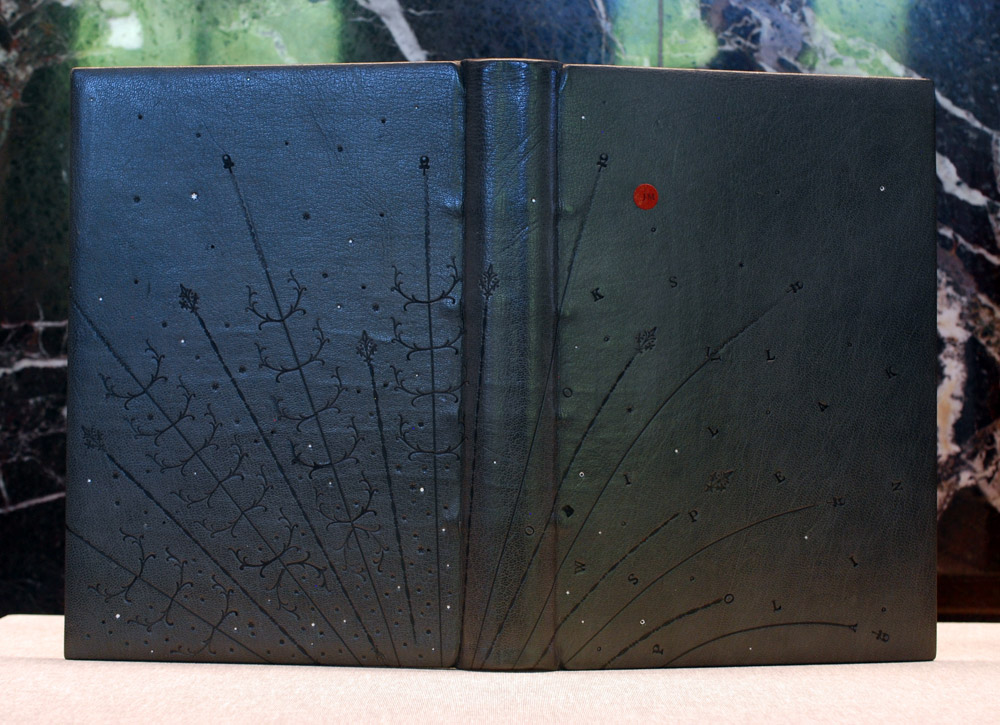 James Reid-Cunningham, '90
What a surprising mix of materials in James Reid-Cunningham's binding. Les Negres is a play by French dramatist Jean Genet and is bound in black Tyvek. The cover is adorned with mother of pearl and lines of gold tooling. Their is a really lovely relationship between the figures of mother of pearl. The iridescent quality of the material provides movement against the black background. 

You can see all of these bindings in person and others while the show is open. This year the Student and Alumni Exhibit will be on display at two locations: from May 7 – 23 at Two International Place and from June 4 – 30 at North Bennet Street School (both located in Boston). Check out the website here for more details and opening hours.
SaveSave