Here are the next nine panels in my 100 day project.
Panel No. 10 // Tangle
These panels are giving me the opportunity to play around with materials I might not consider for a binding and so I grabbed some cording I had picked up from a recent trip to Britex in San Francisco. This panel is covered in tangerine cowhide and chartreuse Moriki paper. Two strands of cord are tacked on with orange and navy blue silk thread. In the bottom corner are two stitched lines of emerald silk thread.
Photographed on a bookshelf with a John Hook ceramic pig.
Panel No. 11 // Sad Mole
My husband and brother-in-law often collaborate together on drawings. I love their style of drawing and the line work can translate very easily into embroidery. This panel is covered in natura buffalo skin with embroidery in dark peach and desert sand cotton floss. Painted elements in opera gouache.
Photographed next to a planter and plastic stegosaurus. Made while listening to Jónsi.
Panel No. 12 // What's Going Around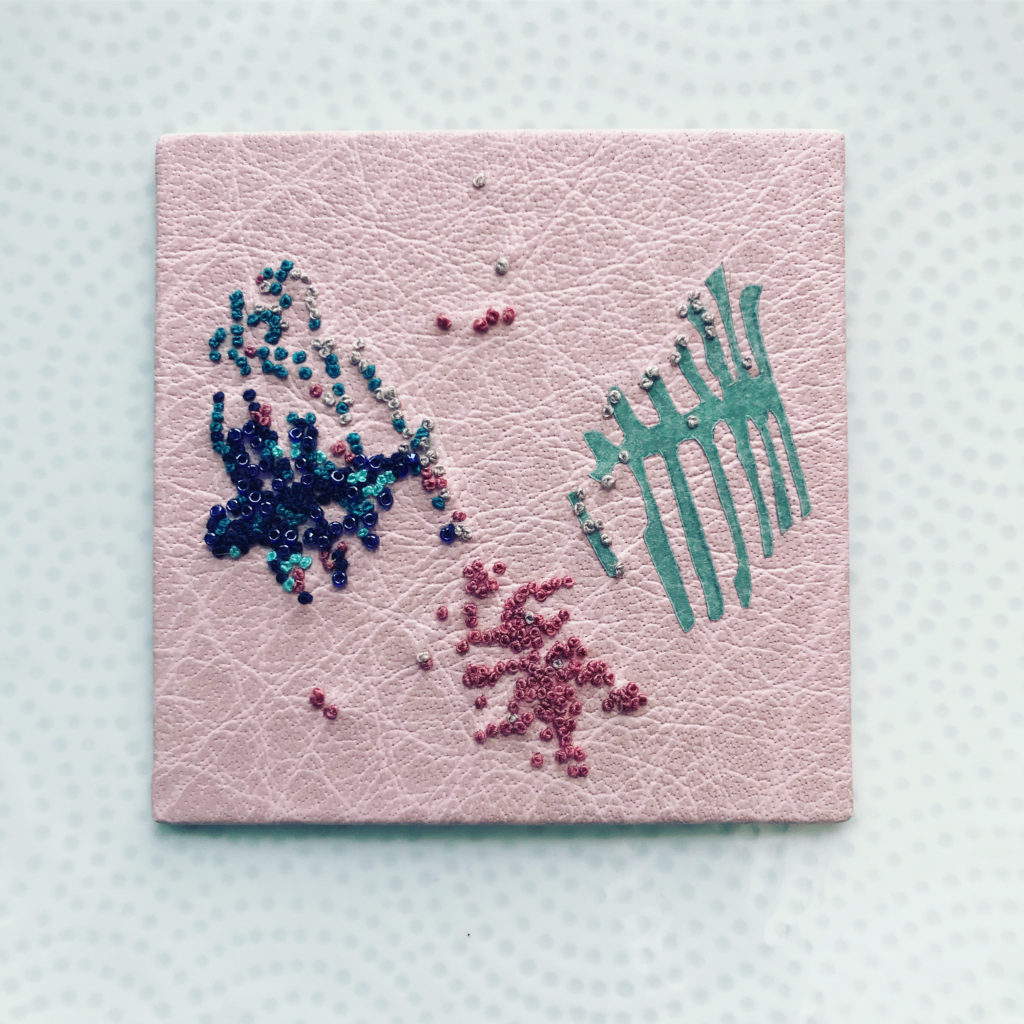 I had been wanting to play around with beadwork on leather for a while. The inspiration for this panel came from an image of a petri dish. French knots and beads could easily emulate the growth of the colorful fungus. The embroidery is done in silk thread in navy blue, jade, green aqua, cafe au lait and desert rose. Dark denim glass beads attached with navy blue silk thread. A single paper onlay from handmade translucent abaca paper in teal.
Photographed on a dinner plate and made while listening to The Strokes.
Panel No. 13 // Ice Skaters in Spring
This panel was covered in fair calfskin hand-dyed with various spirit dyes. To apply the yellow dye, I cut strips of paper and dipped them into the dye before brushing it onto the skin. The orange and red dyes were applied with wool daubers to create irregular blobs and spots. Bordeaux powder dye was applied with waffle patterned furniture pads. Longs strands of silk embroidery floss stitched in jade and navy blue.
Photographed on a navy blue Hay crate and made while listening to Jay-Z.
Panel No. 14 // Central – Cambridge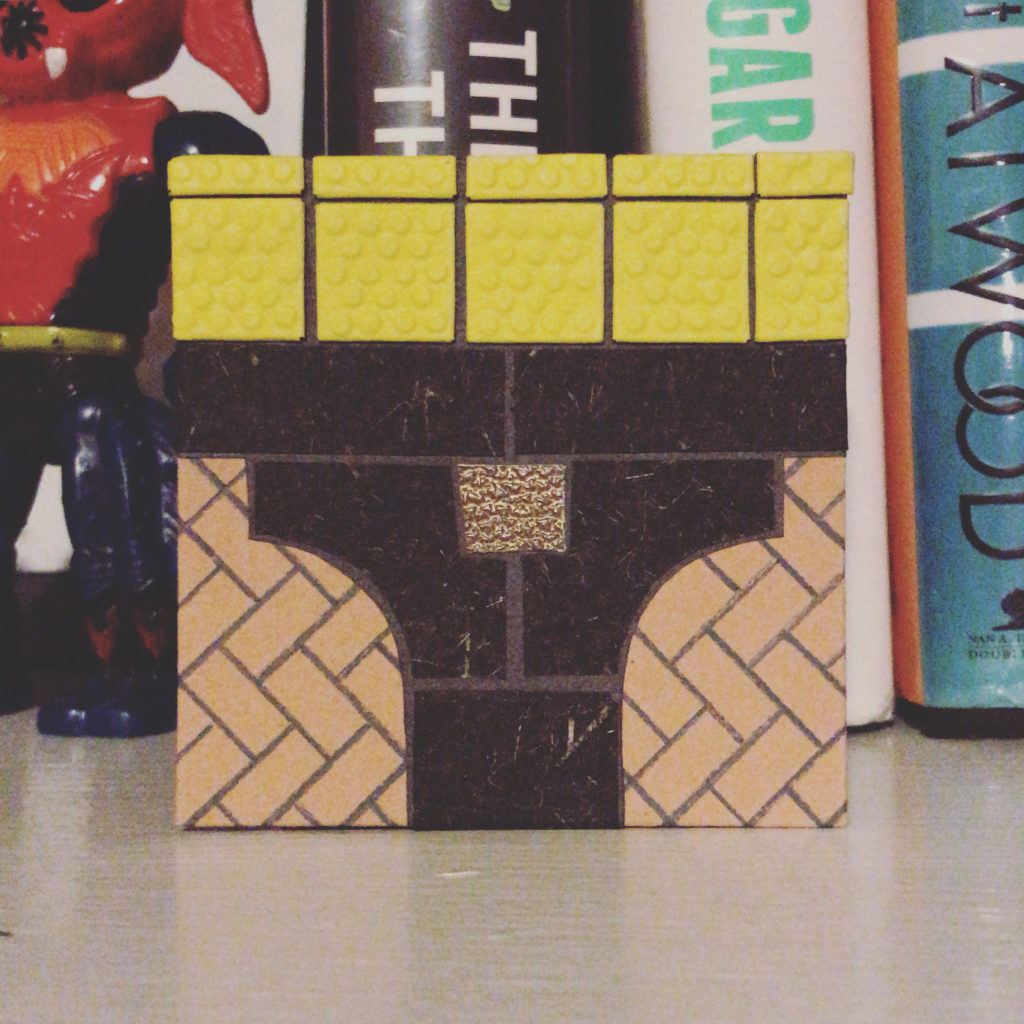 I love photographing the ground under my feet, particularly tiles and subway platforms. I have mistakenly named this panel for Central Station in Cambridge, so the search continues to figure out its precise location. This panel is made from mostly layers of paper. The bottom layer is a piece of peach paper with lines drawn in slate grey to mimic tiling. The darker tiles are cut from dyed Japanese tissue and wheatstraw paper in black from Hook Pottery paper. The central gold tile is a piece of embossed metallic gold leather. The tenji tiles are made from 20pt. museum board and covered in sunburst cowhide.
Photographed on a bookshelf next to a vintage action figurine. Made while listening to Jay-Z.
Panel No. 15 // Pulse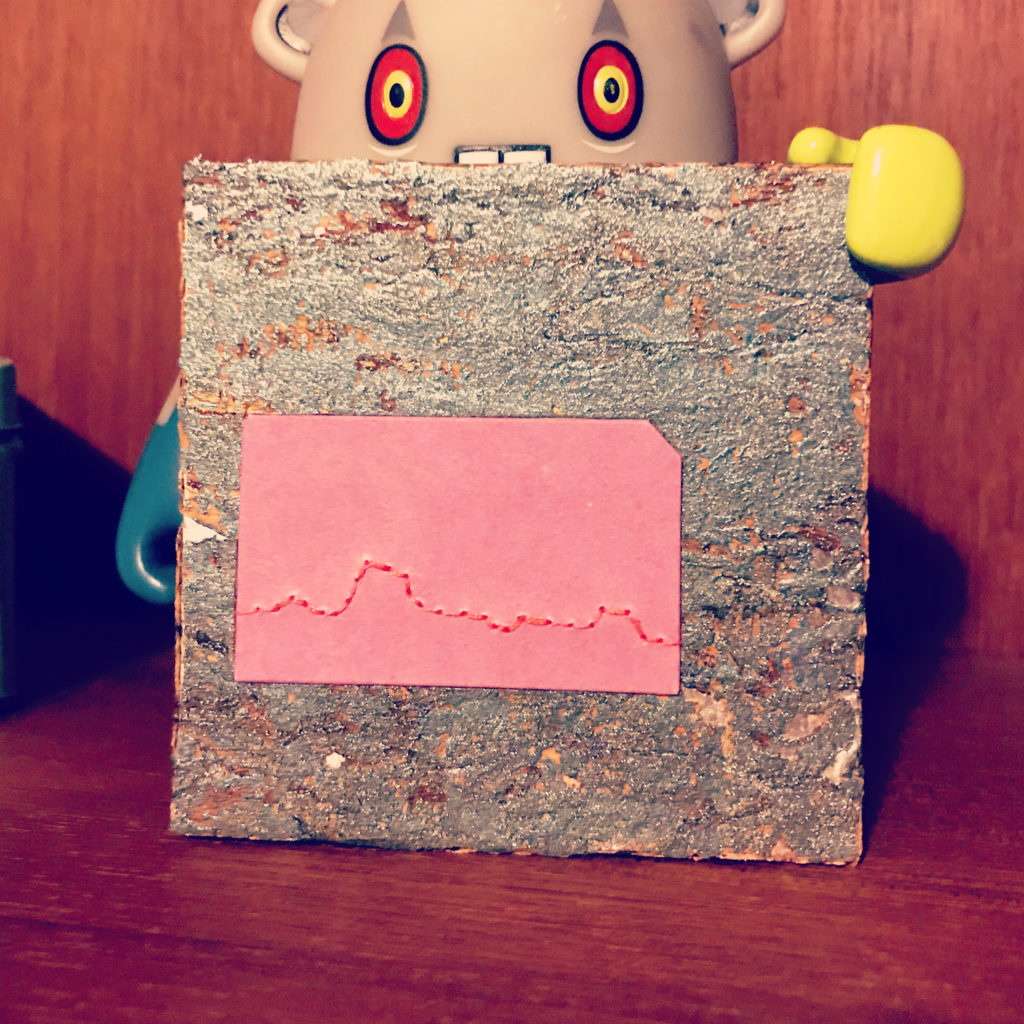 This cork metallic paper has a beautiful texture, but does not wrap well around the edge of the board. The purple rectangle is a paper covered inlay made from 20pt. museum board and handmade paper. It is slightly thicker than the cork and therefore sits a little raised. The inlay has been embroidered with coral red polyester thread.
Photographed next to a vinyl figurine.
Panel No. 16 // Greetie
This panel began to take shape with the inclusion of the two plastic trinkets which were ultimately glued to the finished board. The panel is covered in a medium brown goatskin with hand-painted details in ash green, neutral grey and leaf green. A pekinese stitch surrounds the cloud embroidered in light peach cotton floss with a strand of fuchsia wool thread twisted underneath. Seed beads in dark blue stitched to the ends of each droplet.
Photographed on a vintage Camel cigarettes tin.
Panel No. 17 // Everlasting Gobstopper
This panel was inspired by a student in my Embroidered Leather Binding workshop. We discussed ways she could create a window in the cover and embroider around it. The panel is covered in steel blue Stonehenge paper with a collaged raised onlay. The raised onlay is covered in various handmade papers in dark orchid, bright blue, chartreuse yellow and tangerine. Edges are embroidered with dark grey cotton floss. The window is stitched with blue cotton floss and wraps around the edges.
Photographed on a vintage serving tray.
Panel No. 18 // Saccharine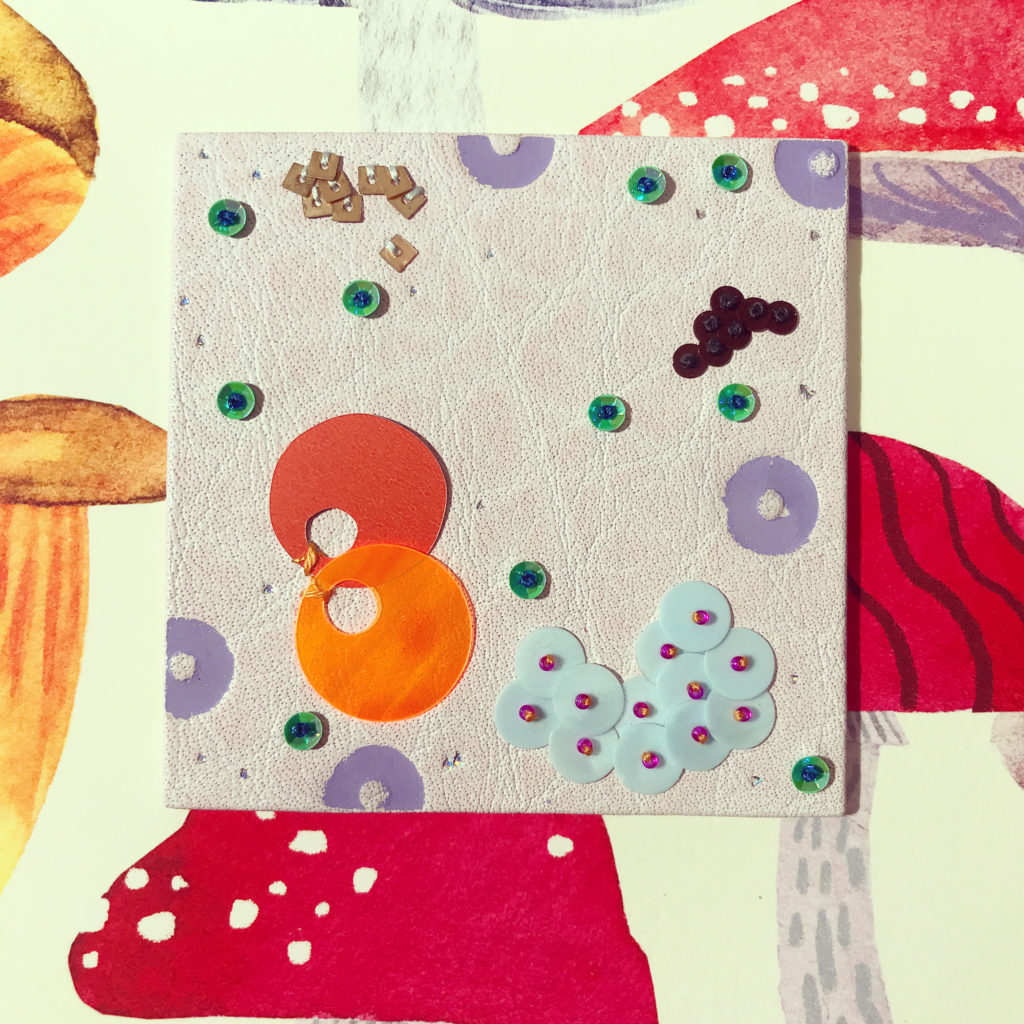 In addition to playing around with beadwork on leather, I've also been wanting to add sequin to the mix. This panel explores a range of sequin and styles of attachment. The sequin are paired with dark denim and fuchsia seed beads and tooling done with matte lilac and holographic foil.
Photographed on a mushroom print folder repurposed from a Paper Source calendar.