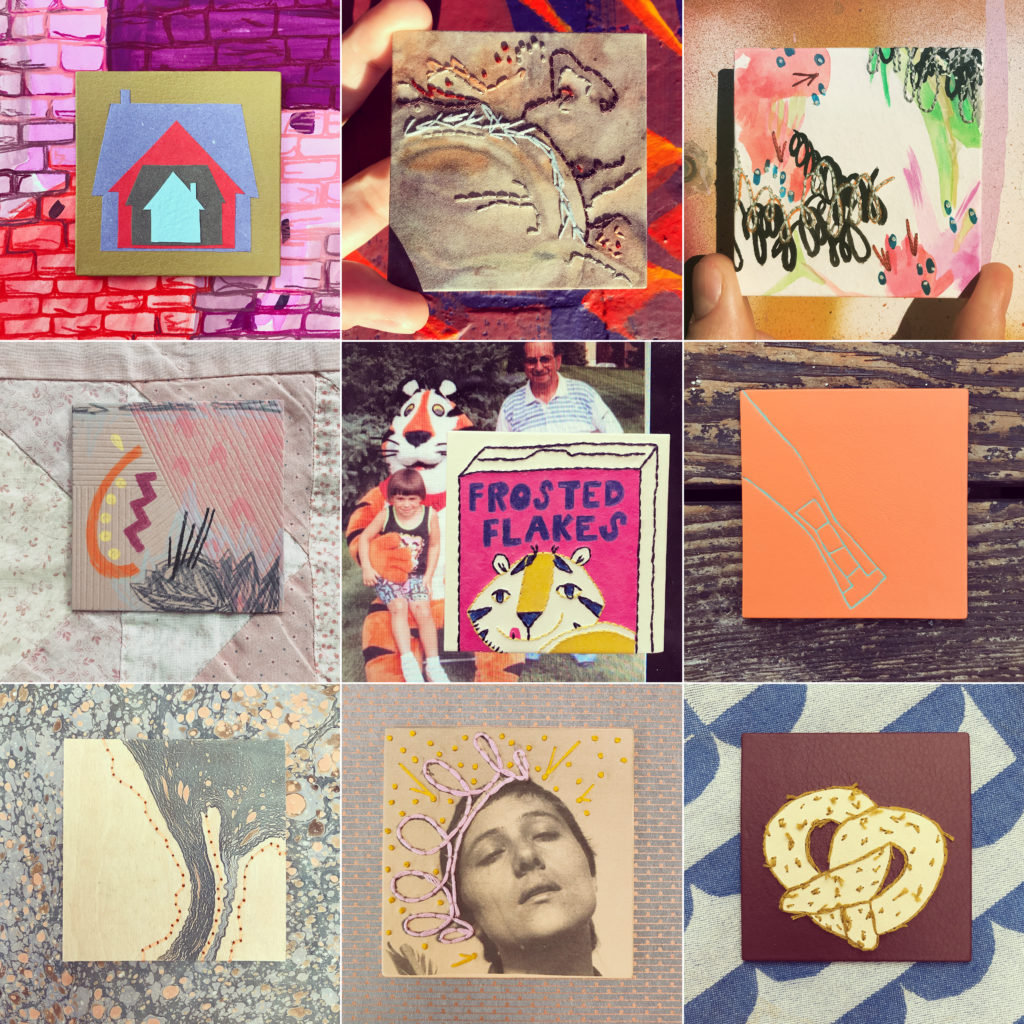 Here are the next nine panels in my 100 day project.
Panel No. 19 // Neighborhood No. 2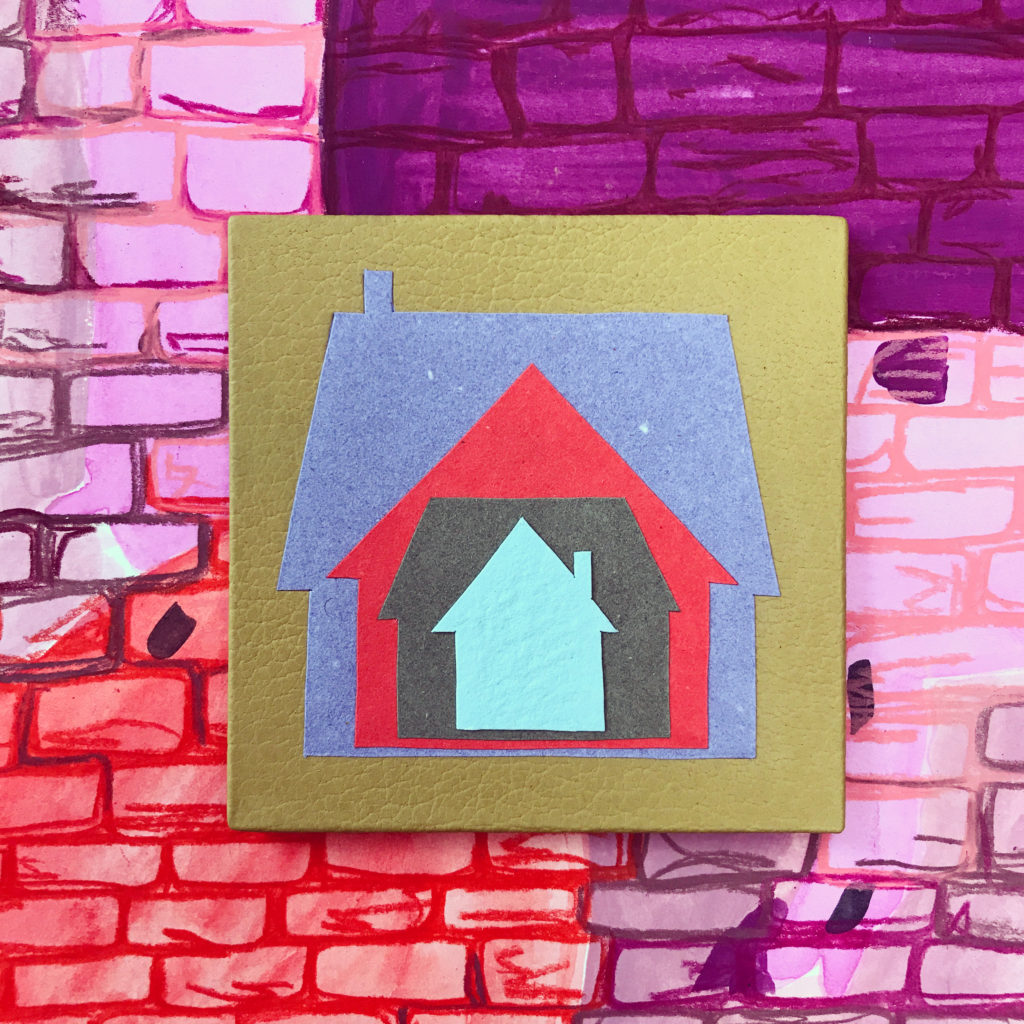 This panel is the second half of a design, which was created for a client and ultimately not chosen. The first half of the design appears on Panel No. 5. The stacked houses are created with a range of handmade papers from the Morgan Conservatory and St. Armand. The bottom three papers come from the Morgan Conservatory and appear in periwinkle, coral red and slate grey. The top layer is cut from a light blue colored paper from St. Armand. All paper pieces are attached with PVA and glued to a board covered in mustard Cowhide.
Photographed on illustration of a painted brick wall made by me.
Panel No. 20 // Gowanus
While teaching at the Paper and Book Intensive years ago, I acquired a few sheets of eco-printed paper from Velma Bolyard. I love these papers which capture color and texture from various vegetation and food scraps. I bought the paper with the intention to embroidery details into the paper. And that is what I did for this panel. I used a variety of colors in cotton floss to highlight different shapes and colors in the paper.
Photographed in front of With Love from Nepal by Imagine (aka Sneha Shrestha), a public mural near Central Square in Cambridge.
Panel No. 21 // Spring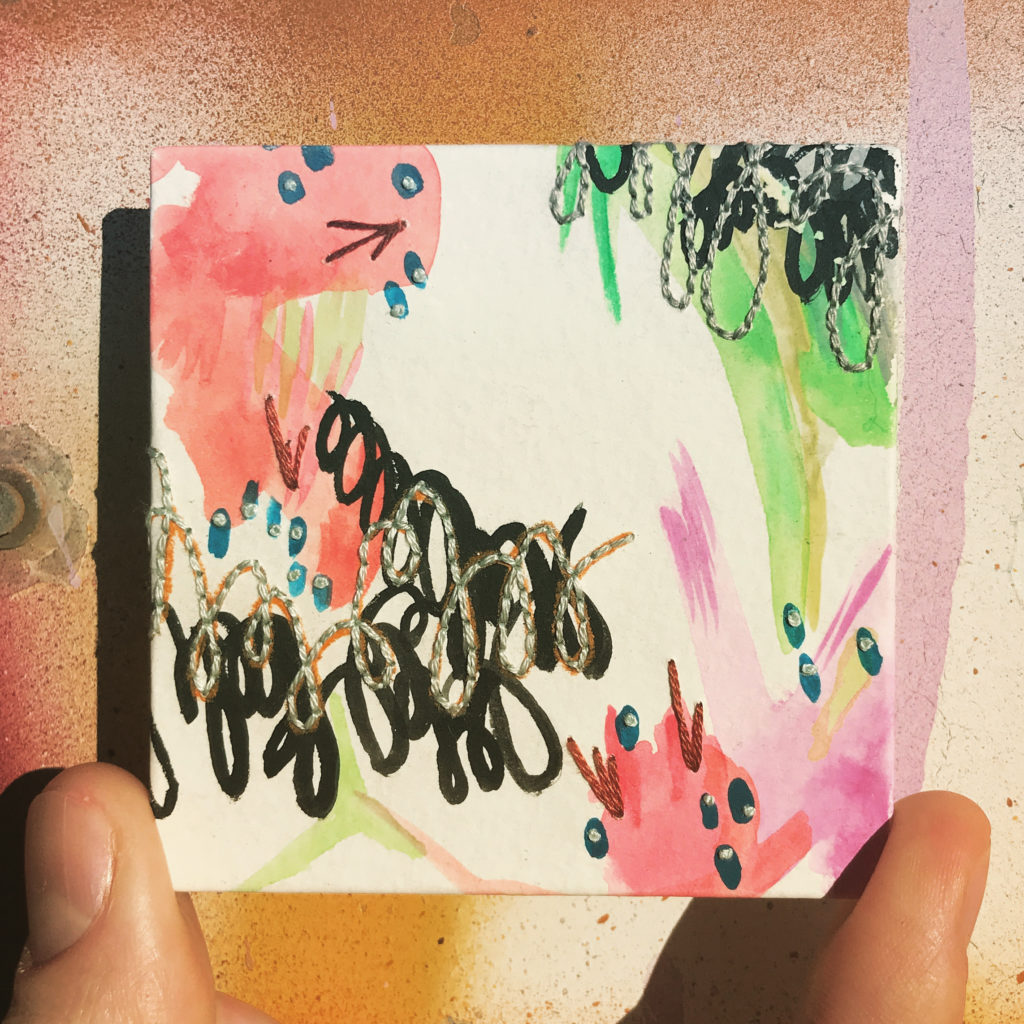 I made this panel while taking a stay-cation with my husband at a local hotel. It was a great way to get out of our house and savor some local treats. This panel was inspired by the artwork in our hotel room and is a collage of watercolor painting, embroidery with various colors in cotton floss and colored pencil. Created on medium weight watercolor paper and attached with PVA.
Photographed in front of Illuminated by Sagie Vangelina, a public mural near Central Square in Cambridge.
Panel No. 22 // Warmth
I was thinking about family and my childhood quilt that lives quietly folded up. It is tattered from years of use and I've retired it so that it does not receive any more damage. The panel is a quick arrangement of shapes and doodles inspired by the quilt. After the illustrated paper was attached with PVA, lines were scored into the paper with a bone folder by running it against a ruler.
Photographed on my childhood quilt made by my Grandmother.
Panel No. 23 // Frosted Flakes
One of my favorite memories from my childhood was taking a tour of the Kellogg's factory with my brother and my Dzia, which ended in this great photograph with Tony the Tiger. Earlier in the year, I had created a drawing of a vintage Frosted Flakes box and decided to re-create it here for one of my panels. This panel is a combination of paper pieces, colored pencil and embroidery. Fuchsia Lokta paper is used for the background of the box and Tony's tongue. The rest of the box is outlined with dark blue cotton floss. Tony's head and the bowl of cereal are outlined with a corn yellow cotton floss with areas of yellow abaca/cotton paper. Details on Tony's face and ears are outlined in dark blue cotton floss and filled in with prussian blue Caran d'Ache colored pencil.
Photographed in front of photograph of me and my Dzia.
Panel No. 24 // Future Plans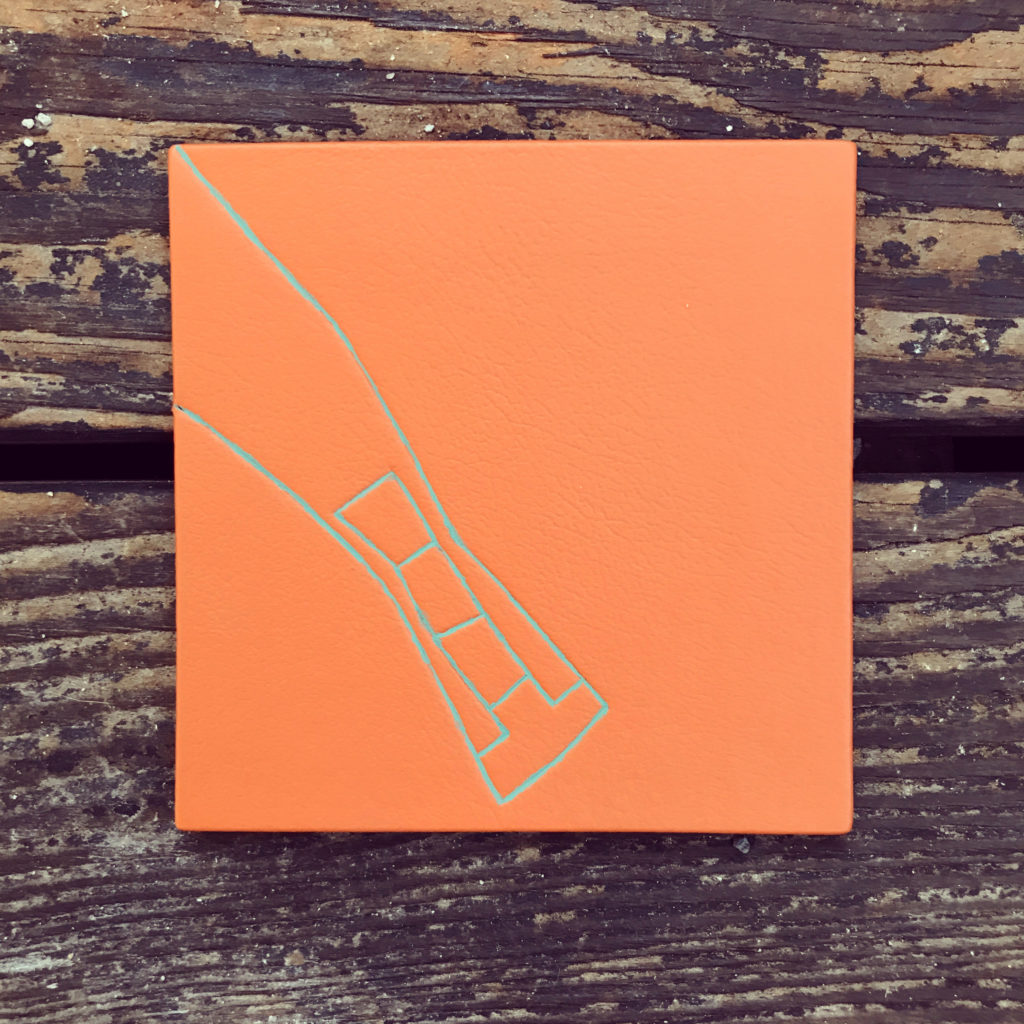 Absent minded doodles greatly inspire my work. I love to recreate these quickly executed doodles through more time consuming means. This doodle came from a middle school student I had for a book arts class. Students often doodle onto the binder's board that line their benches. The context of these doodles get lost to time, but when isolated become beautiful pieces of art. The doodle was initially blind tooled onto a piece of pumpkin cowhide and then painted with Acryla gouache in ash green.
Photographed on the wood flooring of my porch. Made while listening to Kelis and Karen O.
Panel No. 25 // Plume
Embroidery through wood has been on my list of experiments for a while. This panel was initially covered with a salmon paper from Itoya Ginza (an incredible paper shop in Tokyo) to cover the edges of the board. A piece of hand marbled wood veneer was cut and laminated to the board. The veneer was marbled during a workshop with Chena River Marblers while I was a student at North Bennet Street School. The board was pierced with a pin vice and needle before being embroidered with a light orange spice cotton floss. The embroidery is done in back stitch and outlines the shape created by the marbling.
Photographed on the same hand marbled wood veneer.
Panel No. 26 // Jeanne d'Arc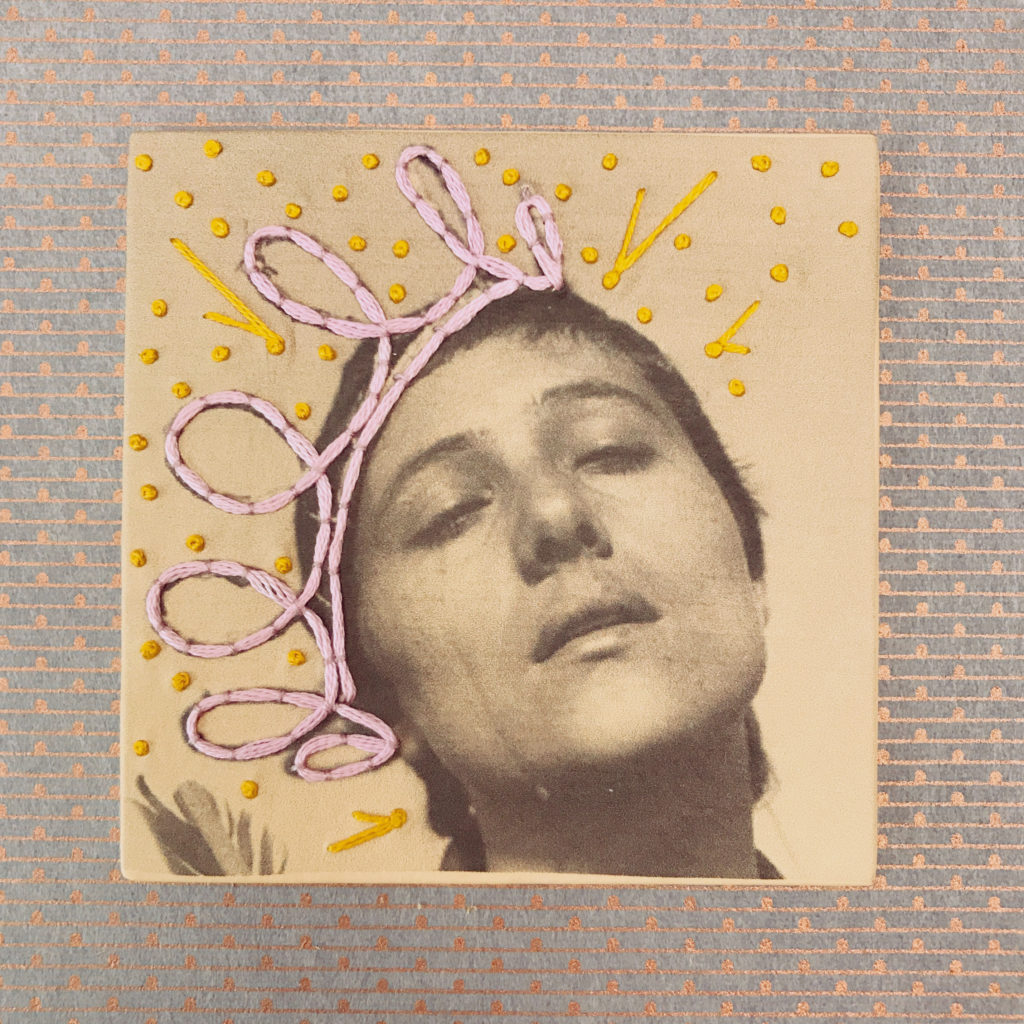 Printing on undyed calfskin is a new technique I've been playing around with. I was curious if I could capture a realistic image well with this technique. So, I grabbed a still from the incredible 1928 film La Passion de Jeanne d'Arc. After paring the calfskin, I ran it through my inkjet printer. Typically I would seal the printed leather, but I am currently out of sealant. The crown on Joan of Arc's head is couched with a light antique violet cotton floss. Embellishments in dark straw yellow cotton floss are stitched in French knots (some with tails).
Photographed on decorative paper from Fabrikat (an incredible tool shop in Zurich).
Panel No. 27 // Loud Eater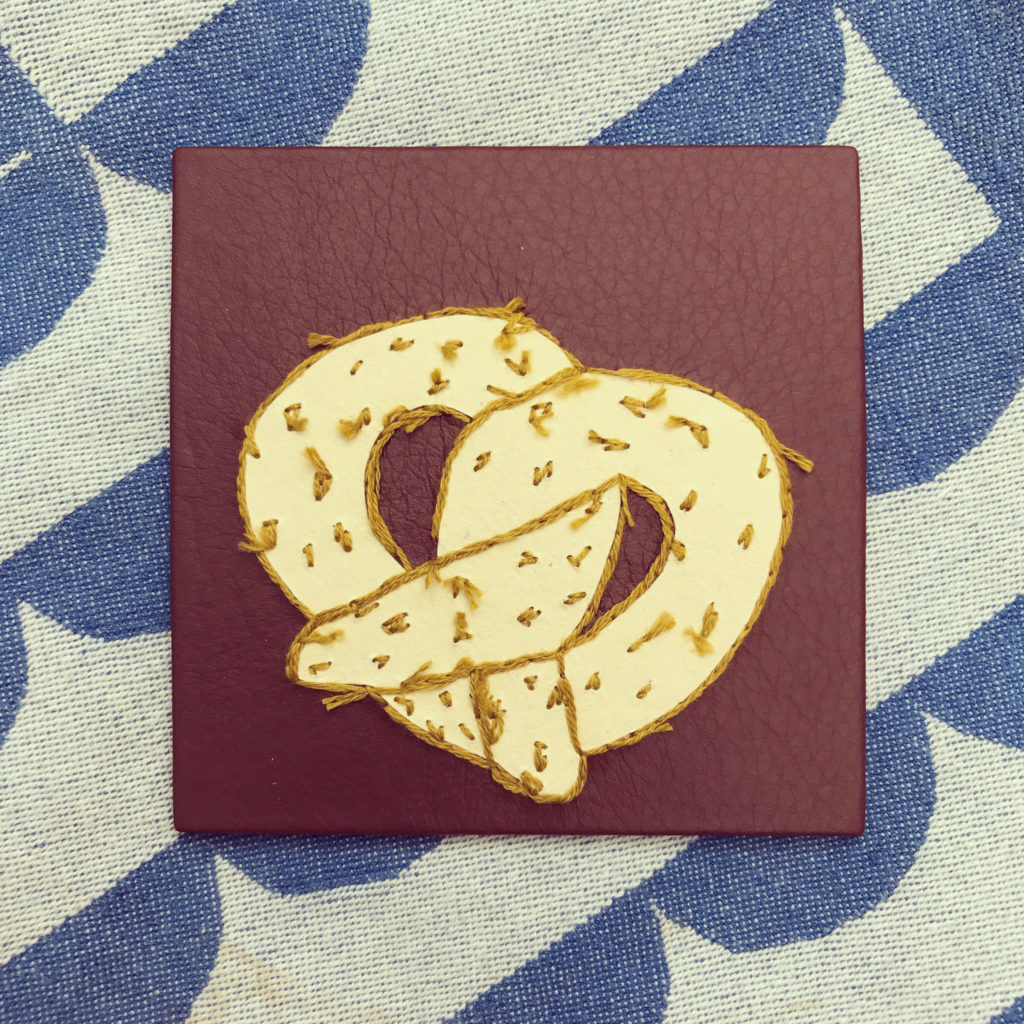 I love the back side of an embroidered project just as much as the front. Sadly with my embroidered leather bindings, no one ever gets to see the back side. For this panel, I attempted to sew in reverse to create an outline around the pretzel. The panel is covered in a ruby cowhide with an onlay of natural handmade paper (from Katie MacGregor) for the pretzel. The embroidery is done with medium golden olive cotton floss.
Photographed on a tea towel.