These are the next nine panels in my 100 Day Project.
Panel No. 55 // Emerick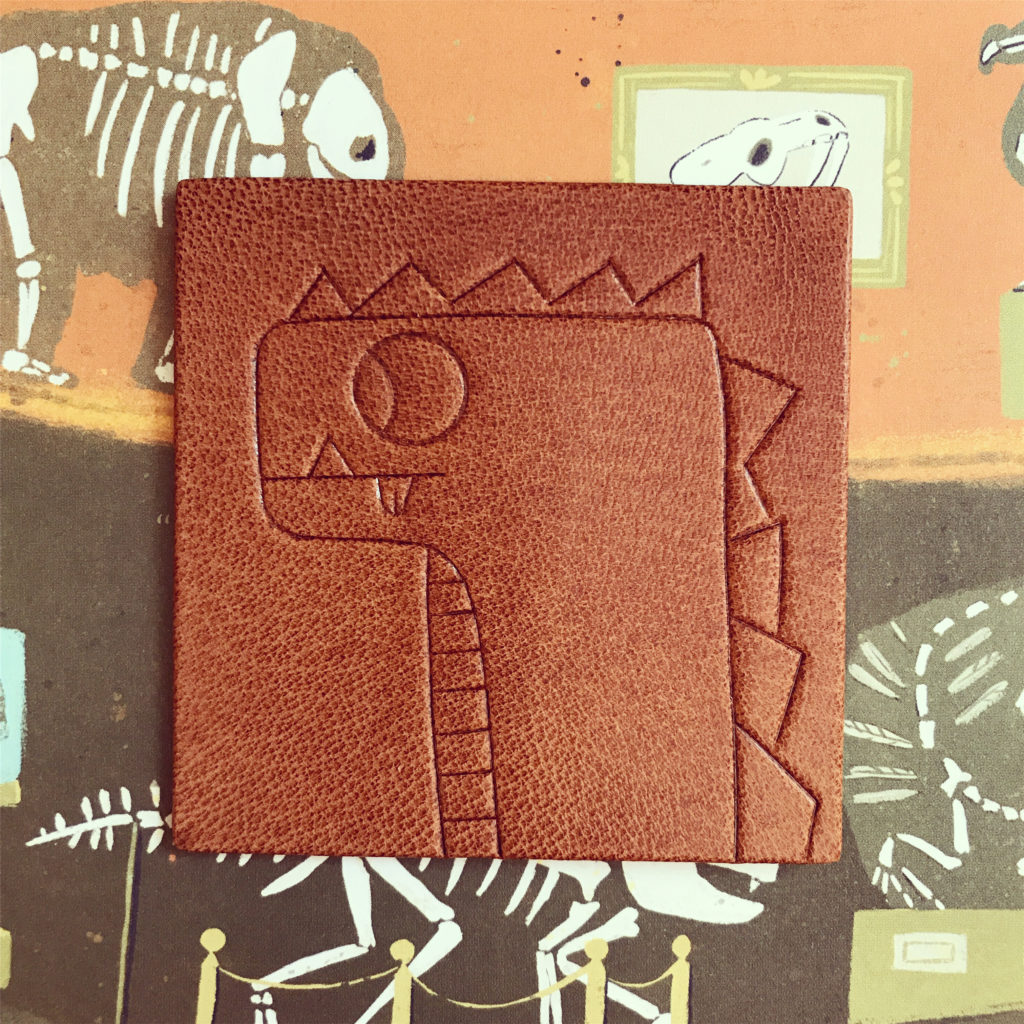 Towards the beginning of this project, I reached out to all of my nieces and nephews for inspiration. This simple panel was blind tooled on a medium brown goatskin from an illustration drawn by my 9-year old nephew Emerick.
Photographed on a page from Darwin's On the Origin of Species: Picture Book Adaptation by Sabina Radeva.
Panel No. 56 // Googly JJ
A while back I used this contour portrait of my husband on a design binding and I just love the goofiness of it so much, I decided to put it on a panel. The embroidery is done over a suminagashi paper onlay with golden olive cotton floss on top of periwinkle cowhide. I had a couple of googly eyes left over from a monster project I did with my Mom and 7-year old nephew. I typically don't work with materials like this on my bindings, but I couldn't resist adding another layer of silliness to this portrait.
Photographed on a ceramic planter.
Panel No. 57 // Many Spots
For this panel I started by creating an irregular grid on a piece of tracing paper. I then punched the corners of each square within the grid through a piece of blue St. Armand paper. X's were embroidered with chartreuse cotton floss before the paper was attached to the panel board.
Photographed over a vintage Replogle globe. Made while listening to Lianne La Havas.
Panel No. 58 // Parade of Ants
For this panel, I really wanted to play with layering and distressing leather in various ways. The mulberry cowhide was initially painted with misty blue and light green Acryla gouache before I added embroidered lines using blue and mustard silk thread. The panel was then painted with a layer of orange yellow and pale pink. Finally, I sanded all over the board including the silk threads. Deeper channels were sanded into using a sanding stick.
Photographed on a drawing from my nephew Fletcher.
Panel No. 59 // Thinking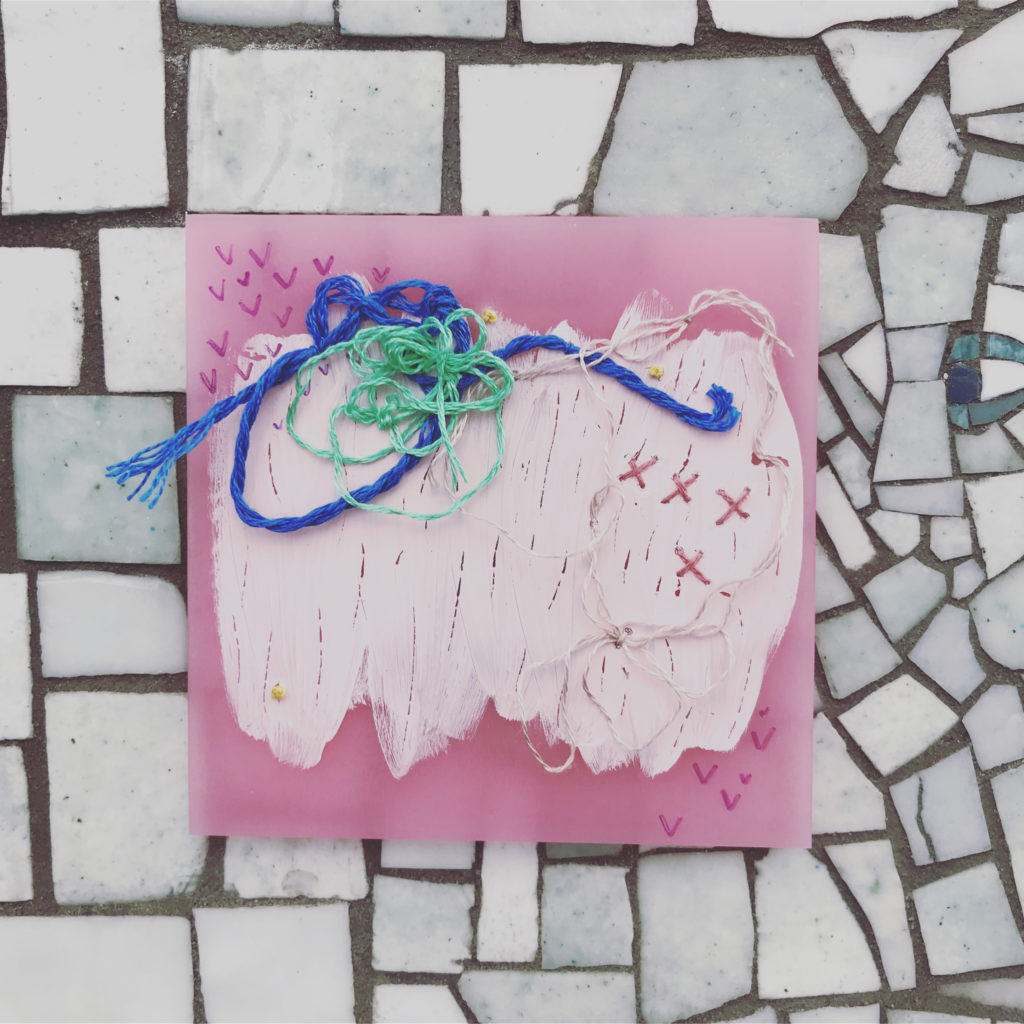 The majority of the panels are pieces of millboard laminated with a piece of leather or paper. For this panel, I wanted to use a sturdy material that did not require any covering. This piece of pink gum sheet has been painted with pale pink Acryla gouache. Lines are scratched into the paint. Silk threads in blue, lite emerald and cafe au lait are couched onto the gumsheet in matching thread. French knots in mustard silk thread. X's stitched in desert rose silk thread. V's drawn in purple Sharpie.
Photographed on mosaic wall at South Station (Network by Ellen Harvey).
Panel No. 60 // Third Love – Chicago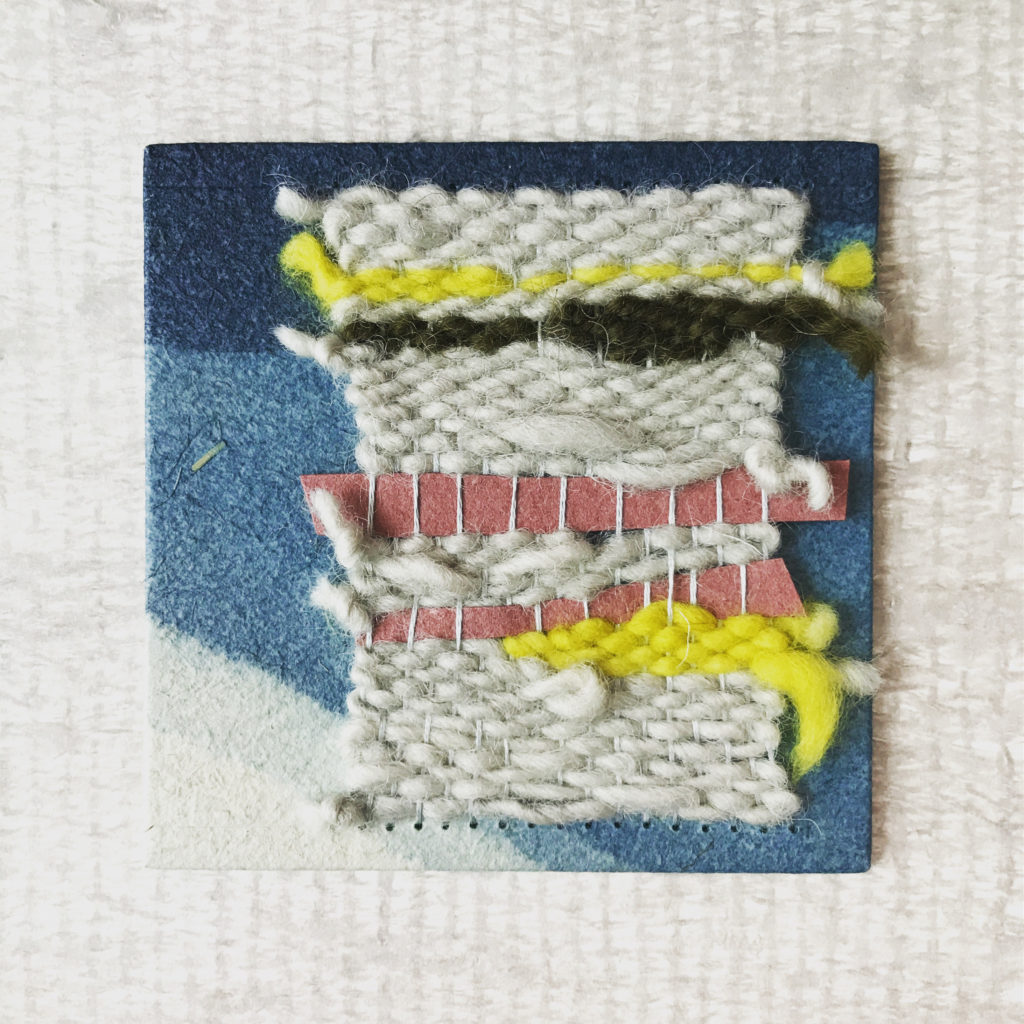 When I studied at the School of the Art Institute in Chicago, my main focus was weaving. However, since taking a turn to become a bookbinder, I haven't had much time to do much weaving. For this panel, I covered it with indigo day Cave Paper and pierced holes on opposite ends of the board. I then laced silver grey cotton floss through the holes to act as the warp threads. Various strands of wool and paper strips were then woven through these warp threads. Although the front side is quite raised from the weaving, the back side of the board has minimal bulk.
Photographed on the back cover of Sheila Hicks: Weaving as a Metaphor. Made while listening to Lizzo.
Panel No. 61 // Blooms
For this panel, I wanted to do something whimsical and just play directly on the amandine buffalo skin with various materials. To make this collaged landscape, I first painted areas with Acryla gouache in misty blue and opera pink. Various papers are layered with embroidery in back stitch, French knots and whipped back stitch. I used magenta, silver grey, rosewood and mauve cotton floss.
Photographed on a drawing by Hilma af Klint from Notes and Methods.
Panel No. 62 // Hot Haze
The background of this panel has been painted with a mixture of Acryla gouache in ash green, rose and opera pink directly on a piece of sage cowhide. The leather was then decorated with a couched piece of light grey wool using rosewood and pale pumpkin cotton floss. Four pieces of teal yarn are couched along the top edge with silver grey cotton floss. Bright yellow poofs are tacked on with reef knots using electric blue cotton floss.
Photographed on a page from The Troll King by Kolbeinn Karlsson.
Panel No. 63 // Currents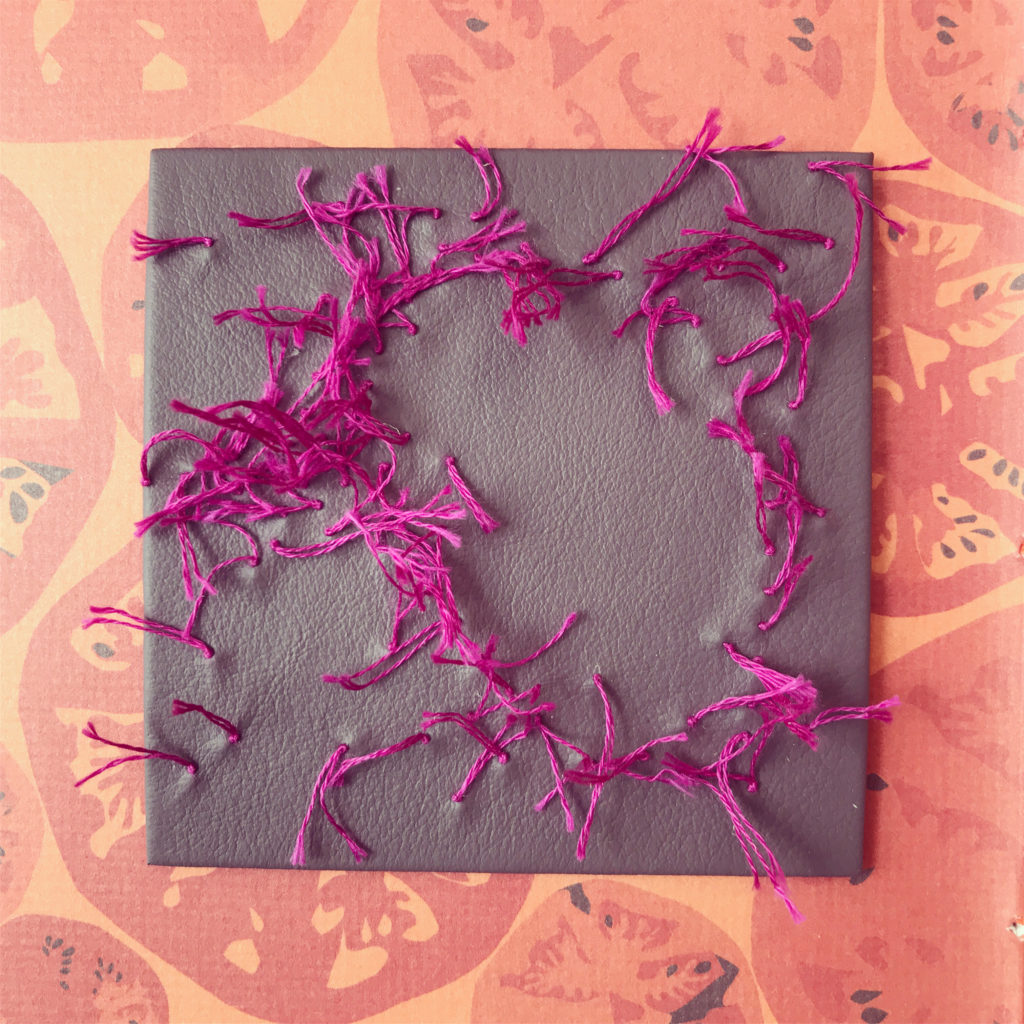 I chose to use a single technique on this panel, which is the reef knot in magenta cotton floss. The thread is tied into a knot and stitched from the front to the back leaving long tails on the front side of the smokey mauve leather. I intentionally left the backside messy and unfinished so that the bulk would show once the leather was pasted down.
Photographed on the cover of the cookbook pamphlet Tomatoes by Soa Davies