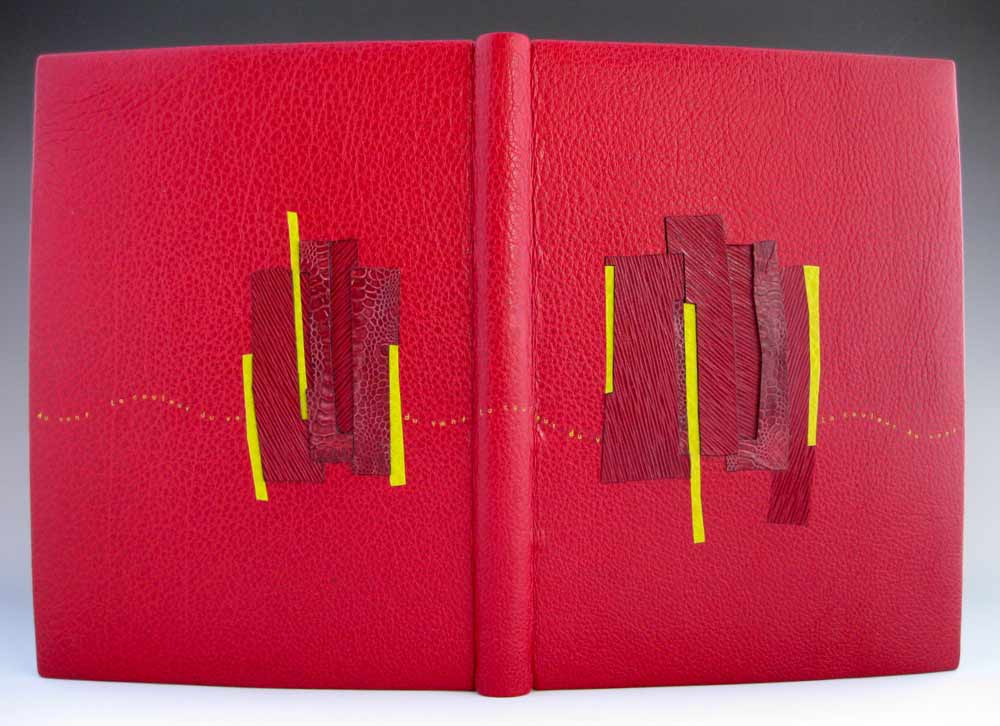 Coleen Curry was amongst the talented bookbinders who participated in the ARA-Canada exhibit La Couleur du Vent, an international design binding exhibition starting in Paris before traveling to Quebec in September 2013 and then Montreal in November 2013. La Couleur du Vent is a collection of poems by Gilles Vigneault, illustrated and designed by Nastassja Imiolek under the artistic direction of Cécile Côté. If it sounds familiar, I posted about this exhibition during last month's interview with Sonya Sheats. 
Coleen bound this copy of La Couleur du Vent as a 'Montage sur onglets' style so the prints would not get lost in the gutter. The term 'Montage sur onglets' refers to the signatures being sewn on stubs to release them from the confines of the gutter and offering a less restricted opening. Sewn on cords with laced-in boards, the book is bound in red water buffalo with chartreuse water buffalo edge to edge doublures. Exotic leather inlays of varying depths decorate the front and back covers. Title tooled with gold foil. The flyleaves are decorated papers made by Coleen. 
A brief explanation about the design from Coleen:
The colors match the prints in the book.  I took some of the shapes from the prints and altered them to create a feeling of blowing in the wind and to create movement.
Coleen's work has been on my radar ever since I came across her binding of Toni Morrison's A Mercy at the Chicago Public Library's exhibition One Book, Many Interpretations in 2011. I attended the opening reception not only because I love design bindings, but to see my own binding of Arthur Miller's The Crucible. This was the first time I had a binding on exhibit and I was quite honored to be on display with so many other talented binders.
Coleen's work masterfully mixes traditional leathers with some non-traditional textures such as exotic leathers, agate, and horsetail (to name a few). But I am more attracted to Coleen's brilliant use of color; either by adding pops of color, subtle hints or just out-right all-over bold color palettes. 
Read the interview after the jump and come back each Sunday in the month of July to view more gems from Coleen's portfolio.