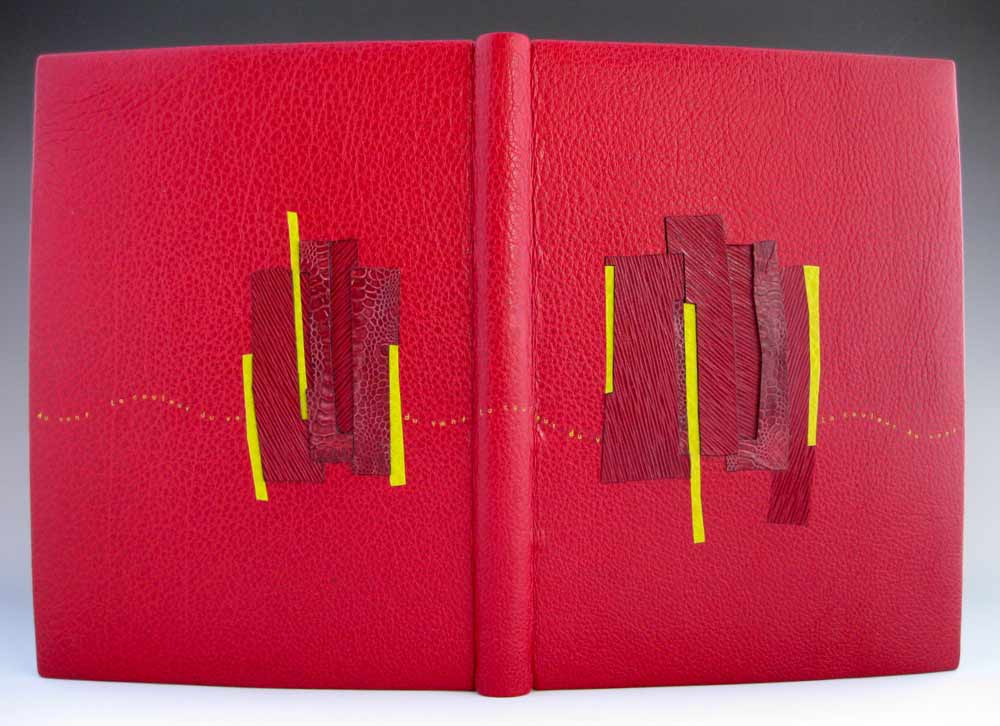 Coleen Curry was amongst the talented bookbinders who participated in the ARA-Canada exhibit La Couleur du Vent, an international design binding exhibition starting in Paris before traveling to Quebec in September 2013 and then Montreal in November 2013. La Couleur du Vent is a collection of poems by Gilles Vigneault, illustrated and designed by Nastassja Imiolek under the artistic direction of Cécile Côté. If it sounds familiar, I posted about this exhibition during last month's interview with Sonya Sheats. 
Coleen bound this copy of La Couleur du Vent as a 'Montage sur onglets' style so the prints would not get lost in the gutter. The term 'Montage sur onglets' refers to the signatures being sewn on stubs to release them from the confines of the gutter and offering a less restricted opening. Sewn on cords with laced-in boards, the book is bound in red water buffalo with chartreuse water buffalo edge to edge doublures. Exotic leather inlays of varying depths decorate the front and back covers. Title tooled with gold foil. The flyleaves are decorated papers made by Coleen. 
A brief explanation about the design from Coleen:
The colors match the prints in the book.  I took some of the shapes from the prints and altered them to create a feeling of blowing in the wind and to create movement.
Coleen's work has been on my radar ever since I came across her binding of Toni Morrison's A Mercy at the Chicago Public Library's exhibition One Book, Many Interpretations in 2011. I attended the opening reception not only because I love design bindings, but to see my own binding of Arthur Miller's The Crucible. This was the first time I had a binding on exhibit and I was quite honored to be on display with so many other talented binders.
Coleen's work masterfully mixes traditional leathers with some non-traditional textures such as exotic leathers, agate, and horsetail (to name a few). But I am more attracted to Coleen's brilliant use of color; either by adding pops of color, subtle hints or just out-right all-over bold color palettes. 
Read the interview after the jump and come back each Sunday in the month of July to view more gems from Coleen's portfolio.
In 2003, you bound your first book during a workshop in Colorado. Can you talk about this experience and the outcome of your first binding?
I found my way to AAB [American Academy of Bookbinding] when a friend told me about "this book binding school in Telluride" when I was searching for a place to make a photo album.  I signed up for a case binding class with Tini Miura.  That class changed everything.  I recall sitting in the intro session and all the students recited their experience and with whom they were studying, all of which meant nothing to me.  My turn came around and I said I had no experience but that the first thing I do when I open a book or magazine is smell it.  "Ooohs, ahhs" and "oh, you'll belong!" erupted in the room.  I made 3 case bindings in that class and it totally changed my perspective on books – I was hooked.  Everything slowed down and became clear while I was working at the bench.  I fell in love with the textures, the leather, the process of gathering sheets, the sewing, and then casing–in, all to make a gorgeous book. The other students' enthusiasm inspired me to explore design binding and enlightened me to what could be done.  During the evaluation process, Tini strongly encouraged me to continue with binding.
As a student at the American Academy of Bookbinding you studied under an assortment of instructors including Monique Lallier, Hélène Jolis and Don Glaister. In 2009, you graduated with a diploma in fine binding. What was your experience like at AAB and how long did your training last?
I formally began the diploma program at AAB in 2004 and it took 5 five years to complete. The commitment was huge – I began making my homework books at the dining room table and eventually carved a space in a room in our basement.  Acquiring tools was expensive, but my passion for binding kept me binding away until the accumulation of tools saw the need to convert a shed to build a bindery in the back of our property.  San Francisco has an active book and printing community and I was fortunate to be able study with Eleanore Ramsey weekly while I was not attending an AAB class.  In addition, I took workshops at the San Francisco Center for the Book when visiting instructors were in the area.  I began the program during Monique's first year as AAB Director and she was my mentor through to graduation.  I am highly inspired by Monique and her work.  She was a joy to study with; her classes were lively, informative and personal.  She is a gentle teacher with enormous passion for binding as an art form and a desire to have her students craft beautiful work.  It was through Monique's encouragement and diligence that enabled me to get my homework completed and graduate.
I have been transformed by my experience at AAB. Telluride is an awe-inspiring location and I am rejuvenated each time I go.  I have forged several tremendous friendships with students and teachers that I would not otherwise have had the opportunity in other programs.
You currently assist Don Glaister in teaching fine binding at AAB. What do you enjoy most about teaching?
I love assisting Don at AAB. With every class I am constantly surprised and challenged by the students, what they accomplish and what they teach me.  I enjoy meeting students of all ages with various backgrounds, experiences and skills to offer. I especially love working with the students and watching that 'Ahha' moment.  
Teaching has enhanced my binding process and deepened my skill set.  I always have at least one new 'take-away' from a class, which makes the time my while.  I feel strongly that the tradition and craft of bookbinding be carried on and I hope I am able to do my part to pass it on.
I find your design aesthetic to be quite striking, especially the contrast between textures with the addition of natural elements. What is your process for realizing the design of your bindings? Do you forage your own materials for the natural onlays on your bindings?
Thank you!  I am attracted to texture, movement and asymmetry.  I collect all sorts of objects when I am outside – my coat pockets always have a few pieces of sea glass, bits of a wasp's nest or some other found object in them.  I have several drawers of these collected objects and other scraps knowing that one day, I will determine the perfect placement for them. 
The beginning of my creative process is visceral.  I draw from that gut feeling and the book content (both text and prints if any) and lay out textures, colors and objects, constantly adding or subtracting until I have my palette. From there I draw thumbnails sketches that then lead to layers of sketches. I often photocopy the textures, cut them up and rearrange to complete what I envision. The title often plays a role in this process, as it can be the feature of the design, or a simple enhancement.
I constantly experiment with methods to utilize the natural objects on the binding to reduce the fragility.  For example, with Tamalpais Walking, I collected stalks of horsetails from the watershed of the mountain (Mt Tamalpais).  Once pressed and dried, I was able to make a collage and inlay the pieces to mimic the contours and trails of the mountain.  Figuring out the right backing, adhesive and fixative took several goes. Don Glaister has been extremely helpful in guiding me on experimenting with 'stuff'.  Currently I am working on a binding using bull rush canes.
I learned a wonderful inlay technique from Helen Jolis, and incorporate these inlays in many of my bindings.  It allows me to make use of a variety of materials, create movement and depth on the cover and ensuring that some of the more fragile materials can be below the surface of the binding. 
You currently hold the position of President of the Hand Bookbinders of California. How long have you been associated with this organization and what type of programming does HBC offer to its members?
HBC has been around since 1972 and is a group of hand bookbinders, collectors, conservators, printers, book dealers and other lovers of the book arts from all over the US.  We have monthly gatherings, a semi-annual journal and each year we mount a member's exhibition.  Our 41st exhibition is being held at the SF Public Library.  I have been a member for about 8 years. 
Coleen shared some other great bits of information about her other passions and how they integrate into bookbinding. 
I am a really active outdoor person – rock climb (trad) multi-pitch, alpine style, trail running and open water swim.  The natural world heavily influences my creative spirit.  I think that may be why I am so attracted to texture and asymmetry and movement.  I once strapped a Harmatan goatskin on my harness and climbed with it for a week allowing it to get scratched and dinged, sweaty etc – need to find the perfect book to be bound by it.  Telluride is a perfect paradise for me to rejuvenate.
I am Canadian.  I lived and worked in Asia for over 14 years.  Binding is not my full time job – although I would love to be able to support myself doing it.  I run a business with my husband – we are in the electrical and solar business designing and installing commercial and government systems.  I hold an MBA with a focus on International Business.
My husband brews craft beer on the deck off my bindery, my favorite is one we call 'Bindery Bitter'.
Sounds delicious.