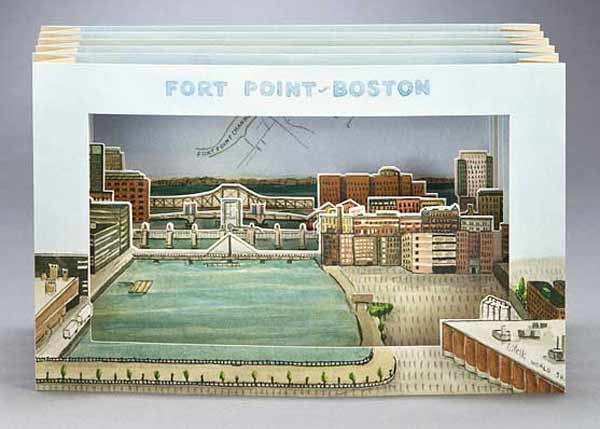 Fort Point-Boston is part of an ongoing series of tunnel books from artist Laura Davidson completed in 2011. The point of view shows the harbor walk from the Gillette building to the Boston Harbor, passing by bridges and buildings along the Fort Point Channel. Each copy is numbered and signed. Laura's tunnel books are available through her website or at the Made in Fort Point store.
I've been working in the Fort Point neighborhood of Boston for almost a year now and I've already seen changes in the landscape around me. Laura has been in Fort Point for 30 years. After realizing that we are practically neighbors, Laura so graciously invited me to visit her studio. Laura pulled piece after piece out of her display cabinet, allowing me to handle each one. We discussed details of her work from the handmade hinges to the paper mosaics to the various nibs Laura uses to create her drawings. After surveying Laura's work one can clearly see how her environment both in and out of the studio acts as inspiration. Laura has created several works showcasing her point of view of a neighborhood to which she calls home.
Fort Point Flora and Fauna is an offset printed accordion book from 2003. One side showcases full color drawings of the various animal and plant-life in the Fort Point area that Laura has observed. The reverse side is sepia toned text giving explanation to the images. I first saw this lovely little book at the FPAC Gallery and it opened my eyes to the idea of nature thriving in the urban environment of Fort Point. Now as I walk around the neighborhood I find myself being greeted by signs of life. Most recently a wild turkey, but I image that was quite unusual.
In 2006, Laura created Fort Point Illuminated, a miniature book filled with images of her neighborhood. Each image is painted with ink and wash and illuminated with gold leaf. The covers are sterling silver with copper and brass elements and is bound with a sterling silver necklace chain. This book is in the Collection of the Boston Athenaeum.
It was a real treat to meet Laura and get a glimpse of her studio life. An organized and inspirational workshop is conducive to creating successful pieces of art. On one side of Laura's studio is a completely magnetized wall, where Laura displays old tintype portraits, pieces of ephemera, fragments of her current work and photographs of her family. A magnetized wall is quite appealing and something I may implement in my studio. 
I want to thank Laura again for inviting me into her studio and sharing stories of her work and life with me.
Read the interview after the jump and come back each Monday in the month of April for more of Laura's work.