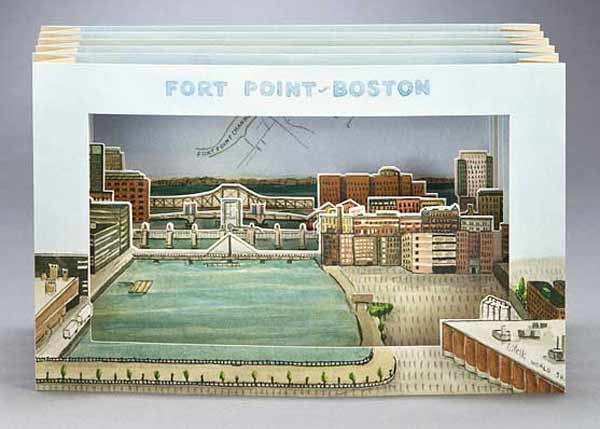 Fort Point-Boston is part of an ongoing series of tunnel books from artist Laura Davidson completed in 2011. The point of view shows the harbor walk from the Gillette building to the Boston Harbor, passing by bridges and buildings along the Fort Point Channel. Each copy is numbered and signed. Laura's tunnel books are available through her website or at the Made in Fort Point store.
I've been working in the Fort Point neighborhood of Boston for almost a year now and I've already seen changes in the landscape around me. Laura has been in Fort Point for 30 years. After realizing that we are practically neighbors, Laura so graciously invited me to visit her studio. Laura pulled piece after piece out of her display cabinet, allowing me to handle each one. We discussed details of her work from the handmade hinges to the paper mosaics to the various nibs Laura uses to create her drawings. After surveying Laura's work one can clearly see how her environment both in and out of the studio acts as inspiration. Laura has created several works showcasing her point of view of a neighborhood to which she calls home.
Fort Point Flora and Fauna is an offset printed accordion book from 2003. One side showcases full color drawings of the various animal and plant-life in the Fort Point area that Laura has observed. The reverse side is sepia toned text giving explanation to the images. I first saw this lovely little book at the FPAC Gallery and it opened my eyes to the idea of nature thriving in the urban environment of Fort Point. Now as I walk around the neighborhood I find myself being greeted by signs of life. Most recently a wild turkey, but I image that was quite unusual.
In 2006, Laura created Fort Point Illuminated, a miniature book filled with images of her neighborhood. Each image is painted with ink and wash and illuminated with gold leaf. The covers are sterling silver with copper and brass elements and is bound with a sterling silver necklace chain. This book is in the Collection of the Boston Athenaeum.
It was a real treat to meet Laura and get a glimpse of her studio life. An organized and inspirational workshop is conducive to creating successful pieces of art. On one side of Laura's studio is a completely magnetized wall, where Laura displays old tintype portraits, pieces of ephemera, fragments of her current work and photographs of her family. A magnetized wall is quite appealing and something I may implement in my studio. 
I want to thank Laura again for inviting me into her studio and sharing stories of her work and life with me.
Read the interview after the jump and come back each Monday in the month of April for more of Laura's work.
How did you get into the field of book arts and printmaking? Did you begin your study of these art forms at the Kansas City Art Institute? 
I've always made books from an early age. I wanted to be a book illustrator but at art school I found that to be not quite the right fit. At KCAI I ended up in the fiber department doing papermaking and taking quite a lot of design classes. Somehow, it all came down to making books, even though in the early 1980's there weren't courses being taught in that area.
Your work has a very eclectic feel from the realistic illustrations of objects ranging from birds to buildings to the various ephemera from your travels. Do you do this as a way to remember and document? 
Yes. With ephemera and photos, tickets, and pamphlets from my travels, I am collecting visual information. I draw what I know.
Your studio space is located in the Fort Point area of South Boston and has shown up in your books and prints. My bindery space is also located in the Fort Point neighborhood and I've enjoyed seeing your depictions of an area I'm slowly becoming accustom to. What do you find so inspiring about this neighborhood? 
I've been drawing these buildings for 30 year now. I love the buildings – I love the artist community too! My experience here, relationships, major life changes have happened here so I am rooted to this place. Just wait, though, and this summer watch the light bounce off of these buildings when the sun is rising or setting. You'll see the beauty.
The content in your work is printed through various methods from linocuts to dry point etchings to linoleum prints. Is your studio equipped for both printmaking and bookbinding? When you're constructing a book, how do you decide which technique is best suited for the content?
I try to keep a clean area and a messy area. I share the messy area with my long time partner, Gabrielle Schaffner, who is a ceramic artist. I only do woodworking and metal working in that part of the studio. Mostly I am in a small room with my work table, my press, and my flat file and my library. And between you and I  – I wouldn't necessarily ever refer to myself as a binder.
I'm particularly charmed by the paper mosaics found throughout your work; reminding me of both classic mosaics and stained glass. Do you have a process for assembling these mosaics?
Yes. I draw the image on heavy paper, then fill in the drawing with pieces of cut paper. I layer this with gesso, then an ink wash for the grout area. Then, I painstakingly paint each small piece of paper. I think of it as creating a surface which I then paint. 
Your work is housed in several collections both nationally and internationally. Did you find it difficult at first to get your work recognized? What strategies have you employed to make your work known?
I had some amazing people along the way. Anne Anninger was the curator at the Houghton Library, and Nancy Allen was at the Museum of Fine Arts. Both of these women were very supportive early in my career showing me where my work might fit in. I had a strategy where I made one morning a week the time to send images, make phone calls, etc. Before we all had computers and printers, this was a very different kind of work.