For the past three months, I've been traveling to teach and have visited some incredible spaces and met really talented people. So in this Swell Things post, I'll introduce you to a few.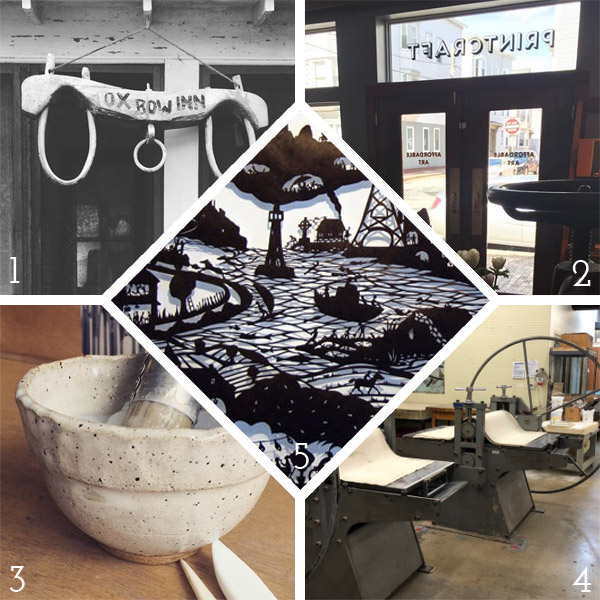 1. In May, I taught at the Paper and Book Intensive which was hosted by the Ox-Bow School of Art in Saugatuk, Michigan. This is a really unique space built near a lagoon that flows into Lake Michigan. The camp ground is filled with a variety of buildings set up for paper making, printmaking, painting, ceramics and glassblowing. All of the participants are housed on the grounds and we meet at the Ox Bow Inn for meals and social events. I highly recommend making the trip to Saugatuk for either PBI or to attend a workshop at Ox-Bow. It's a fantastic way to unplug, relax and be creative.
2. In April, I taught a workshop at the University of Southern Maine in Portland. And although my schedule hindered me from visiting PrintCraft, I didn't want to miss this opportunity to tell you about it. PrintCraft is the combined studios of W.I.P. Editions and Strong Arm Bindery in Portland's West End. Sharing equipment, experience and expertise in the fields of printmaking, bookbinding and letterpress printing, co-owners Lisa Pixley and Martha Kearsley produce an array of prints, printed matter and ever-evolving experiments in stationery. PrintCraft studio storefront is open Tuesday – Sunday from 12:00-6:00pm.
3. At PBI, I met a delightful and talented ceramicist by the name of Gabrielle Soltis. She set up shop one evening and I walked away with this gorgeous speckled paste bowl and a handmade mug for my morning coffee.
4. Before teaching in College Station, Texas, I made a stop in Austin to visit family. But I also made a visit to Flatbed Press and Gallery, which was founded in 1989 by Katherine Brimberry and Mark L. Smith. The space functions as a publishing workshop open for artists to produce large-scale limited editions prints. They are set up to create etchings, lithographs, woodcuts and monoprints. While walking through the studio, two large woodcuts had just been inked up and were ready to print. The inking took a little over an hour!
5. During my time at PBI, I got to meet the extraordinarily smart, talented and hilarious Béatrice Coron. She works primarily in Tyvek creating "cut stories" by slicing away the material to reveal intricate scenes. Her work exists as flat pieces of art and wearable garments. In fact she wore a beautiful silver and black Tyvek jacket during her evening presentation. She has also designed fencing, sculptures and art for public spaces.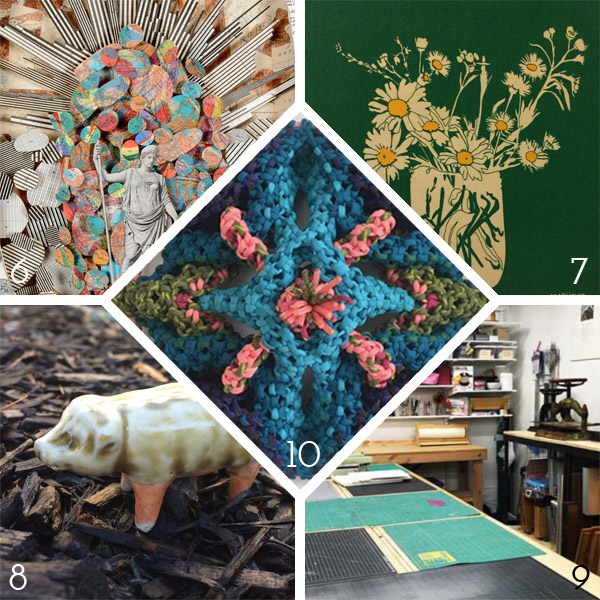 6. I met Carey Watters at PBI and we spent an evening chatting about our art, our family and our love of travel. Her paper reliquaries are quite magnificent and her approach to paper cut sculptures is fresh and exciting.
7. Vintage Marüshka fabric prints from the 1970s and 80s were scattered throughout the Ox-Bow Inn. The one pictured above was my favorite and is located in the bathroom inside the dining hall. I was able to find an authentic Marüshka cat print from 1983 that is hanging above my bookcase.
8. I am a ceramic fanatic and when Jon Hook came out to PBI to sell some of his pieces, I jumped at the opportunity. I was in awe of so many of his vessels and mugs, but I ended up walking away with this tiny ceramic pig.
9. Before visiting Flatbed, I made a stop at the Austin Book Arts Center (which happens to be in the same building). Mary Baughman gave me a tour of the bindery and their newly added print shop. The space is cozy and well loved. Every inch of their space is well designed to really maximize the potential of the room. They will be celebrating their third birthday in September, if you're in the area, stop by for their auction!
10. During one of the last few days at PBI, the resident artists opened their studios for touring. This is when I got to meet fellow School of the Art Institute alum, Noël Morical. Using macrame, Noël creates these massive hanging sculptures with bright parachute cord. She also had on display some smaller wall hangings, that to me, resembled alien-like sea creatures. I hope to own a piece one day!
SaveSave
SaveSave