In preparation for their 2013 Annual Open House and Silent Auction, the Morgan Conservatory presented participants with two sheets of paper made at the Morgan and asked them to create a piece of art to be auctioned off during the event. Mary Uthuppuru was given one sheet of charcoal grey and the other of bright white.
Mary found inspiration from the recent drop Pluto experienced from its rank as a planet and the heated discussions that followed. As the sole character in this artist book, Mary personifies the now dwarf planet in the form of a letter, where Pluto freely express himself after hearing this news of rejection. You can read more about Mary's process in her blog post, Poor Pluto. 
And Then There Were Eight is bound as an accordion with a removable spine piece, when fully opened the viewer can experience the vast and expanding qualities of outer space. The covers are most appropriately wrapped in beautiful handmade Moon Paper from Hook Pottery Paper. The paper appears to be a 3-dimensional print of the moon, but it is actually smooth (like paper). The interior pages were given an airbrush look by using a mouth atomizer and drawing inks.
I really enjoyed reading about your thought process behind this book. Not only did you find inspiration in a literary influence, but also in your own sense of humor. The application of pigment really captures the atmosphere and depth of space. Can you talk about the challenges and benefits to using a mouth atomizer?
The mouth atomizer was a really fun thing to use. I actually had it for over ten years before I discovered its use during this project. It looks a lot like a compass, but without the pencil. One end goes into whatever liquid you are using (in the case of the Pluto book it was India ink and Winsor & Newton drawing ink) and then you blow on the other tube.
The benefit in its use is also its challenge. So long as you have the lung capacity, this tool is very simple. Blow in the horizontal tube, and the ink is sprayed from the vertical tube. The difficulty is in style. If you are trying to get consistent coverage, then you have to be consistent with the pressure behind your breath. But it is easy to get used to with a practice piece of paper. Also, beware your work space. Cover anything surrounding the piece you are working on with newsprint or other waste unless you want a speckled work space.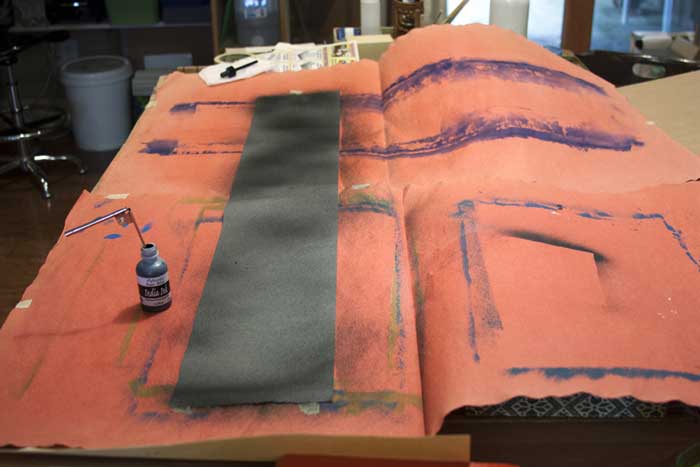 There is more than one way to use it too. In this book, for example, I cut stencils from transparency sheets to create the planetary bodies. This allowed for a clean, shaded shape that is much faster and reads truer than a traditional stippling stenciled technique. It is also easy to clean by running it under water then drying.
I first met Mary in Chicago for the One Book, Many Interpretations exhibit at the Chicago Public Library, where both Mary and I had work in the show. I'll be featuring her binding of Interpreter of Maladies from that show later this month. From the beginning, I noted Mary's impeccable skill and her exceptional eye for detail, but I can't forget to mention her infectious personality. Her humor mixed with kindness and generosity makes her a delightful person to engage with and learn from.
Like myself, Mary, is just beginning her career in the field of bookbinding. Her ambition and creativity are inspiring, as is the interview (after the jump). Mary discusses her love for bookbinding and how she caught "the book bug". Later in the interview, Mary talks about setting up her own home studio and how being self-employed has its ups and downs. But it's quite clear to see that Mary tackles her obstacles with smarts and humor. 
Come back each Monday during the month of January for more on Mary Uthuppuru and her work, which will bounce between bookbinding and book arts.
Where did your passion for the arts and bookbinding come from? I know that you hold a BA in Art History. Can you talk about your path into the book arts?
My passion for the arts started really young. I am from a really big family, and several of my aunts and uncles are incredibly talented artistically so creating was something that was encouraged at a young age. I've always been inclined to make things, and looking back, I realized that what I liked to do the most was three dimensional or structural: jewelry making, ceramics, or large scale architectural Lego mansions to name a few.
By the time I started my undergraduate degree in Art History, I had a clear inclination towards the arts. Early in my degree, I took an artist book class, which at the time seemed kind of weird. You make books and that is the art? Well, I gave it a shot and really enjoyed it. However, I was still resistant to pursuing an artistic path because I couldn't see a future in it. Essentially, I thought Art History would be more stable. So when I got to the end of my degree and didn't feel fulfilled, I did some serious thinking about what it was that would give me a greater sense of purpose. It was then that I decided to pursue a Library Science degree. Libraries had always been a fun and wonderful place for me. My dad was an avid reader, and on the days my mom would bring us to the public library my brothers and I would try to get as many books as we possibly could.
After a semester into my graduate degree I found my way to the Lilly Library, the rare book library here in Bloomington. It was at the Lilly that I attained a student position in the conservation department with Jim Canary and it was there that I caught "the book bug." Upon graduating, I had the serendipitous opportunity of a full time position becoming available, and I became the Conservation Technician, an experience that I am extremely lucky to have. Among the amazing collection, I really developed my interest in the world of books. I was able to continue my desire to work with my hands while preserving pieces of history.
Your bookbinding training is unique in that you've participated in a variety of workshops across the Midwest. How do you decide which workshops to take?
I came so slowly to book arts and the way I acquired my training has been slow. While I was a student, the workshops I took depended on who came into town and just how much money I could drum up if the timing was right. Luckily, there were many book artists and binders who came through Indiana University. These opportunities generally consisted of one day or two day workshops featuring a binding structure or technique. Up until this point though, I didn't have an objective or a goal with books. I just liked making them, so I continued to find ways to do that.
Once I obtained a full time job, I was able to expand my workshop experience. I couldn't take off large spans of time, but I could drive somewhere nearby, like Iowa or Ann Arbor, for a weekend workshop both of which are only 6 hours away. This is the benefit of living in the Midwest. The projects were a little more complex with the additional time. I aimed for workshops that filled in gaps in my training, which at the time there were a lot of. In between workshops, I would find projects in books about bookbinding. However, I really didn't immerse myself in making artist books or more complex book projects until I took the introductory book binding class Jim Canary taught through the university. This was a more comprehensive approach to books in that he was able to take us through many structures and even end with two artist book projects.
Now when I take a workshop, I try to find a class that will help me develop a skill or that will accompany my current creative objectives. I select the people as well as the material being taught. Through workshops I have taken, I have found many mentors that have become pivotal in my career.
Since 2010, you've been operating Spring Leaf Press from your home studio in Bloomington, Indiana. Can you describe your studio and what it's like to work at home?
My studio space is in what would be the family room of the finished basement in my house. My husband and I did some major renovations in the house and my work space was one of the rooms that got attention. What used to be a brown carpeted, dark wood paneling covered family room is now a green painted, wood floored room with a large window and patio doors that open to the back yard so there is plenty of nice light. It is a generous space allowing for many tables, either built by me or found at the university surplus store. As for binding equipment, I have a nipping press, finishing press, a heat stamper, and several cutting mats. Everything else is tool based (knives, bone folders galore, etc). One day, I will save to get a Kutrimmer or find a magical bargain on a board shear, but otherwise, I am set up very nicely.
Working on my own is a continuous learning experience. At first, it was difficult to find a focus. I didn't know my identity or my visual language as an artist. This made it difficult to focus on what needed to be honed instead of what I thought people who worked at home should do. Once you leave school or, in my case, an institution, you lose the framework that fostered productivity. Where once was order, there is now freedom to choose. While this is really great, it is also overwhelming and occasionally paralyzing. Throughout school and work, I had someone to tell me what was expected and how to get it done. When I was first on my own, I found myself wishing someone could just tell me what that would entail as a full time artist. The truth of it was, I had to figure out what I even wanted to do as a full time book artist and once I could identify that, I could then take a look at people doing that themselves. I wouldn't dare say that I have figured it out, but I feel like I have a better idea of who I am as that person, so now I know where I should spend more of my time.
The ultimate challenge is how to survive financially. I have a partner who can help level out the thin months, but one thing I am trying to do more frequently is to teach workshops. I really enjoy teaching, but I love to help people problem solve through their own artistic ventures. Additionally, this satisfies my need for interaction with people. While I love holing up and just working, I really feed off of conversations with others, so I look forward to combining several interests with teaching.
Your unique influences and sense of design have really begun to emerge in your work. With each piece you incorporate very interactive elements from pop-ups to LEDs to elegant folded structures. What influences drive your work?
I have a huge range of interests, but above all else, I am an avid reader. When I am lost, I read. When I am feeling alone, I read. When I want to check out of a crazy week, I read. Literature has been the way I connect to the world around me ever since I was little. Stories to me are the perfect way to learn about life. It is this immersion and getting lost experience that I would like to foster in my books. Sometimes I literally try to create a three dimensional space, other times it is a space formed with imagery or words. But I like to meet the imagination half way and hopefully encourage new ideas at the same time.
With an interest in a huge range of subjects, I choose subject matter that draws me in. Often times this is something having to do with nature or science and very commonly has an element of mystery or play. I might begin immersed in learning about jellyfish and that leads me to reading about bioluminescence which makes me think of the oceans which is inevitably followed by water pollution, and it is pollution that I devote the next artist book to. It is hard to guess where an interest will lead me.
In order to get from idea to book, I like to think and test and rethink about what I am trying to make which is probably why I am so drawn to science and the way things work. I want to really know my subject matter when I employ it, so I tend to research content, talk to many people about the theme to extract my connection with it, then test and retest the structural elements. All of this can sometimes be a hindrance as I can get stuck in the explorative cycle of my subject matter so I always have to be conscious of that tendency. After the theme has been sufficiently explored, is important that my work maintains a high level of craft. This is predominately influenced by Japanese craft and design. It is evident in Japanese art, architecture and living how design, function and nature can coexist in a beautiful way.
In addition to your impeccable craftsmanship are wonderfully hand painted elements. Were you a painter before becoming a bookbinder? How does this medium benefit your work?  
I wasn't a painter. In fact, I resisted painting for the longest time. I was scared of color because my brain just didn't understand how to utilize it. I worked heavily with pencil and monochromatic color for the longest time and it wasn't until I took a fundamentals class that taught color theory with a painting segment that I began to become a little more comfortable with paint. That was a start to breaking down the barrier, and a beginning to understanding how colors work together to achieve an effect. There were some really time consuming and repetitive exercises that caused me to take a look at color properties, which helped me to understand color combinations and relationships. The final breakthrough for me was learning how to color match for repair purposes. The objective is very clear: you have to mix color to match the surrounding material and hide a repair. My approach to painting became similar. After all, painting is just color matching your subject matter.
Once I became more comfortable with painting, which I figured out later, does not have to be so strict, my options for content and surface decoration really opened up. I started experimenting with painted elements in books, and now it is something that I consider part of my tool box as opposed to an intimidating technique.
In 2011, you worked on a year-long collaboration with your friend from Space Paste Press. Can you discuss the parameters of the project? How has it impacted your creative and production processes?
This is one of my most treasured projects. To fill the void of an assignment-based productivity schedule, my friend Kristin and I developed our own sort of monthly curriculum. Kristin used to work with me and upon graduating, she moved several states away. We both had a desire to develop our body of work, but felt the absolute freedom of working on our own meant that it took forever to actually find a starting point. So using Skype as our meeting venue, we developed the Intellectual Collaboration series. For one year, we decided that we would each create one book a month based on parameters we defined at the beginning of each month.
The first week of each month, Kristin and I would meet. During that time we would discuss any themes, book structures, or ideas we wanted to play around with for that month's project. By the end of the meeting, we would choose two to three limitations within which to work. Each person would incorporate those elements into their project, edition to at least two copies (one for each of us) and the project would have to be completed by the end of the month. We would try to meet every week to check in with one another, discuss any road blocks or think through something that just wasn't turning out the way we planned. Then, we would have our final meeting at the end of the month and discuss the successes or potential improvements with each book.
At the start, one month seemed like a long time, but as soon as you use an entire week to waffle about where you will take your idea, you start to run out of time faster than you spend it. However, this was a great exercise for me. I had to really amp up my decision making time. Like I mentioned before, I sometimes find myself doing excessive research and testing ideas, or take forever deciding what color paper to use. With this project, I had a deadline that pushed me past moments of waffling in order to bring the book to completion. Additionally, these books didn't have to be master pieces when we were done. They were what I like to call book sketches that allowed us to explore an idea thoroughly, but still provide leeway and forgiveness for not getting it right the first go around. I have several books from the project that I love and would like to revisit as a more "finished" book project while others I could leave without a second glance. But this was exactly the purpose. I have a great idea of what works for me and what doesn't, what my visual aesthetic is, and what is my most favored subject matter and how I like to produce it. And I have twenty-four artist books that I can reference for my own means, use for teaching, and to have as a tangible reminder of a very satisfying year.
I can imagine that a project of this capacity could be creatively draining. Would you do this sort of project again?
I would definitely do this project again. It had its moments when it felt like a nuisance being on my bench to be finished while I had other things I wanted to get to instead. But to be honest, I have never had a week where I have only had just one thing to do so it really proved to be an excellent exercise. The timeline that pushed us towards finishing just helped strain out some of the time wasting and really got us to focus and be better with decision making. I think of it as timed sketching or any other exercise you do to hone your skills, but for books. And instead of being draining, it provided us with lots of book ideas complete with two different interpretations of themes that we can refer to in the future.
Kristin and I had tried to do a quarterly book project so that we would have the opportunity to create more sophisticated books within a more comfortable time frame, but four months proved to be too long. I think we finished maybe one or two books that we set out to do. It was just too easy to push the collaborative piece aside for more pressing timelines. For some reason, one book a month is the perfect time frame for the level of creative challenge desired. It really is a great way to generate ideas and keep yourself from procrastinating or over thinking something into oblivion.
You hold the position of Programs Chair for the Midwest Chapter of the Guild of Book Workers. What have you found to be the challenges of this position? How has it impacted your business and your work?
Being Programs Chair, I spend a lot of time planning, organizing and thinking about details for events. Self-employment means that my work day is mine to organize. The challenge is knowing how to limit time spent on Guild related activities which is time away from my work. It has been tricky figuring it out, but luckily the Midwest has awesome members that have been helping along the way.
The absolute best thing that has come from volunteering for this position is the number of people that I have met. It is my job to organize events for our chapter, which means that I have to be in contact with anyone giving a workshop/lecture, our members, and the national GBW board. While it was overwhelming at first, I soon became familiar with the way everything worked. Because of this wonderful organization, I have a really strong network of people I have grown to know who I feel I can call on for advice or help with my own endeavors. It is crucial to know your peers in your field not only for guidance, but also to find a place within the book community and luckily, there are lots of generous people in ours.