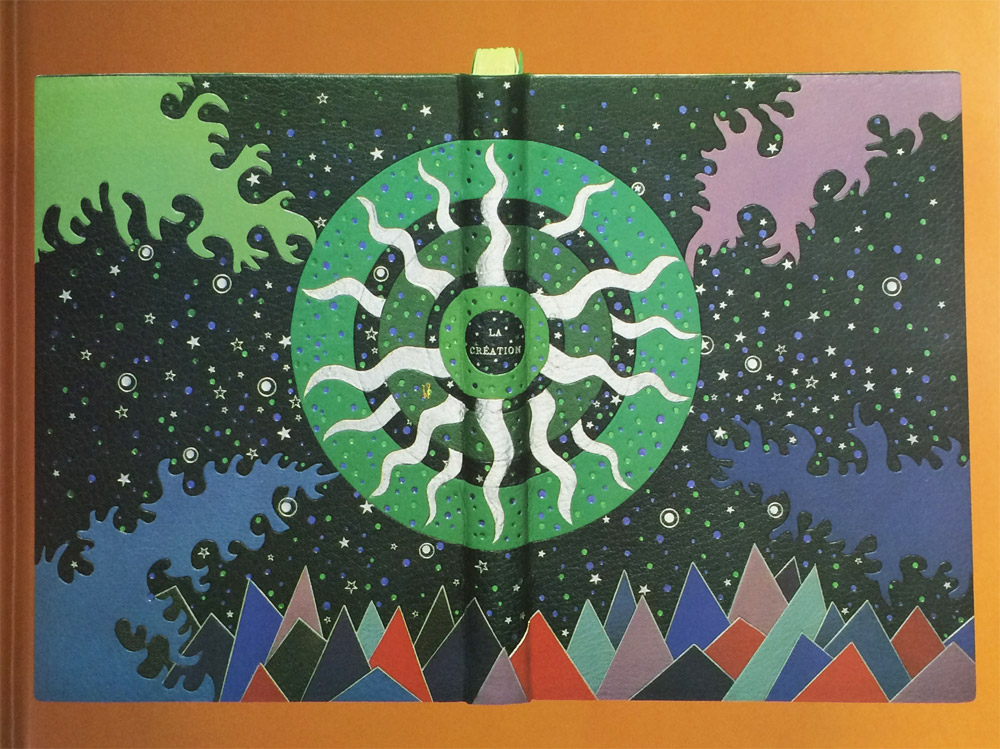 La Création (from the Old Testament) is a two volume set and was bound two ways by Tini Miura in 1983. The book itself was published in Paris in 1928 and includes illustrations by François-Louis Schmied. The first book is bound in dark blue morocco. The explosive design was created by using a large collection of colored onlays and platinum tooling. The central design of concentric circles symbolizes the calmness amongst darkness and chaos. Click on the image below to see a detailed image of the design.

The doublures are a pale blue morocco with cool-colored onlays and platinum tooling. The fly leaf is one of her recognizable oleaugraphs (more on that in the interview below).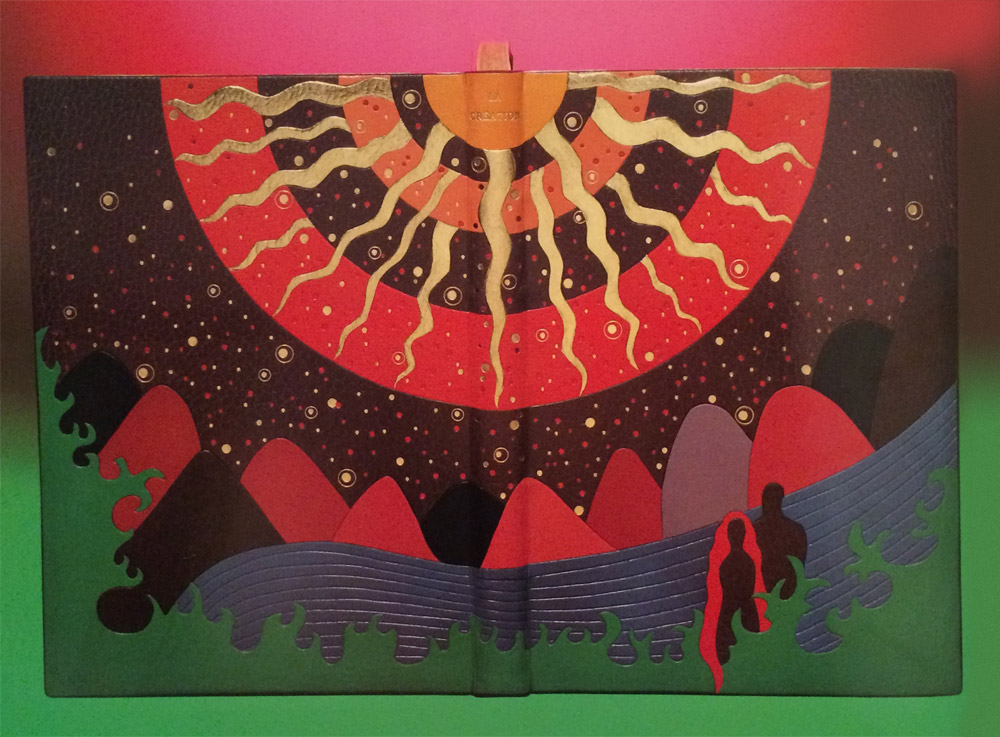 The second binding in La Création is equally expressive, but designed in a warmer palette eluding to the birth of life. This binding contains the suite of illustrations by F.L. Schmied in black and white and is bound in a wine colored morocco. An impressive collection of onlays create the pictorial design along with another explosive central design similar to the first binding. Small tooled shapes are speckled across the background and emphasized with gold and red foils.

The doublures are created in a similar fashion to the other binding using pink morocco and onlays in rose. The tooling is completed with gold foil.
I think it can be tricky to create a cohesive and attractive design when adding multiple layers of color and tooled elements. Your interpretations of La Création are an example of when this design strategy is successful. When you are building designs this complex, where do you begin? Can you walk through your process for laying out your designs in leather?
I saw the image in my mind and understood this was from the old testament: In the beginning………The word created the vibrations which are spreading throughout our universe.
1. I begin with the idea sketch, indicate colors, shapes etc.
2. make a scale to scale drawing, indicate numbers of lines and curves from the set of the gilding tools
3. transfer this design onto a long fiber Japanese paper
4. attach this Japanese paper
5. begin the tracing using my warm tools through the paper
6. remove the paper, begin deepen the impressions
7. moisten parts of the leather, using a warm gilding tool " crushing" the deep leather grain to a solid line by gradually increasing the temperature and pressure. ( to have an uninterrupted gold line all grain has to be " crushed " to a level where no hight differences exist.)
8. onlay: thinly pared leather is wetted, placed over the shape it is meant for, tapped down by using a soft brush as not to tear or stretch the shape, using a warm gilding tool follow the lines, remove the leather, let dry between board, when dry, cut desired shape holding a penknife at an 45 degree angle. Roughen the form on the original leather on the book with dull side of binders knife for a better hold. Paste out the onlay, wet the roughened shape, paste onlay. down. Press under a thin Japanese paper with fingers or flat hand, pick up excess paste, trace outlines, let dry under weight.
– – – – – – – – – – –
Tini Miura became a household name during my time at the North Bennet Street School. Our instructor, Jeff Altepeter, was taught by her while at the American Academy of Bookbinding and so her techniques would emerge into demonstrations every once in a while. For the interview this month, I'm going to be mainly focusing on bindings from her book A Master's Bibliophile Bindings: Tini Miura 1980 – 1990. This book was my first exposure to her work and when I first fell for her expressive and colorful designs. Tini has had a long and prolific career as a binder and teacher, so I hope you enjoy her responses on those experiences.
Check out the interview after the jump and make sure you come back during the month of October for even more enlightening responses regarding a selection of Tini's work. You can get email reminders by subscribing to the blog, just click here.