1. The paper wall at Itoya in Ginza was stunning. It had every imaginable color under the sun. You simply chose which color and textured paper you needed, grabbed a square and brought it with you when checking out. There were so many luscious papers I wanted, but only walked away with a small handful of papers.
2. Manhole covers around Tokyo are elaborately designed and vary depending on the location.
3. Just one of many impressive structures at the Sensō-ji Temple is the 5-story pagoda. This temple is the oldest in Tokyo and upon our visit, my husband and I each donated 100 yen to read our o-mikuji, which are random fortunes. Unfortunately, I drew a bad fortune, but as is tradition I tied it onto a metal wire stand in the temple in hopes that would prevent it from coming true.
4. At the MORI Building Digital Art Museum is the teamLab Borderless exhibit, which is a fully immersive and interactive art piece spanning several rooms and floors. The walls were flooded with animated florals, waterfalls, whales and marching warriors. While exploring we stumbled upon a room with grid-like walls where powerful strobe lights were evenly spaced on all four walls and the ceiling. The floor was mirrored to reflect the lights. The lights would rotate, flash and dim in sync to the music.
5. Our last dinner in Tokyo was well worth the anticipation. We ate at the renowned Sushi Bar Yasuda where we were served omakase (or when the dishes served are selected by the chef). In total we consumed 17 varieties of sushi and I tried uni, sardine and oyster for the first time. But I can't forget the succulent flavors of the bonito, sweet shrimp and consuming the sweetest, most caramel-y tasting tamago of my life.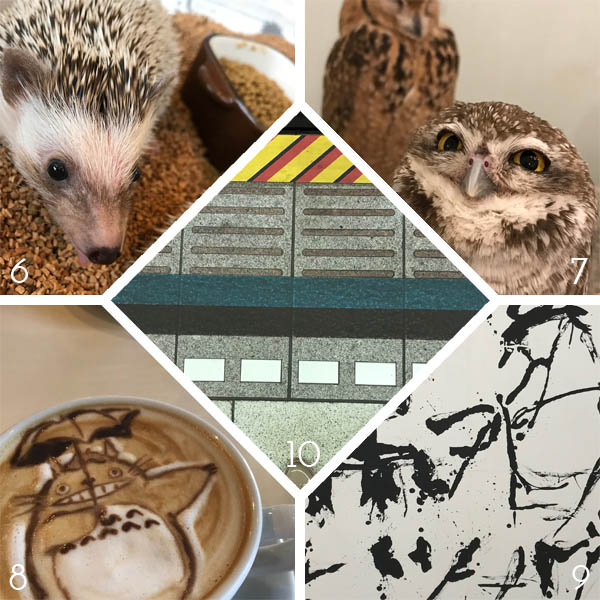 6. Tokyo is filled with animal cafes. Our trip to Harry Hedgehog Cafe resulted in petting giant rabbits, a petite black and white bunny and many sleeping hedgehogs. Of course we gently woke them with a sweet treat of dried maggots.
7. We also made a visit to the Akiba Fukurou Owl Cafe, where we got the chance to sit in hushed whispers with a couple dozen owls. Each guests got to hold up to two owls over the hour-long session. My first owl, named Bonito, was quite rascally and preferred to perch on my head rather than my arm. My second bird was much smaller and much calmer. Sweet Potato (pictured above) loved posing for the camera and even coughed up a pellet for me.
8. During a stroll through Harajuku we visited ReIssue Cafe where we ordere lattes with foam art. I asked for Totoro holding an umbrella. It was particallarly fun to watch the image distort into a terrifying demon-like creature as I consumed the coffee.
9. At the Tokyo Metropolitan Art Museum, we saw a large exhibit of calligraphy. The work ranged from traditional strokes to those that were highly expressive. The scale of the work was also quite impressive.
10. So many elements of Tokyo are well designed. Anywhere you look, you can find a beautiful design or pattern. Looking down while waiting for the train, I saw this lovely pattern.