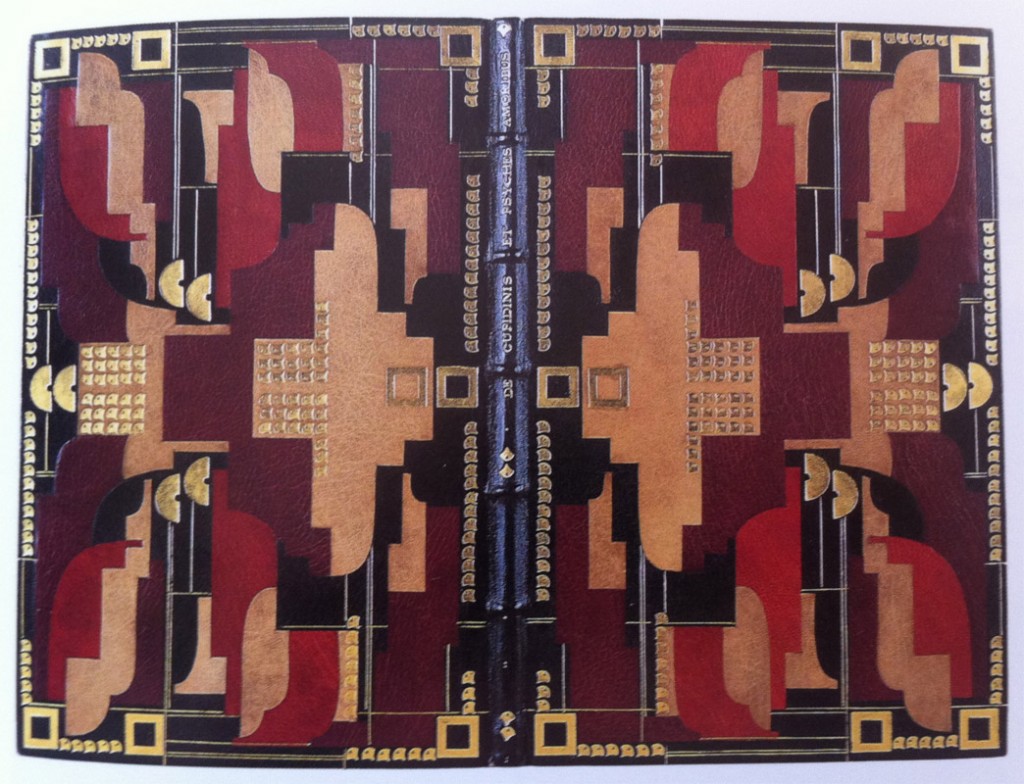 Last April, I had the honor of handling not one, but two bindings by Sybil Pye at the Fitzwilliam Museum in Cambridge, England. Her designs are striking with the use simple shapes and minimal color palette. Her execution is immaculate. Once a certified nursery school teacher, Sybil ran a private kindergarten from 1900-1903 until she fell ill.  During this time she began teaching herself bookbinding through the guidance of Douglas Cockerell's Bookbinding and the Care of Books. Early on in her career she decided on a forwarding style and stuck with it; a rather flat back sewn on raised cords with simple headbands, she never trimmed her text blocks on a plough or guillotine (any necessary trimming was done by hand) and finally her endpapers were usually plain white (which held true to the two examples I saw in England).
Her earliest known binding is from 1906, during this year she met poet T. Sturge Moore and artist Charles Ricketts, whom she kept as close friends throughout the years using them for design advice and occasionaly borrowing tools from Ricketts. Sybil used a small assortment of simple tools for finishing.  Many of which she designed herself, in Women Bookbinders by Marianne Tidcombe, her collection of tools are shown illustrated (taken directly from her bindings). Up until 1925, Pye had produced around 50 bindings, many included blind or gold tooling, while 18 of them contained inlay work.  At the time the majority of her works were bound in either natural or dyed pigskin with inlays of pigskin or vellum.
After 1925, she began to work exclusively in goatskin developing the style she is known for today. Her designs are often mislabeled as cubist inspired, but in fact she took many elements from Byzantine art, Charles Ricketts and the architectural drawings of Michelangelo. Her designs appear to be symmetrical with the central axis at the spine, but in fact there are subtle differences between the upper and lower covers.  
Pye documented every book she bound from the beginning to the end of her career (1925-58), this included a list of 164 bindings.  Her work was exhibited regularly from 1910-46. During the last ten years of her binding career, the quality of her work suffered due to an injury to her wrist that never healed properly. She died in 1958 at the age of 79.