Starting tomorrow at Buy Some Damn Art, six of my books will be featured and on sale for six weeks. Follow my blog during that time to see a post on the making of each title.  
I've been greatly inspired by Art Deco bindings and wanted to incorporate that style into this binding of Fantastic Mr. Fox by Roald Dahl. As a child I read this story over and over, imagining blueprints of the underground tunnels created by those devious foxes. In the spirit of Art Deco design I simplified these underground channels, wrapping them around three colorful, geometric farmhouses. 
The binding is a variation on a German case structure by Peter Verheyen where the boards are covered separately from the book. The spine and boards were covered with earth Hahnmühle Ingres. To make the farmhouses I layered various handmade and commercially made papers which include Moriki, Hahnmühle Ingres, Cave Paper and Lokta. There is a line of red walnut Cave Paper running the width of each board representing the ground and dividing up the levels of the farmhouses; the walnut Cave Paper is the dirt far below the top soil, highlighting the tunnels around each farmhouse. The title was stamped in a sans serif typeface with brown foil.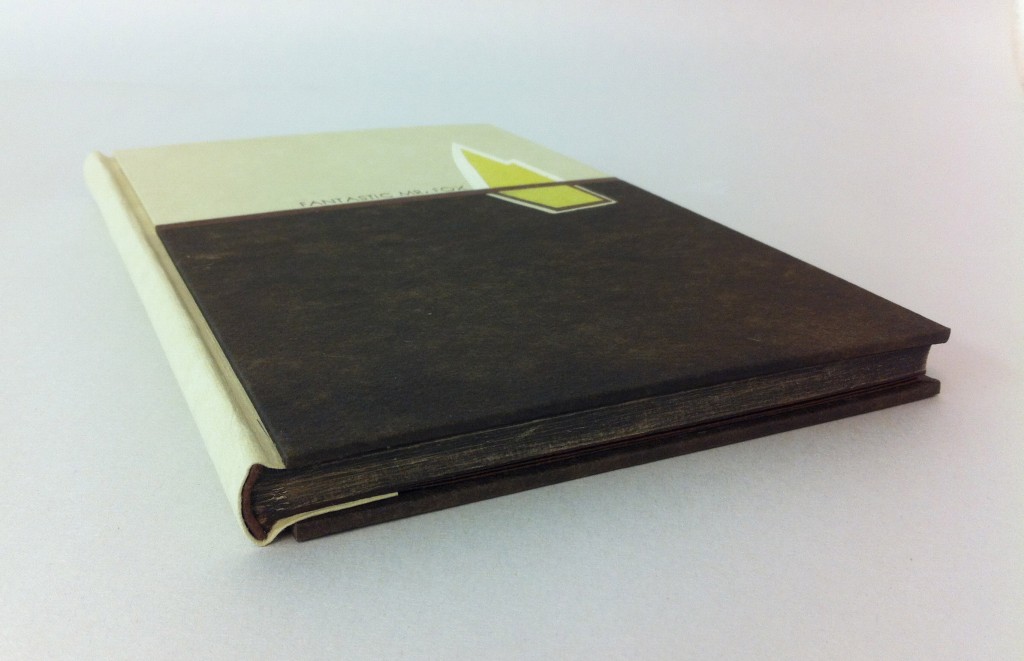 The headbands are wrapped red walnut Cave Paper around cord. The edges were painted with an acrylic/paste wash, once dry the edges were carefully brushed with sandpaper to give a more textural look. The end papers are red walnut Cave Paper. I loved using Cave Paper for this binding for a few reasons: the handmade quality, use of natural dyes and the textural characteristics seemed most suitable to represent the living, moist dirt deep underground. The book is housed in a clamshell box. The trays are covered in lime Moriki and lined with rose Hahnmühle Ingres and the case is covered with brown Canapetta.