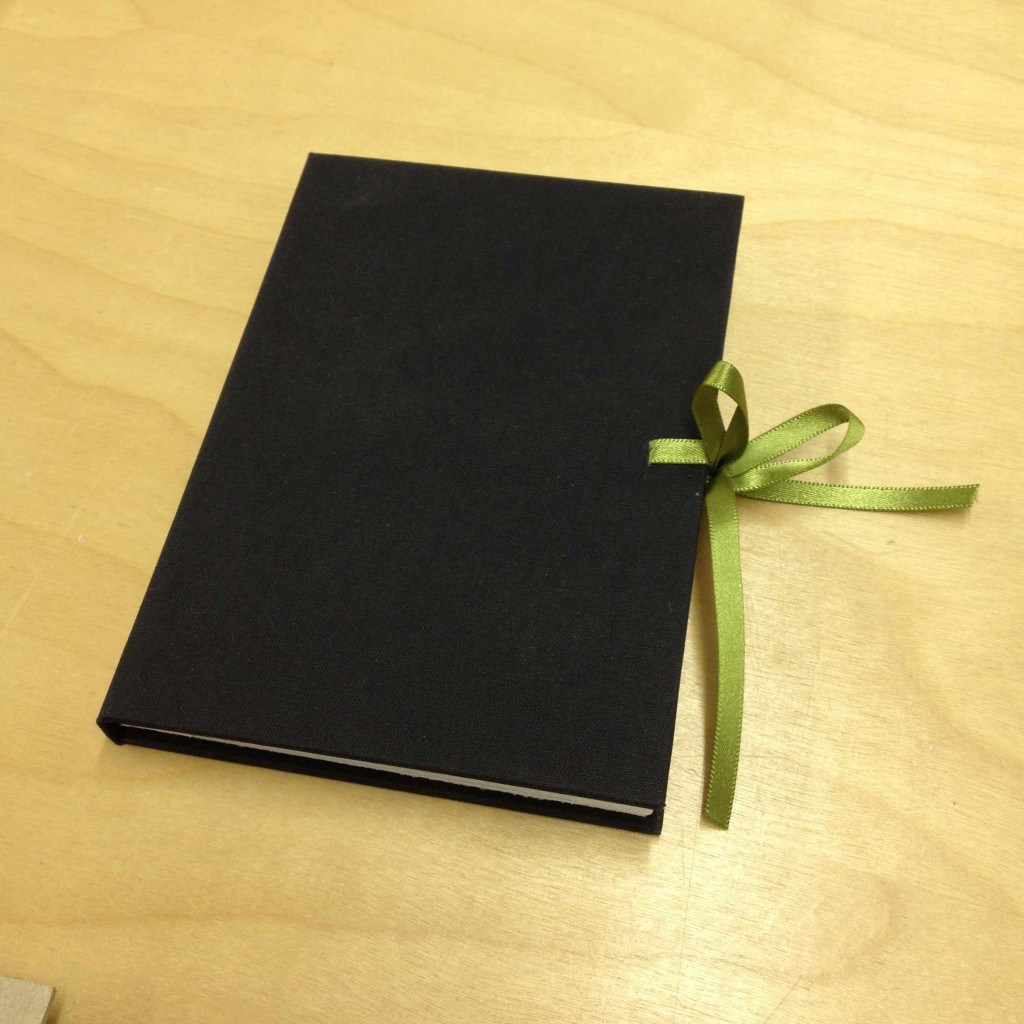 When I was presented with the challenge of binding a book for a set of photography prints that would need to open flat, I sent my former instructor, Jeff Altepeter, an email to help me brainstorm. After discussing a few options, I received another email from Jeff showcasing the upcoming workshops at BINDING re:DEFINED. All of the workshops looked intriguing, but Benjamin Elbel's Onion Skin Binding and The Shrigley appeared to be suitable solutions for my current project.
My only problem was being in Boston and wanting to take a workshop in England. I contacted Benjamin through the help of Lori Sauer (who runs BINDING re:DEFINED and will be featured on my blog through the month of March). Benjamin and I decided to experiment and run the workshop through Skype (a recent topic of interest on the Book Arts Listserv).
The workshop was based on The Shrigley structure and ran for 2.5 hours over 2 Skype sessions. The initial session was half an hour long. During this time I received instruction on creating the folded frames and cutting the corners. Benjamin had a camera set-up directly over his workspace and it was incredibly easy to see what he was doing. Our connection never lagged and the video image stayed clear, making it easy for me to read any measurements or notes that Benjamin jotted down. 
During our second session, Benjamin walked me through the sewing and a simple hardcover case to house the frames. We did a pamphlet stitch to connect the frames in a concertina style. The case was constructed with two pieces of millboard and a thin, flexible spine piece covered in cloth. Ribbon was inserted into the boards to aid in the closure of the book.
Once the cloth lining was pasted in, the frames could be fixed to the case. Overall, I think the workshop was successful. It was easy for me to follow Benjamin's instruction. However I had made a mistake while folding my frames, which I didn't realize until the near end of the workshop. In hindsight, we discussed the importance of reviewing my work before proceeding to the next step. In order to do this with the built-in camera I was using on my laptop, I would have to hover my work in front of the camera and move it around so Benjamin could assess what I had done. 
I think performing workshops through an online interactive video platform such as Skype or Google Hangout could serve as a viable way for bookbinders to connect and spread their teachings further through the community. There are still some kinks that need to be worked out. I know within the Listserv there has been some discussion regarding this topic, but I would love to hear your opinions and whether you've been on either end of an interactive video workshop.