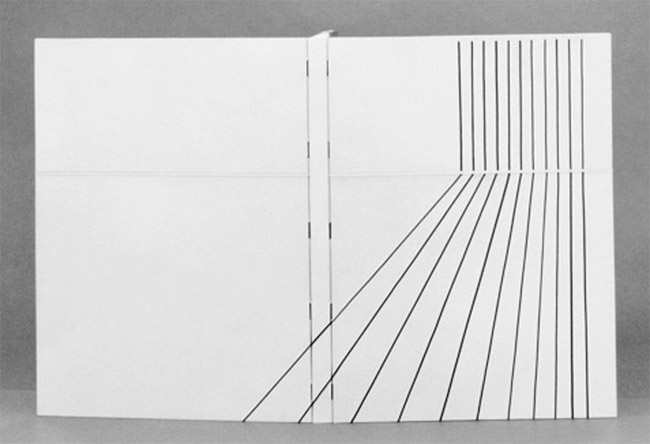 For the final post, I wanted to highlight one of Lori Sauer's more recent bindings. Done in 2017, Lori created a binding for Russell Maret's Linear A to Z. Using an unusual binding style, Lori combine's vellum and Japanese paper to create a binding that works beautifully with the text's imagery.
Russell Maret's Linear A to Z is a beautifully printed book. And your play on the geometry perfectly harmonizes with the prints in this abecedarian text. Can you talk about the binding structure you used for this binding (particularly the board attachment and how it functions)? Is the vellum limp or over boards?
I don't know the name of this structure and sadly I can't remember who showed it to me years ago. I'll do my best to describe it. The text is sewn on vellum supports that are shaped like a bar with an arrow on each end. They have to be very precisely cut and measured as the bar is the width of the sewn spine plus the thickness of the covering material.
The three covering pieces, in this case vellum, are cut to size. The spine piece is folded along the joint and the sidepieces are turned-in along the spine edge only. Slits are then cut in to the fold of the spine and folds of the board pieces that correspond to the sewing stations/supports. The ends of the arrows are very carefully fed through the slits. The points of the arrow shape lock the pieces together and on to the text block.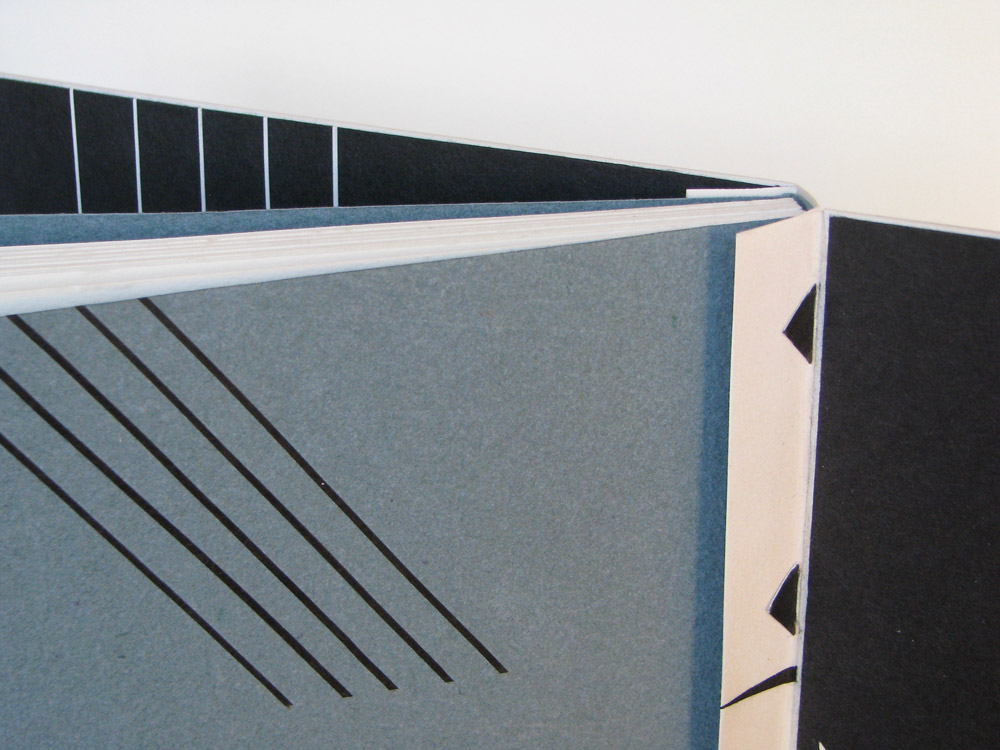 I then tipped in a thin board to the gutter of the board vellum and drummed the vellum on resulting in a semi rigid cover. The black lines are waxed Japanese paper laid in to embossed lines. The horizontal line is cut in to the board vellum and inlaid with a laminate of vellum and paper.
The doublures and flyleaves have black and white lines that echo the design on the outside.
This structure can also be done in a single piece. A gusset is then formed between the inner board and text block. I hope I've explained this well enough. It's very hard to describe without drawing some pictures!