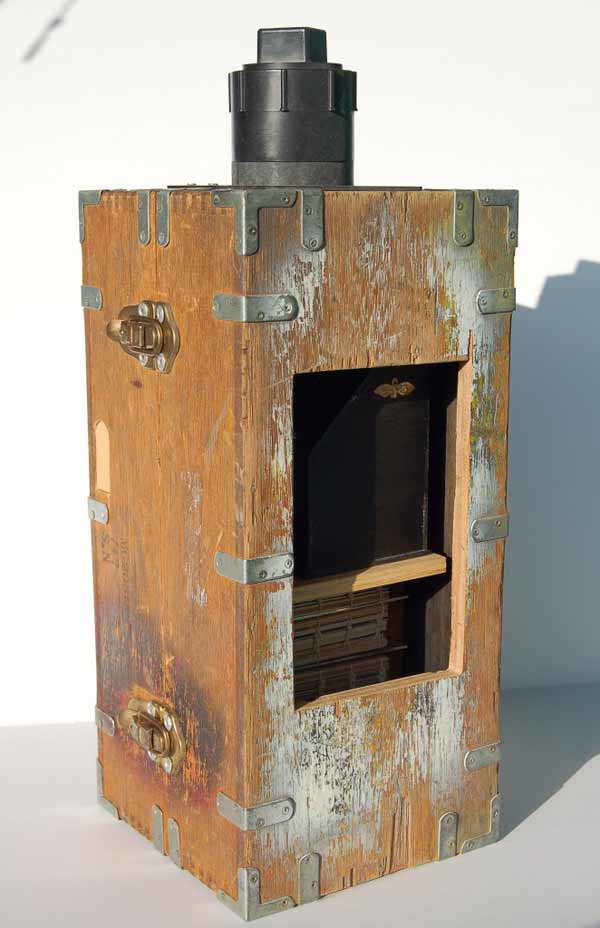 In 2007, Susan Collard built Camera Obscura, a wooden box fitted with all the components that allows one to view the world around them in a more intimate manner. Once the camera is placed in a sturdy position, the viewer may sit at the viewing window with their head and shoulders covered by the cloth hood. As the image is projected into the viewing window adjustments can be made to focus the lens. Susan recommends positioning the camera towards a scene that is well lit as the experience will be more magical.
In addition to its more traditional parts, Susan has included a bookshelf to hold three coptic bound books – he, they and the eye. Each book can be viewed and read inside the chamber with the aid of light from outside the camera. Each book has a set of strings, much like a marionette, that allow the viewer to turn the page without reaching into the chamber. The copper string ends vary in length, which allow the viewer to distinguish them by touch. 
In this last image, we get a glimpse at the interior pages of one of the three coptic books in addition to the detailed set of instructions that come with the piece.