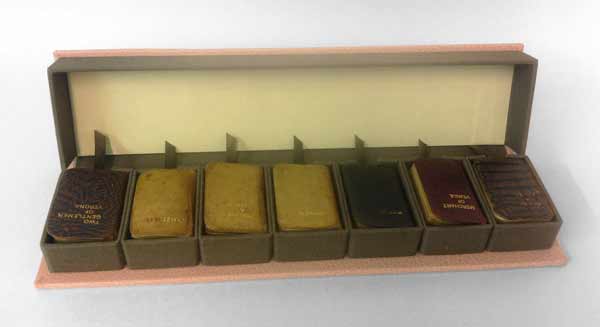 A client came to me with a set of seven miniature limp-leather Shakespeare bindings in need of a clamshell box. The length of each book was exactly the same, but the width and height varied slightly. As a solution I built individual French trays for each book and assembled them side by side as the A tray for the clamshell box.
The French trays were constructed with a single opening at the tail of each book, exposing a piece of satin ribbon. The ribbon was installed for ease in removing each book and to put less stress on the book during this process. When measuring for each French tray, I was less concerned about the width (as I knew they would vary) and the length (as they were all consistent). However, I wanted the French trays to be the same height. Since the books varied from 12mm to 19mm, I adjusted the thickness of the trays by laminating board together so the books would rest at a uniform height.
Since each French tray would be custom fitted to a specific book, I stamped each title with gold foil on the Hahnemuhle ingres used to line the base of each tray. This would prevent any confusion when replacing the books and to make sure the books rest in their properly fitted tray.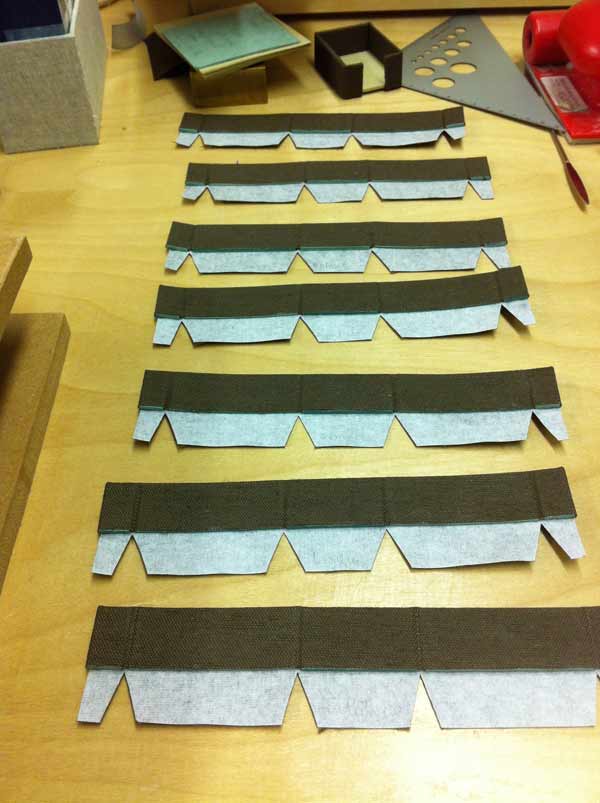 The walls were made from millboard and covered with brown Canapetta bookcloth.
Once all of the French trays were assembled I was able to measure out the materials for the B tray and the case. The B tray was covered with the same brown Canapetta cloth and lined with earth Hahnemuhle ingres. The exterior of the box was covered with a dusty pink buffalo skin and stamped with gold foil the initials of my client's wife. As this was to be a gift for Christmas.
I was very satisfied with the overall construction and feel of the box, as was my client. I enjoyed the challenge that was presented by this project and working with miniatures was a nice change of pace from my regular line-up. You can see more client work on the Services page at Herringbone Bindery.