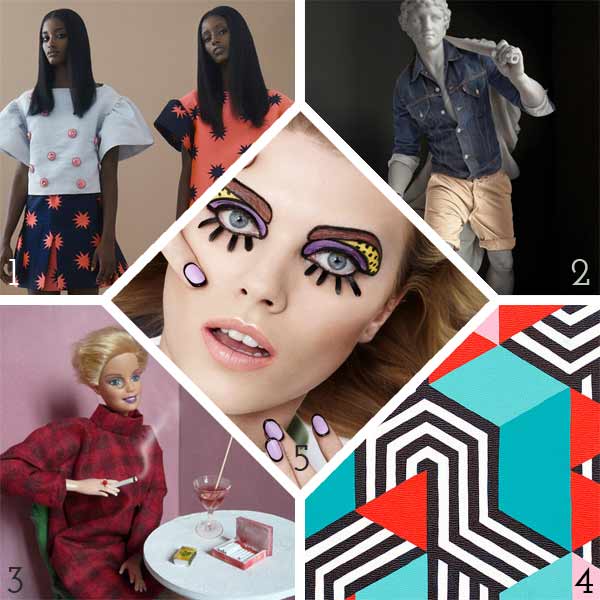 1. House of Holland :: Resort 2014 // Baby Love is bursting with colors and patterns
2. Léo Caillard and Alexis Persani digitally dress up classical sculptures at the Louvre in some hipster threads; taking a humorous spin on the contrast between contemporary and classic culture. | snagged from Design Boom
3. In 2009, for Barbie's 50th birthday a series of photos had the doll reenacting famous works of art and scenes from pop culture. Above Barbie poses in Portrait of Sylvia Von Harden, a journalist painted by Otto Dix in 1926. 
4. Strawberry People is an Etsy shop run by artist Jessica Caputo Macon offering a range of vibrant and psychedelic geometric paintings. 
5. Vogue Japan March 2013 — striking fashion and make-up inspired by Roy Lichtenstein and Peter Max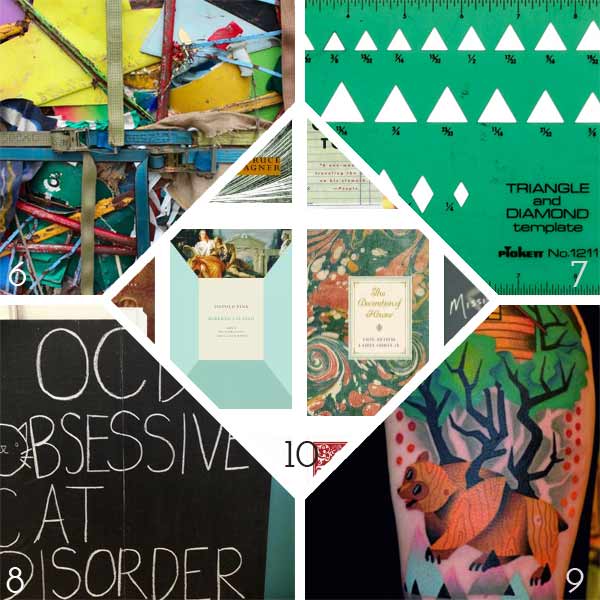 6. At the opening of Sculpture by the Sea in Denmark, works by 64 artists from around the world were unveiled. Including Once by James Dive of The Glue Society, a 4×4 metric cube that holds an entire amusement park (crushed). 
7. Sarah Koik founded The Grandma Museum after 28 years of receiving and collecting objects gifted to her by her grandmother. Sarah also runs a blog alongside her archive, where she asks participants to share images of gifts from their grandmothers. 
8. OCD: Obsessive Cat Disorder is the latest window display in my sister-in-law's shop — The Burlap Bag.
9. I'm wildly addicted to the tattoo stylings of Marcin Aleksander Surowiec.
10. The Book Cover Archive is well just that. One can search by designer, book title or typeface. But my personal favorite is to randomize the page. Each time you randomize, the letters within the word randomize become random. Try it out!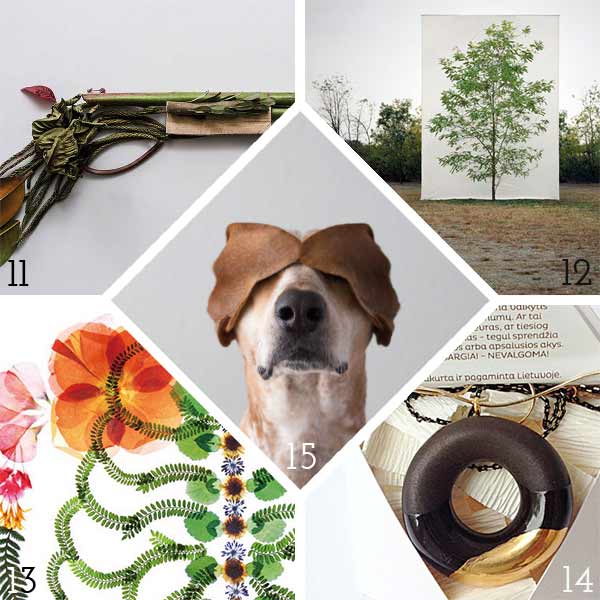 11. Harm Less is a new series from Sonia Rentsch featuring weapons made from various flora.
12. Tree series from photographer Myou Ho Lee is such a simple idea that engages a larger concept (art don't you just love it) | snagged from But Does it Float
13. A Japanese ad takes a softer approach to funeral services | snagged from This is Colossal
14. If you can't get your hands on a doughnut to eat, then wear one around your neck! Dipped in dark chocolate brown glaze and real gold (sprinkles available), these doughnut necklaces from TADAM! jewellery are quite delectable!
15. Maddie the Coonhound is a sort of by-product series from photographer Theron Humphrey. Met with a crossroads, Theron embarked on a journey throughout the United States to photograph one person a day for a year, which turned into the series This Wild Idea. Maddie, a rescue from Atlanta, became Theron's travel companion and star of her own photographic series.