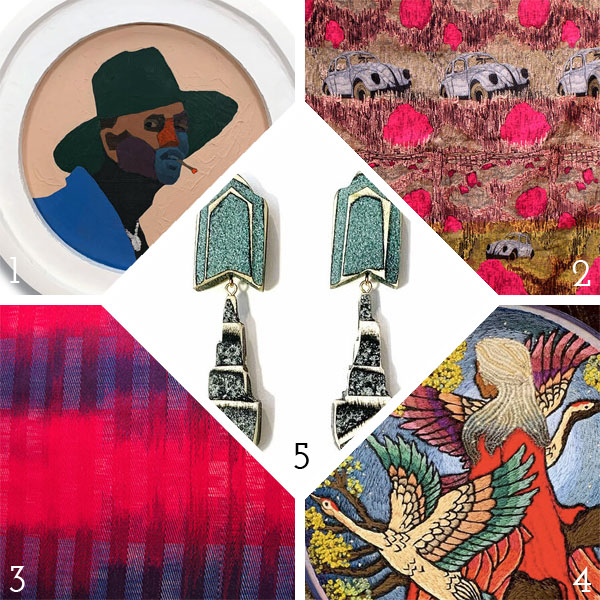 1. The subjects in Andrew Gray's artwork have this an unmistakable gravitational pull. His keen eye for design and color are most unique and part of the allure. Gray is a Baltimore-based artist creating work influenced by his diverse upbringing and studies within African-American history, Russian propaganda, contemporary realism and color abstraction. The latter is readily recognizable by the unusual color-blocking used in his paintings.
2. The textile work of recent RISD grad Kelly Lucero Hughes is a beautiful blend of textures, desert hues and captivating imagery. Influenced by the New Mexico landscape she grew up in, Kelly often incorporates physical elements of nature into her work.
3. I am in love with everything that Daniel Garver has created: every textile, ceramic piece and illustration. I am reminded of the geometric work created by Sol LeWitt. Another favorite artist of mine! Purely simple, absolutely brilliant.
4. Eboni Hogan is an incredible embroidery artist. Her technique of dense stitches and thick, black outlines gives her work an luminous quality, like stained-glass. She also has an amazing talent for creating realistic textures and movement in her work. The piece above was inspired by Toni Morrison's Song of Solomon and illustrates Eboni's ability and determination to accurately stitch the subject's lovely locks. 
5. Anyone who knows me, knows that I'm an earring fanatic. Which is why I'm obsessed with the jewelry made by Morgan Hill. I love the asymmetric quality of her work, the colors, the texture, the multi-faceted shapes, I love it all!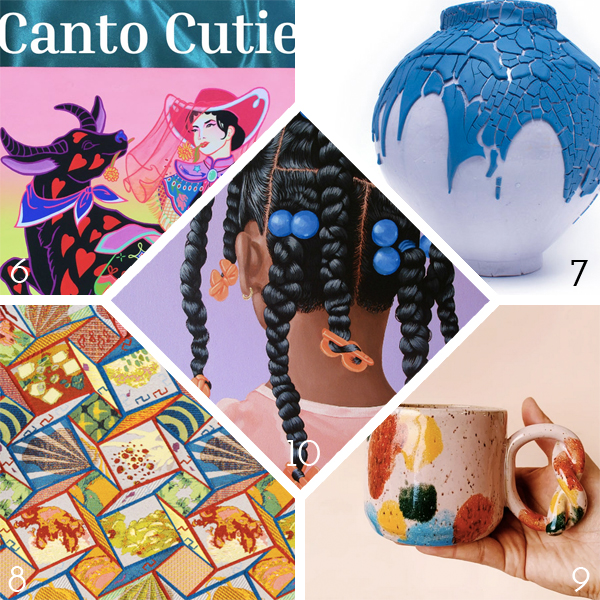 6. Canto Cutie is a literary zine developed by Katherine Leung as a way to collect and share stories from artists who self-identify as Cantonese. Contributors can freely express their thoughts about identity surrounding the Cantonese diaspora and reflect on both historical and contemporary events. Volume 1 is available now!
7. Tiffany Tang is creating some fabulous ceramic work. In the series, Mini Moons, the color palette is sweet and luscious, which contrasts beautifully with the harsh and heavy glazes. Blue & White, shows a softer and more delicate hand which evokes a more classic look of porcelain. All of her work is engaging and strikingly beautiful. Ceramics has the ability to blur the line between function and art, Tiffany plays with this dichotomy well within her work.
8. When you are led by a love for color, structure and anything odd, it's no wonder Daphne Chen has the ability to craft such unique and chaotic patterned knits and weaves. Her work undoubtedly stems from an exploration of identity, place and family. All of these complex ideas morph into equally complex prints, weaves and illustrations.
9. Mugs: my other obsession! Oh how, I love the work of Mud Witch, run by Viviana Matsuda. Her work is so incredibly popular, that I have yet to snag a mug before they sell out. After inheriting pottery supplies from her late father, Viviana began working with clay as a means to work through her grief. As a fellow curvaceous lady, I love that Viviana's pottery reflects her body positivity: chubby and curvy.
10. Working predominantly in portraiture, Jessica Spence is a New York-based artist whose work reflects her own life and black female identity. Her pieces put the focus on the subject's hair, emphasizing an importance for self-care, the care of others and expression. As an outsider to this culture, I don't profess to understand the discrimination or stigmatization black women experience based on the way they choose to style their hair. But I appreciate the shear beauty and talent of Jessica's work and how it invites me to investigate these topics further. Check out this interview on Girls United by Essence.