1. Origami is a series by artist Kumi Yamashita, where a single sheet of paper is slightly crinkled and hung on the wall. The magic of the piece happens when a perfectly placed light sources casts the shadow of a human profile. Quite brilliant!
2. This is just an awesomely hilarious image with an unknown source. Check it out here.
3. Monica Ramos is a wonderful illustrator and is the hand behind Shelter, a display of books propped on their foredge giving the appearance of a tent-like structures or rooftops in a village.
4. Artist, Matthew Cox, has transformed the way you view an x-ray by layering on beautifully coordinated threads. The ghost-like images of the x-rays are partially covered with images of the human body, replacing bone with skin and lovely natural elements such as flowers and blue skies. 
5. A new app called The Human Body is available as an aid to teach kids about the human anatomy. The greatest part, the visuals are created by animating paper. Check out the trailer or purchase the app here!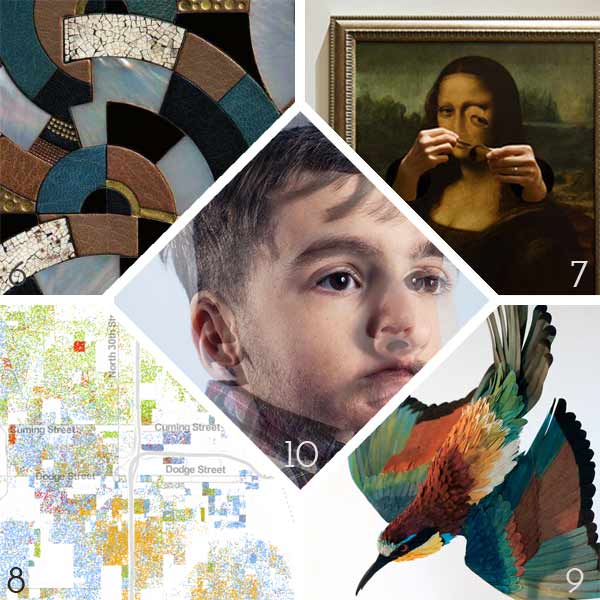 6. An interactive online catalog of French Art Deco bindings. The entire book is written in French, but the images are spectacular. 
7. The Tokyo Museum of Contemporary Art recently put up an exhibition called Haunted House to engage a younger audience into the world of classic art. Through a secret passageway, kids can manipulate artwork into new abstract forms.
8. A series of maps created by Dustin Cable from the University of Virginia's Weldon Cooper Center for Public Service are the most comprehensive survey of racial distribution in America. The image above represents an area of Omaha, Nebraska (my home town). These maps can be quite surprising with overwhelming populations of a single race as well as very visible divisions between racial groups. 
9. Diana Beltrán Herrera has transformed paper in a most brilliant manner. These paper sculptures of birds are so highly detailed, one may not believe they are made from such a simple material.
10. In his series Boys and Their Fathers, photographer Craig Gibson took portraits of both father and son. Each portrait is then overlapped creating visible evidence to any identical physical traits.