This beautiful leather box was crafted by a student at North Bennet Street School. The green leather panel was stamped with a hand carved wooden block to create the delicate design. Unfortunately, the color and subtleness of the design conflicted with the client's vision. Placed inside the box is a daguerreotype-style plaque of Johnson Chapel located at Amherst College, where the couple noted on the cover got married. The client approached me to have the panel redesigned using the color of Amherst: purple.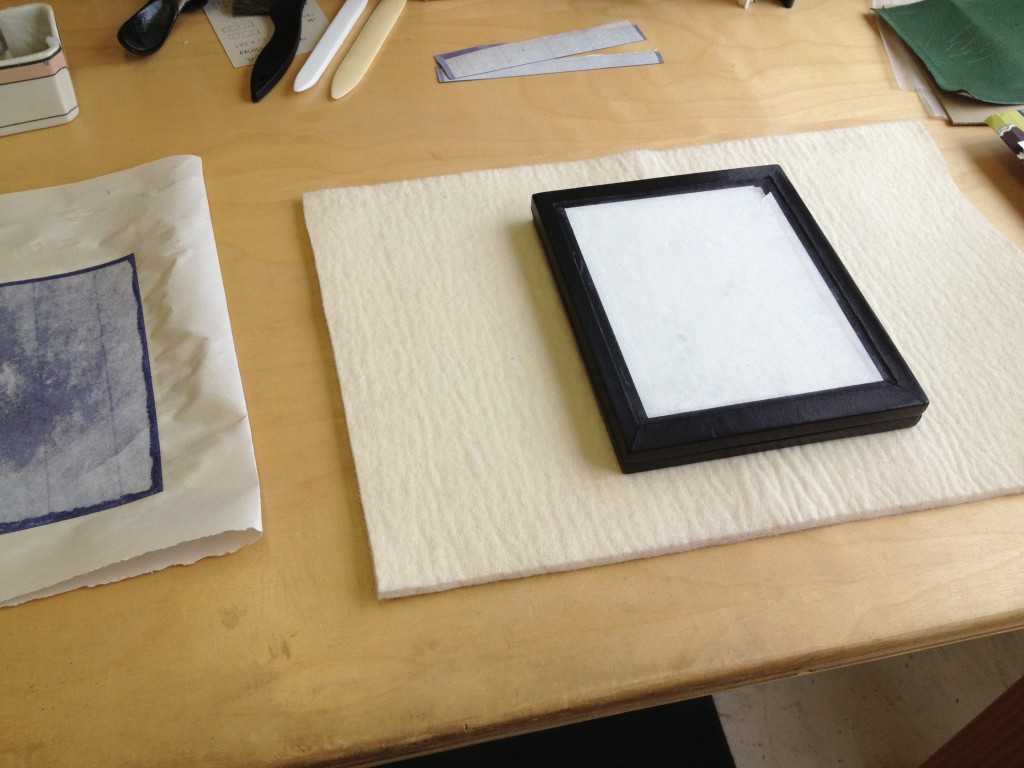 The green leather panel was carefully removed and a new piece of purple leather was cut down and pared to the right size. For the new design, I kept the original border layout and text placement, which indicates the location of the wedding, the couple's names and the date of the ceremony. The center motif is inspired by the Johnson Chapel building. Using simple architectural lines, the tower of the chapel was recreated through carbon tooling. The clock at the top of the tower indicates the time at which the wedding ceremony began. 
All of the text on the new purple panel has been hand tooled using Gill Sans handle letters and palladium leaf. Palladium was chosen to mimic the look of the plaque inside.
The design on the box was rather tricky to capture within the limitations of my photo-documentation set-up. But the image below highlights the design through raking light, bringing out the grain of the leather against the blackness of the tooled lines. The client was very happy with the newly completed box and couldn't wait to present the couple with their overdue wedding present.