Earlier this year my family experienced the passing of Richard Gradowski, known by me and my cousins as Dzia which is Polish for Grandpa. My Dzia loved so many things in life and his passions created lasting relationships that touched so many lives. First was his love for Polka music both as an avid listener and talented musician on the harmonica and accordion. I remember hearing the cheerful rhythm of Polka music softly playing from the antique wooden radio in the kitchen upon each visit. 
Secondly, my Dzia loved ducks, particularly mallards and loons. Seated at his work bench, my Dzia would carefully carve out the shape of each duck from a block of wood and hand paint each detail with superb skill and patience. These sculptures were scattered throughout the house and even gifted to my mother and aunts. 
Lastly, my Dzia engaged in any material regarding WWII. His interest in war, no doubt came from his experience in the 1950s during the Korean War; where he was stationed at a United States Air Force base in DC as part of the motor vehicle squadron. As my family lay his body to rest, a military salute commenced. My mother was given seven casings from the volleys fired. One casing was meant for my Nana, while the remaining six would be given to her children. To honor the memory of my Dzia, I created a clamshell box to safely house each casing.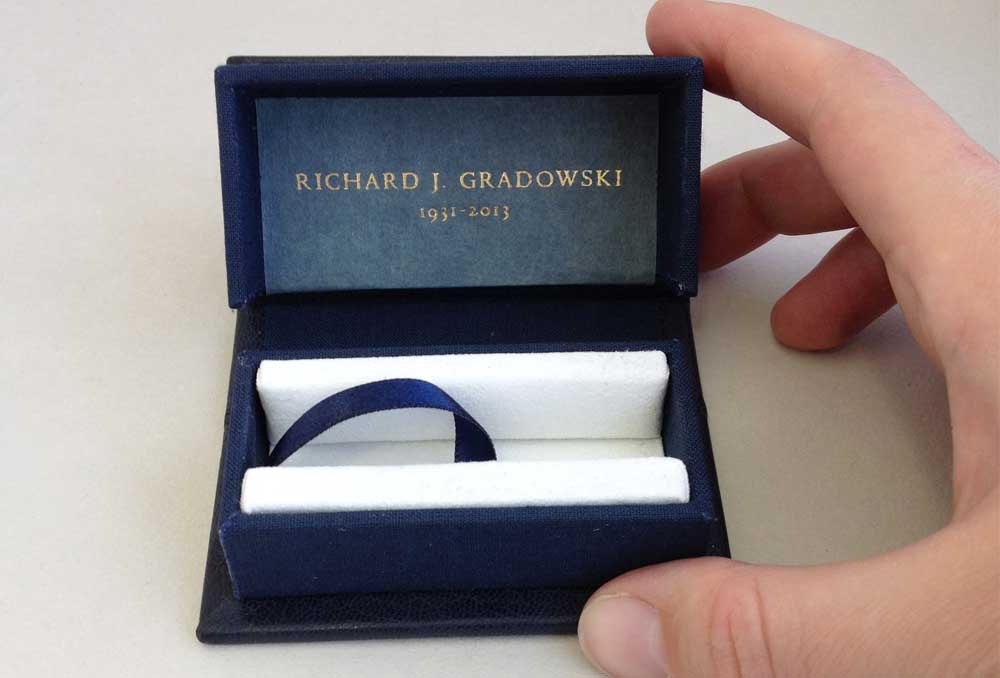 These are, by far, the tiniest clamshell boxes I've ever constructed. Using a thin binder's board the pieces were carefully measured and cut down using the spring gauge on the board shear. 
The boxes were constructed just like a standard sized clamshell box, except the interior tray has four walls instead of three. The trays are covered in navy Cialux bookcloth. 
I wanted the casing to be surrounded by a soft material with plenty of padding. After laminating a few pieces of binder's board to Volara foam, I tightly wrapped the padding with bright white Ultrasuede. The interior tray was lined with Ultrasuede as well and the pads lined both long walls. A piece of satin ribbon attached to the backside of the thicker pad allows for easy removal of the casing. 
The case is covered in a matching navy Harmatan goatskin. The exterior tray is lined with blue Hahnemühle Ingres and stamped in gold foil with my Dzia's name and the year of his birth and death.
Each box was handed out during my family's Thanksgiving celebration. Sadly, my husband and I could not attend this year for the feast and festivities, but my cousins Meg and Gina sent me some wonderful pictures of the casing sitting snugly in its clamshell box.