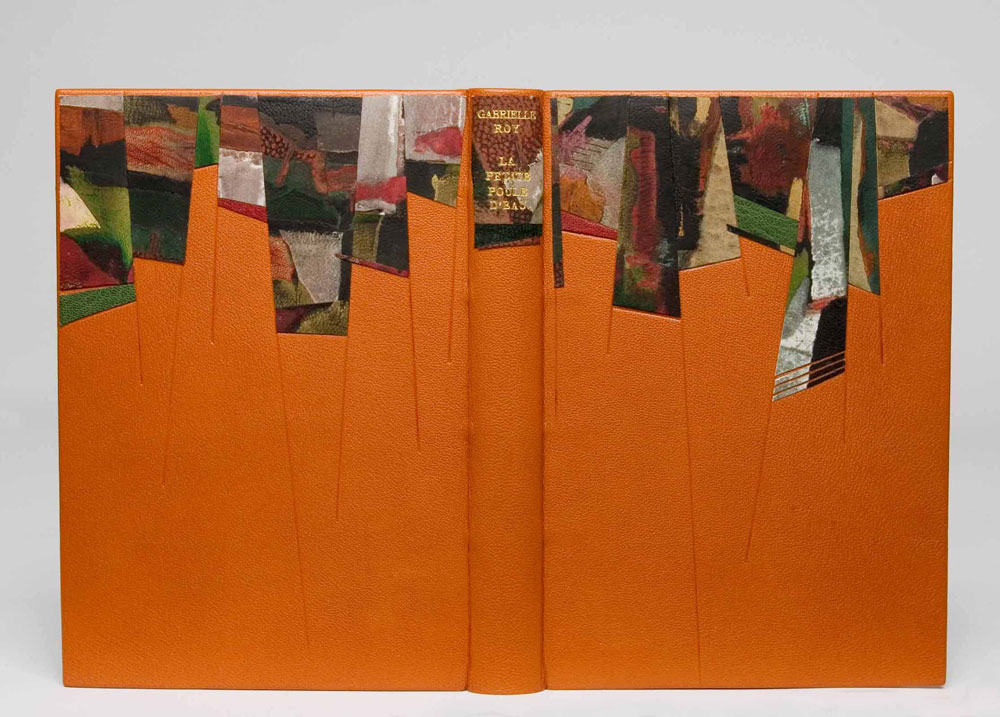 La Petite Poule d'Eau by Gabrielle Roy was bound by Monique Lallier in the French technique in full leather with onlays of lacunose. This technique transforms leather into a uniquely distinct design, offering texture and depth. The process calls for patience and muscle. Lacunose is created through a series of layers of thin leather pieces which are covered in a PVA wash and sanded smooth between each layer. The result is a build-up of various leathers in a seamlessly smooth finish, which can than be used as a decorative onlay.
Another design element visible throughout your work is the lacunose onlay. The lacunose technique can be quite time consuming as you begin to add more and more layers. What is your process for the lacunose and how long does the process take?
This is the story of a village in Manitoba, Canada, called La Petite Poule d'Eau. I wanted to convey a sense of structure and colorful personalities. I had seen Paul Delrue demonstrating "Lacunose" at the Standards and I thought it would be nice on my binding. Little did I know how long it would take me to achieve the result I wanted, but I am patient and determine so I kept sanding…It took several days, as you have to wait for the leather to dry between sanding sessions. Now I have several boards covered with "Lacunose" or (cuir peaufiné) sanded leather as they call it in France, because it's a nice way to use your bits and pieces of leather. I have done some with one or two colors of different shades…you can play with it and do it in between steps in bookbinding…it's fun!