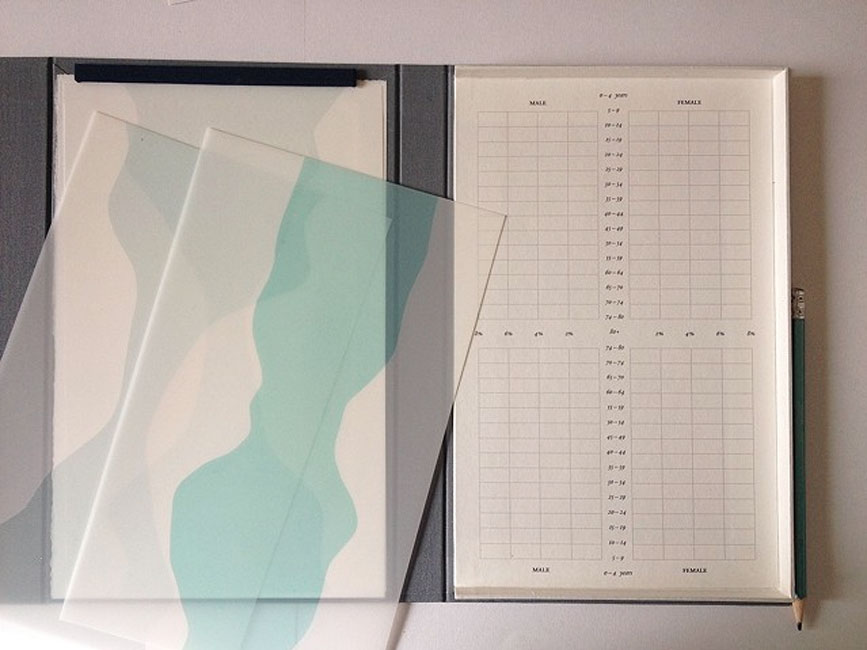 As a work still in progress, Figure Study is a creative collaborative project between book artist and printer Sarah Bryant (Big Jump Press) and her biology professor cousin, Dave Allen. In the interview below, I've asked Sarah a series of questions about this project because its production is partially possible due to a successful Kickstarter fund. And of, course due to the brilliance of the design and content of the project.
Figure Study is a book about population data. Housed in a custom box is a series of population diagrams printed on drafting film. The translucency of the drafting film allows one to arrange the prints in unique combinations creating new sets of data and artistic forms.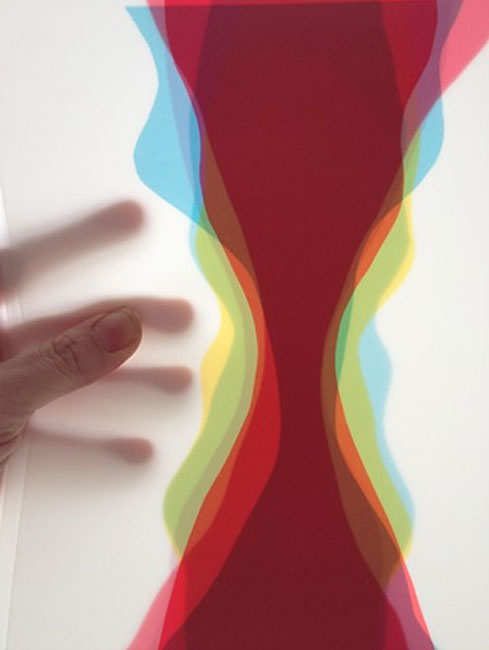 Figure Study has an interactive element. How do you see the owner of this work connecting with the population diagrams?
I hope that the process of comparing the shapes will be a truly addictive one. I find it that way. Of course, the owner of the book will be able to look at the figures in a purely analytical way if they wish, layering a sheet of drafting film printed with a figure onto a grid and using the index to determine which regions are represented. But additionally the layering yields beautiful forms and stark contrasts that appeal to both the analytical parts of our brains and our more basic appetite for creating and experimenting.
It is interesting to me that over the last two years or so I have made three "books" that are essentially composed of loose sheets that can be rearranged. I didn't set out to do it this way, but somewhere in the back of my mind I have been interested in the viewer reshuffling and recombining the content. I think this book is the natural conclusion of that impulse because the reshuffling of the data is so essential to the core of the book. Comparing, revealing differences and similarities, investigating.
– – – – – – – – – – –
I'm really excited to present this interview with Sarah Bryant. I continue to enjoy the work she produces and was pushed to conduct this interview from as a suggestion given by Michelle Ray, who I interviewed last year. Sarah is creating really interesting artist books in beautifully designed and bound formats. I recently made a pledge toward Sarah and Dave's successful Kickstarter fund and am anxiously awaiting my reward. I see Kickstarter as a potential avenue for other book artists to fund their ambitious projects and a goal of this interview was to discuss the entire process with Sarah.
Check out the interview after the jump for more about Sarah, her background and creative process. Come back each Monday during the month of December for more about Sarah's work.
In 2008, you received your Masters at the University of Alabama in the Book Arts program. What led you to study book arts and why choose the program at Alabama?
I had always had an interest in making books. I occasionally made bizarre looking and structurally unsound books out of things I had on hand. I never considered these to be artist's books, it was just a quiet, weird hobby in the background of my life. As an undergraduate I studied art, then I worked briefly for a book designer in New York. Then a series of moves and assorted jobs wholly unrelated to the arts, always making books in the background. I started looking around for bookbinding courses I could take in 2004 and bumped into the Alabama book arts program online. That was the first I'd ever heard of a masters in book arts, and the first time I thought about what it would mean to make books for a living. I sent Steve Miller, the director of the program, a slightly weird email with the subject heading "secretly obsessed with bookbinding" and (to my lasting relief and gratitude) he emailed me a few hours later. Two weeks after that, my pitiful savings had been blown on a ticket to Tuscaloosa to visit the Alabama program. I saved for a year or so and then headed down in 2005. I did look at the other programs after my visit, but Alabama's focus on craft sealed the deal for me. At the time I didn't envision myself making artist's books, or even printing. I was mostly interested in learning bookbinding skills. But as soon as I was halfway through my first printing course I was looking to buy a press of my own. I managed to get one, a Vandercook SP-20, in my second year down there.
How has your training/experience at UA influenced your creative and production processes?
Alabama and the skills I learned there threw open the doors to the rest of my life. All of the books and little projects I had been tinkering with quietly suddenly had a pathway to emerge as fully envisioned and well executed projects. The printing press, the binding equipment, and my hands all became tools that made it possible to aim for more ambitious work. The more skills I learned and practiced, the more confident I could be in my books and in my capacity to create editions. Editioning is something that I always strived to do. Before I learned to print letterpress I was always looking at things I had made and wishing I could reproduce it twenty times. One-of-a-kind doesn't hold much appeal for me.
Diagrams are often used in your work as a means of presenting information by plotting and arranging collected data. What is the origin (or fascination) for this constant presentation of information in this manner?
I think I share this fascination with a lot of people. It comes from a number of sources, a general interest in data visualization, a long relationship with old textbooks and TimeLife books, and a focus in my own work on describing things that are hidden from view. Almost all of my early books use diagrams or structures devoted to seeing systems that are invisible; the cross section or cutaway view, the dissection plate, the pull out card. More recently the binding structures have gotten less complex but the underlying idea, our compulsion to understand and explain, is still there.
You are based in the UK, but have spent time in America for your studies and you consistently teach at venues in the States. What similarities or differences do you see in the book arts community between the two countries?
I am a transplanted American, I only moved to the UK three years ago. The communities are different, without a doubt. I perceive the landscape primarily as an educator, because that is how I make a good portion of my living, especially when I am working on a project that hasn't been released yet. From my observations, the education system here in the UK is far less connected to craft and skill. As a result, the kind of teaching I did in the USA, semester-long printing or book arts courses focusing on a combination of content and technique, simply doesn't exist. Instead, students here typically have brief one or two-day inductions into different techniques, (letterpress, screen printing etc,) which they can elect to use for overarching projects or assignments. I have found this to be true both for undergraduate institutions and for some book arts MA courses. As a freelance instructor, this means that I frequently have students who seek me out to learn some craft techniques to supplement their education, so at least it keeps me in business. But as a craftsperson, I can't help but find frustrating a system so dismissive of the level of devotion that is necessary to develop any real skills. There are exceptions, of course. I am excited about a book project I'll be doing with some Visual Communications students at Arts University Bournemouth this coming spring.
Outside of education there are other differences. As combination printer/bookbinder I feel that I am somewhat anomalous here. There certainly are exceptional printers and binders here, and a few people who have training in both areas, but my sense is that the printing and bookbinding communities are more distinct here in the UK, while the US is populated by printing-papermakers, binding-printers, conservator-artists, and other combinations. There aren't many open access studios devoted to book arts where these skills are taught and used together, and perhaps this is a related issue. A few locations have letterpress equipment in a corner of a printmaking studio, but there is only one dedicated open access book arts centre, the London Centre for Book Arts, which opened in late 2012. But there are other locations, such as St. Brides Library, that are concerned with a broad spectrum of book-related craft.
I do love the UK and interest in book arts and letterpress is growing here year to year. And of course there is a long tradition of craft here even if that is not reflected in the university system. The LCBA is a great resource, as is Ink Spot Press, a screen printing and letterpress shop here in Brighton where I live. Any big moves take an adjustment period and I am still adjusting now. There are many more places for me to explore and investigate. Sometimes it is hard to stop working and look around, so I am still learning and I am sure this answer has huge gaps in it, so my apologies to anyone in the UK I am misrepresenting the situation.
Can you walk through the process of how you created a successfully funded Kickstarter campaign? But first explain the project.
Yes! So for several years Dave Allen and I have been trying to work on a project together. Dave is my cousin, but also a biology professor at Middlebury College. He used to visit me in Aurora, NY when I was the Victor Hammer Fellow at Wells College and he was getting his PhD in Michigan. We would spend a few days making a print about invasive species or census data. Most of these projects never really got off the ground, but we knew we had a project between us somewhere, and we found it two years ago when he came to see me here in the UK.
David and I have created population pyramids for every region on earth using data from the 2014 mid-year projections of the US Census Bureau's International Data Base. These shapes are unique for each country, and are startlingly easy to interpret. A wide base and sharp ascent into a narrow top often indicates a population with a low life expectancy and a young population. A narrower base with a slight swell in the center (see our graph below of Switzerland) shows an aging population.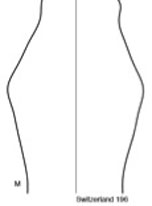 We paired these pyramids at the peak to create human-like forms. A thick-waisted form indicates two populations with a large older population that lives to quite advanced age (see below left, Bulgaria and Serbia.) Narrow-waisted figures represent the combination of two populations with very few elderly people (see below middle, Burundi and Malawi.) Asymmetrical bulges to the left or right indicate a higher male or female population for particular age segments (see below right, Bahrain and Zambia.) These starkly dissimilar forms call attention to vital differences between populations, or differences in the ways that these regions are collecting and reporting their data.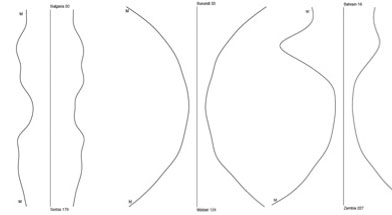 I am printing all of these figures onto drafting film and housing them in an enclosure that allows comparison and interpretation.
It took us about a year to get the book idea into this form, and when we were confident enough in its viability as a project we started to think about funding. Kickstarter was a natural fit, the materials were expensive and we really didn't have the means to get it going without an injection of cash. Dave made a trip over last spring specifically with the goal to design a set of rewards and produce some of them so that they would be ready to go. We particularly wanted to make sure that we had some pictures of a working mockup for the project and some finished rewards so that people would be more interested in getting involved. I think that was our best move. Without the images I don't think we would have had as much support. In the end we decided that the rewards that would suit the project would be a set of prints of the layered data, and smaller sets of drafting film figures. The finished version of the book has 114 figures, so we created sets of five, twelve, and forty figures as rewards, as well as a few options to buy the book itself.
Your Kickstarter was successfully funded by 278%. How did you plan for the possibility of receiving a pledge amount beyond your initial goal?
We didn't plan for it at all. We never expected to be so well funded! In truth, we lowballed our goal when we set the target to $5,000 because we were worried that we wouldn't be able to raise even that much. I was convinced that I'd have to spend three weeks begging and bothering people in order to make our goal. Then to our shock we were funded almost immediately! So far the extra money has gone towards better materials and tools. I found a board shear for a couple hundred pounds and rented a van to get it. It has made it possible for me to skip a few weekends of teaching and devote myself to the book. We are getting Dave a ticket to come over in the new year to help get some last bits together. It is also covering stupid costs we never considered, like bus tickets to the studio and shipping the kickstarter rewards. On the whole, though, it is making it possible to produce the book without worrying about how to pay for it or struggling to keep the costs low enough that I can still pay my rent!
As you've worked through the production of this project, has it evolved differently than how it was initially presented?
When Dave first visited me here in the UK in 2012 we had ruthless plans to print a simple book, no matter what. We'd had a lot of ideas and prints that hadn't really gotten off the ground when we'd met in New York state, so we figured, this time: one week, one pamphlet. Two days planning, four days printing and binding. Boom. But on the second day we hit upon the idea of building these human forms out of population data and we decided to slow it down. We spent that week building the pyramids from the US Census data and pairing them up to make the first round of figures (we would go through several drafts.)
Initially, we thought we would make a traditional codex, a book bound at the spine. We envisioned a tall and thin book, echoing the rough proportions of the figures, with every figure printed, layered on other figures in some kind of random order. But as we worked it seemed that this version of the book robbed the viewer of the very thing that made the project so compelling to us, the potential to layer the data in different combinations. After Dave left we worked from a distance. I started making mockups that were more similar to the final project; translucent layers that can be manipulated by the viewer rather than static combinations that Dave and I determined through some randomizing algorithm. By the time Dave came back for our Kickstarter design visit we had more or less landed on the final design.
Since then the basic idea has remained intact. I have been refining the enclosure to make sure it operates intuitively, but that is a normal part of the binding design process. This is actually a very simple project. Unlike other books from Big Jump Press, I am adding very little of myself to the content, apart from pairing these pyramids into human forms and determining color. There are small portions that still need to be designed; the index needs typesetting and the final details of the enclosure. Sometimes I wake up and worry about that! It has to be done by the beginning of February or my spot at Codex (I will be at the Shift-lab table) will be bare!
Do you have any advice for other book artists who may be considering Kickstarter (or other crowd-funding sites) or who plan to re-pledge a failed campaign?
I think our project was successful for a few reasons. The project was appealing to a wider spectrum of people than some of my other work, especially since Dave and I are collaborating from entirely different fields. We had a range of rewards that were related to the project and we had photos of all of the rewards, or at least of models of what those rewards might look like. Finally, we SLAVED over our video. The video was the part that delayed the campaign the longest because I had no idea how to make one. When I look at kickstarter videos, I am far less likely to watch the whole thing if it is just a person talking in a room with bad sound quality. Is that shallow? Maybe. But that's the way it is. So I wanted to avoid that. In the end I used my ridiculously limited skills the best way I could and the low tech-ness of it somehow made it work. My husband Ben wrote the music for it, and that was such a wonderful help to have. I should probably pay him. Now I am wondering if he will read this. I'll pay you later, Ben!
I am now in the middle a major push to get most of the rewards done before Christmas. Thank God the rewards are something that I can print simultaneously with the book. One thing to be careful of with a Kickstarter is that you aren't giving yourself a set of projects that is more trouble to produce than you can handle. If producing the rewards is costing you unexpected time and money, they won't be helping your project in the long run. Beware of setting up a lot of small rewards unless they are easy to fulfil. Although the small rewards did help, it was the big ones that really pushed us over our goal. Finally (and this may seem like a really dumb piece of advice, but here it is anyway:) Don't forget to factor in shipping costs! With packaging and postage you can be looking at hundreds of dollars. Since I am in the UK and shipping from here to the USA is shockingly expensive and occasionally unreliable, I planned the reward deliveries to coincide with trips back to see my family in Delaware and teaching gigs elsewhere in the US.
I know you're in the middle of completing Figure Study. Which leads me to ask if you are thinking about and planning your next book or do you focus on one project at a time?
I don't have enough room in my head for two projects at once! Particularly now, when I am working so hard to print the book. When I am halfway through the binding and my muscle memory has taken over, then sometimes another book can work its way in. But my process is very slow. It takes a lot of time for a book to emerge from a soup of ideas and images and structures and mockups and drawings.