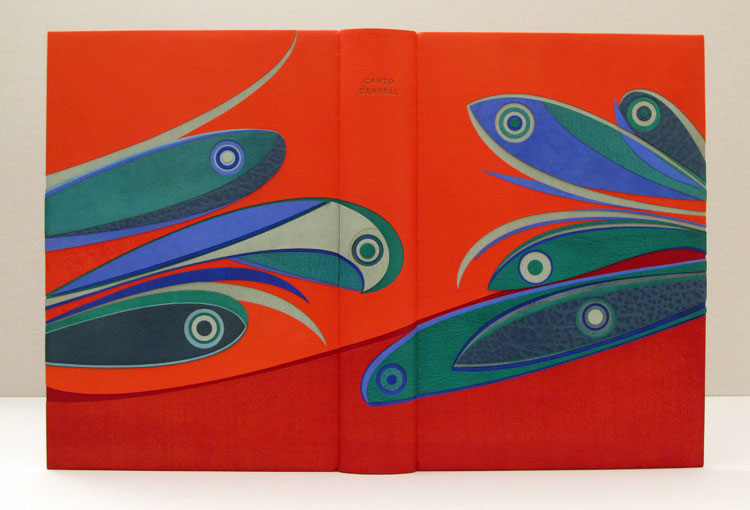 This binding of Pablo Neruda's Canto General is the most recent binding Sol Rébora has completed and the most important book she has worked with to date. This first edition copy was printed in a limited 500 copies. This particular copy is number 52 and is signed by Pablo Neruda, Diego Rivera and David A. Siqueiros with additional signatures by Cesar Chavez, Carlos Fuentes and Baldemar Velasquez (American labor union activist).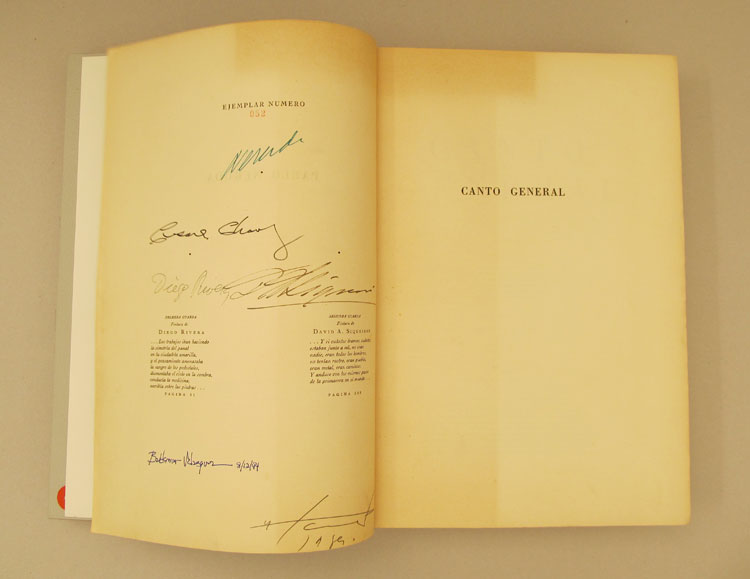 The text is printed in black and red with original color printed endpapers illustrated by Diego Rivera (left/front endpaper) and David A. Siqueiros (right/back endpaper). (Click image to enlarge)

Why the book is so important to Sol:
This epic book consists of 15 sections and over 300 separate poems tracing the history of Spanish America. Canto General is considered by many to be the most important work of political poetry of the 20th century in Latin America.
About this work, I may say this book was sent to me at a perfect time.
I had been working with the inlay technique used on this binding for the last two years. I had the feeling that I had worked with it enough as to feel free to create any design I wanted, without any fear of the inlay process, but also because I decided to trust my capacity to find solutions to any problem.
The other important point is: I had spent 15 days in Mexico in February, for bookbinding reasons, sharing time with wonderful people who taught me a lot about their history. Two months later I went to Guatemala, to the Francisco Marroquín University to teach bookbinding. There I had been in contact with their culture, almost completely with the history of Mesoamerica.
My feeling coming back to Argentina was that I had to make a book, may be an art book, to convey all of my experiences and my feelings on these wonderful trips.
Two months later, I got this binding commission from Heritage Book Shop and I could believe in such a great opportunity. Pablo Neruda, Canto General, first edition. [As Sol mentions again] The book considered by many to be the most important work of political poetry of the 20th century in Latin America.
– – – – – – – – – – –
The book is bound in full leather in the French-style of fine binding. The design is created using thirteen different colors creating the several levels of relief and low relief. The thirteen colors come from goatskin and buffalo leather supplied through Argentina, Mexico, England and France. The title is tooled in green on the spine. The doublures are French goatskin with a design of inlayed circles.
The front and back flyleaves are made from Argentinean suede. The book is housed in a matching custom clamshell box covered in orange goatskin leather with the title tooled in turquoise.
The design for Canto General is quite beautiful and energetic. The complexity of the design is displayed in the various recessed and raised layers. When you approach a design of this complexity, how detailed and thorough are your steps leading to the final bindings? Are you creating multiple drawings and models of the design?
To make a design for any binging, I prepare sheets of paper, many are the size of the full cover. I make a fold to place the spine and to have clear sense of where the hinge falls. I start the drawing by composing the three planes (top, back and spine) separately and together simultaneously.
After several drawings, I put a selection of them on the studio wall. After mediating over the selection, I choose a final design. Then I scan the design and I start to make color tests in Photoshop.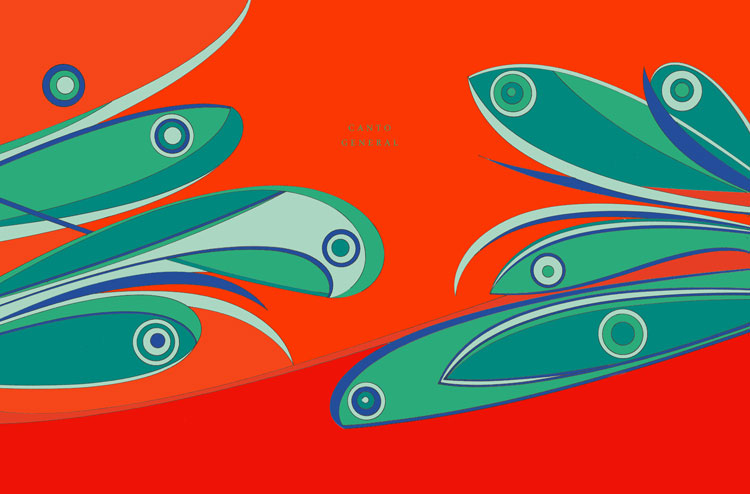 So then I start to work over the book. To place each of these inlay pieces I need a map. This map is the replica of the design, on a translucent (60 gr.) paper. It will help me locate each piece and put it in its rightful place.
I always use the same map, I do not combine it with another, with this method I can be quite sure the pieces will find the right place. The first pieces of leather on the covers needs to be compensated with paper to make it all level, so I get a flat surface again and start to place the next pieces.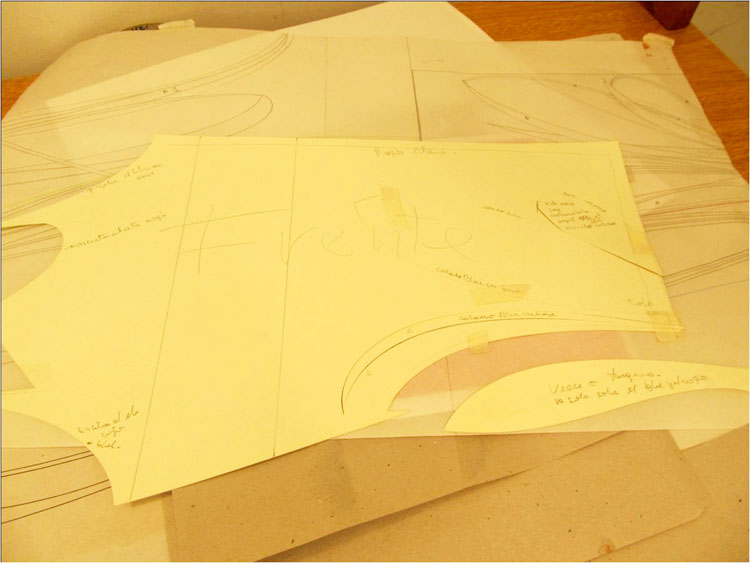 The same applies to the spine, every element is thinner, as thin as paper, and that will be strengthened by the following layers of leather. The mosaics are superimposed as well as I keep working. To cut each piece of leather I use a mold-made on heavy paper, (240 gr. in this case). Out of that mold each piece of leather is like a puzzle. Once the entire top is covered, I make the head cup and fold over the turn-ins.